---
Satanic Pedophile Extortion Cult Uncovered By FBI After NY Arrest
A November 2021 arrest in Queens, New York led to the discovery of a satanic cult of pedophile extortionists known as 764, which has been linked to significant criminal activity around the globe. The organization, which goes byseveral aliases, was uncovered by the FBI while investigating alarming posts on social media made by 23-year-old Angel Almeida of Astoria, Queens, The Guardian reports.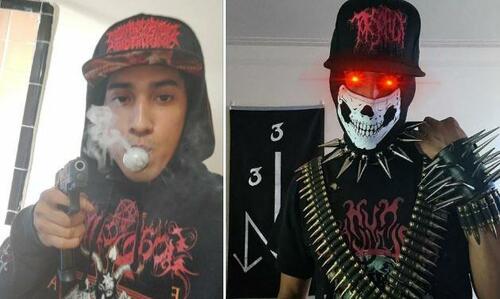 Almeida was flagged to the FBI by an anonymous tipster who was concerned over his social media accounts, which contained images of violence against children and animals. In one post, he expressed support for Charleston mass-murderer Dylann Roof. Another post showed him talking around with a shotgun while wearing a "a skull mask and crossed bandoliers of rifle ammunition across his chest with a flag in the background featuring an Order of Nine Angles symbol."
Almeida served 18 months in prison for third degree burglary in 2018, and was arrested for being a felon in possession of a firearm. He was detained in Brooklyn's metropolitan detention center. In February 2023, federal prosecutors filed a superseding indictment on child pornography and exploitation charges related to his involvement in the cult, as well as hundreds of thousands of digital files recovered from his residence.
In new charges, Almeida is accused of coercing a teenage girl into having sex with an older man, and convincing another girl to cut herself on camera and send it to him.
In one post, Almeida posts "For the 2k pedophile haters," showing his finger over the trigger guard of a Taurus handgun.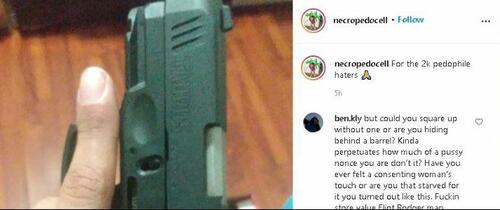 When the FBI searched his New York apartment, they found a 9mm handgun, ammunition, books pertaining to the Order of Nine Angles (a satanic occultist group). They also found a flag with the insignia of a US -9A offshoot, the Tempel ov Blood, according to a November 2021 detention memorandum.
The most telling item was an O9A "blood covenant" featuring a blood-smeared drawing of a hooded figure with glowing red eyes surrounded with sigils for four O9A deities and the caption Vindex, Nythra, Satan and Abatu. At the bottom of the page is an oath: "A covenant signed in blood. May the DEVIL walk with you always – SATANAE MANIBUS" ("by Satan's Hand" in Latin). Similar indicia have been found in possession of O9A-influenced killers in Britain and Canada. -The Guardian
According to the agency, the group is "deliberately targeting minor victims on publicly available messaging platforms to extort them into recording or livestreaming acts of self-harm and producing child sexual abuse material."
Using manipulative tactics, the gang operated on several platforms, including Roblox, Discord, Twitch and SoundCloud - but the group's main platform has been Telegram.
764 uses "threats, blackmail and manipulation" to convince underage victims to record videos showing acts of self-harm, animal cruelty, sexual acts and even suicide. The footage is then circulated among members, who then further exert control over the victims. Members share "gore" videos depicting all sorts of horrific acts, in order "to gain notoriety and rise in status within their group."
Documents and sources familiar with 764 indicate the group is an offshoot of the Order of Nine Angles (O9A), a violent, subversive amalgam of esoteric Hitler worship, Satanism and Wiccan tenets that American authorities recognize as a terrorist ideology and that has been connected with murders and attempted terrorist attacks in countries including the US, Britain, Germany, Canada and Russia. -The Guardian
In one case, a German teenager allegedly connected to the group was accused of murdering his foster family in Romania, according to Der Spiegel and Libertatea.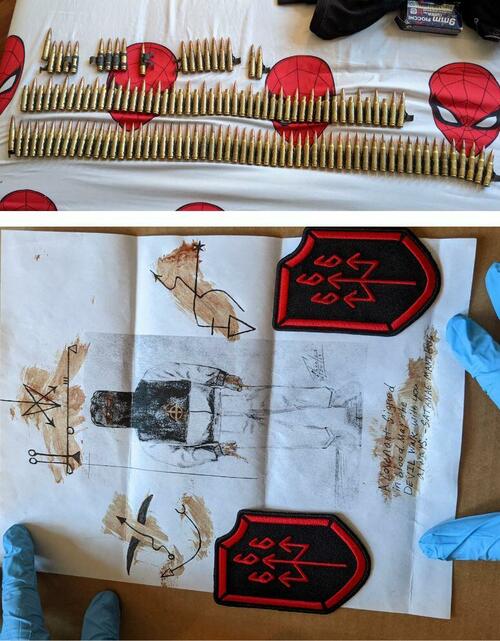 Several books connected to satanism were also recovered.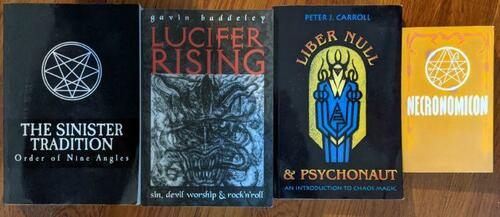 The Stain Account
According to the detention memorandum:
Law enforcement also reviewed the publicly accessible portions of an Instagram profile with the name "Stain_Lord_352" (the "Stain Account"). That review revealed that Almeida acknowledged that the account belonged to him, admitted to owning and took pictures with a firearm, posted pictures depicting violence against animals, and threatened violence against police if they attempted to apprehend him. For example, on or about November 2, 2021, Almeida posted on the Stain Lord Account a photograph of a masked individual holding a firearm with the same mask and Order of Nine Angles flag depicted in photographs on the Sargent Account, which also appears to be the same mask that Almeida purchased from Amazon in June 2021 and had shipped to his residence.
Hardcore Kiddie Fiddler
In November 2021, Almeida posted a photograph of an individual in front of a Nazi flag while wearing a shirt that reads "Kiddie Fiddler," and standing in front of a sign that rads "I'M ADDICTED TO HARDCORE CHILD PORNOGRAPHY."
Earlier this month, Almeida was deemed fit for trial despite repeated violent behavior in the courtroom - including attempts to attack a DOJ staffer as well as his own court-appointed counsel, his fourth attorney since his 2021 arrest. His trial is currently scheduled for December 4. He faces a maximum sentence of life in prison.
Loading...