---
Silvio Berlusconi, Italy's Longest-Serving PM, Known For 'Bunga Bunga' Sex Parties, Dead At 86
Silvio Berlusconi, the former Italian Prime Minister, passed away on Monday following his admission to a Milan hospital last week. The hospitalization was initially for a scheduled check-up related to a lung infection. 
Italy's longest-serving premier had a history of medical issues, including heart surgery in 2016, and previously suffered from prostate cancer. He has been in and out of the hospital following his Covid-19 infection in 2020. 
Alessandro Cattaneo, the deputy coordinator of Berlusconi's Forza Italia party, told RaiNews24 that Berlusconi died Monday morning at 86. 
Berlusconi made billions (estimated fortune of around $7.6 billion, according to Bloomberg data) through his media empire and owned the A.C. Milan soccer team before entering politics in the mid-1990s. He served as prime minister three times: from 1994 to 1995, 2001 to 2006, and 2008 to 2011. 
He served more than nine years as prime minister, leading four different cabinets, an unprecedented tenure in a country plagued by revolving-door governments. He also played kingmaker in bringing center-right coalitions to power, even when his party was no longer the dominant force. --Bloomberg 
Berlusconi faced several legal battles but was only convicted once in a tax fraud case, which led to a temporary loss of his parliamentary seat. He was also involved in a scandal around his personal life, in what was known as "bunga bunga" sex parties.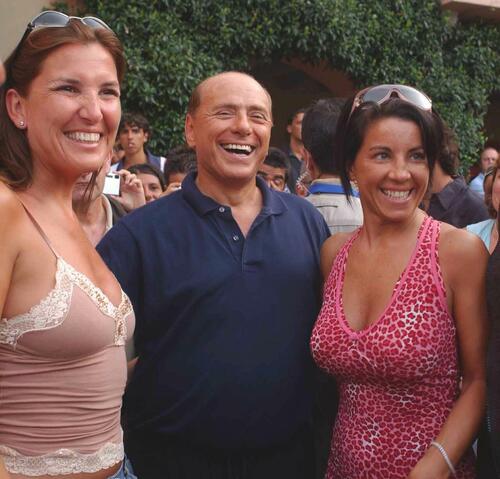 Two members of the Italian government mourned his passing, with Deputy Prime Minister Matteo Salvini calling him a "great Italian." Defense Minister Guido Crosetto said his death marked the "end of an era."
Even though Berlusconi was 86, he remained an active politician, sitting in the Senate, the Italian Parliament's upper house, where he recently sparked controversy by criticizing Ukrainian President Volodymyr Zelenskyy. 
Loading...