---
Skittles Are The Latest Bud Light After Releasing Trans BLM Packaging
Authored by Steve Watson via Summit News,
Skittles, the borderline poisonous kids candy, is the latest product to throw all in with wokeness after it released special edition packaging celebrating transgenderism and the Black Lives Matter organisation.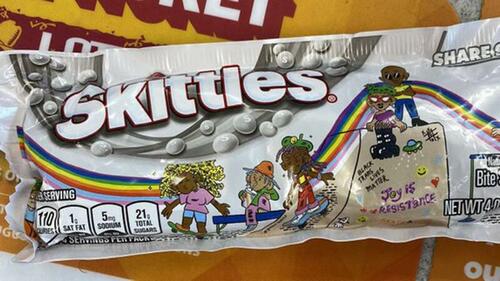 The normal red and rainbow packaging has been replaced with black and white packet replete with a trans flag and the phrase "Black Trans Lives Matter".
The confectionary, owned by the Wrigley Company, in turn owned by Mars Incorporated, has also whacked a drag queen on the packet for good measure.
The packaging was designed along with the Gay & Lesbian Alliance Against Defamation organisation.
.@Skittles is trying to turn your kids into BLM & LGBTQ+ activists. Their packaging also features a drag queen.

Skittles have gone completely woke. pic.twitter.com/jjlkc7uOaL

— Libs of TikTok (@libsoftiktok) August 11, 2023
It's like they're now actively seeking backlash:
WTF is this crap on a candy wrapper? pic.twitter.com/tSNwSuuzry

— Brick Suit (@Brick_Suit) August 11, 2023
Time for Mars to lose $20 billion?
Give @MarsGlobal the @budlight treatment. 🚫

— Texas🔥Heat (@Lone_Star_Heat) August 11, 2023
I'm done with skittles

— Libertarianesque Person (@libertarianesqu) August 11, 2023
August 12, 2023
The packet also contains the phrase "joy is resistance," prompting some to ask what actual resistance is taking place:
I keep seeing this language "Resistance"

How does Joy equate Resistance??

— Jen Willi🔑 (@JWill10317) August 11, 2023
Can skittles just like sell candy? Why do they have to inject this garbage? You're a CANDY company ffs pic.twitter.com/oOCcIFEb7O

— Chaya Raichik (@ChayaRaichik10) August 11, 2023
They lost a customer who has 4 kids.

— Modern Papist (@ModernPapist) August 11, 2023
I thought skittles was recalled because of toxic food coloring. Guess they're just toxic all the way around.

— AngelArs (@JusticeForFacts) August 12, 2023
Related:
*  *  *
Brand new merch now available! Get it at https://www.pjwshop.com/
In the age of mass Silicon Valley censorship It is crucial that we stay in touch. We need you to sign up for our free newsletter here. Support our sponsor – Turbo Force – a supercharged boost of clean energy without the comedown.
Also, we urgently need your financial support here.
Loading...