---
Snopes Self-Immolates Taking A Shot At Musk
The folks at Snopes, whose whore mongering (and allegedly rapey) co-founder was fired for mass plagiarism, have once again illustrated why the world of 'fact checkers' are nothing more than otherwise-unemployable partisan hacks.
On Tuesday, Snopes took a shot at Elon Musk in a hit-piece titled "Was the Missing Titanic Submersible Using Satellites from Elon Musk's Company?"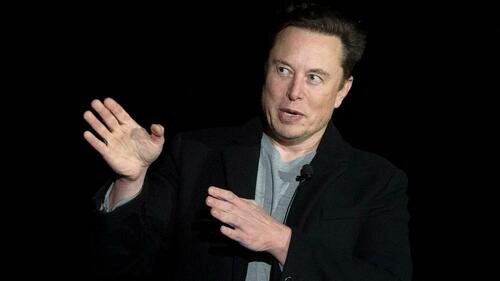 The article is of course meant to imply that the OceanGate Titanic exploration submersible, which lost contact with its surface support vessel on Sunday, went missing due to a Starlink failure.
After Snopes' account tweeted the article, a scorching Twitter community note tore the article to shreds - noting that while OceanGate has used StarLink services, they're used for their surface vessels, not their submersibles. Idiots. The note also clarifies that radio frequencies such as StarLink's do not work underwater.
"Starlink operates in the 10.7 to 12.7 GHz band. [radionavlab.ae.utexas.edu/wp-content/upl…] Penetration depth of 2.45GHz in water is <8cm and falls off with increasing frequency. [cober.com/wp-content/upl…] Therefore, Starlink cannot be used to communicate with an underwater submarine," the note states.
Correct

— Elon Musk (@elonmusk) June 22, 2023
Snopes then scrambled to edit their article, adding an update at the bottom which reads: "This fact check was amended to address the legitimacy of claims that the submersible itself used Starlink during the exhibition, not whether its company did. While it was true that Oceangate and Starlink worked together during the expedition, it was unknown if, or to what extent, the submersible itself relied on Starlink's technology."
The article was then amended to "Unproven."
Now, Snopes rates their own claim as "False," and have added yet another Editor's Note which reads: "Since the original publication of this fact check on June 20, 2023, Snopes clarified its rating and text to make clear that — while OceanGate, the company overseeing the submersible's expedition, said it was using Starlink satellites for the trip — the submersible itself was not using the technology to communicate. How, or to what extent, the vessel's mothership was using Starlink to communicate remained unknown."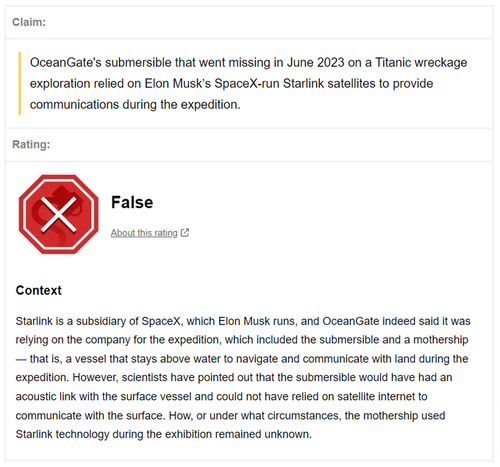 https://t.co/H7jQaA1OSo pic.twitter.com/QtFRJ7SGbm

— Enguerrand VII de Coucy (@ingelramdecoucy) June 21, 2023
The search continues (via the Epoch Times):
The OceanGate submersible Titan has been out of contact with its surface support vessel since Sunday. The submersible's disappearance has sparked an extensive search effort with cooperation between the U.S. and Canadian Coast Guard services.
The ongoing search effort is a race against time, as officials have estimated the Titan submersible only had about 96 hours worth of life support for the five people on board when it submerged on Sunday.
Crews searching for the submersible reported hearing "underwater noises" and even "banging" sounds on Tuesday evening.
Plagiarism
Snopes founder David Mikkelson was fired from the company he co-founded, after BuzzFeed uncovered massive plagiarism - including instructing other Snopes writers to 'cut-and-paste' mainstream breaking news stories without attribution, and then alter them after the fact.
In total, Mikkelson 'wrote and published 54 articles with plagiarized material,' under his own name as well as a pseudonym, and the Snopes byline. In addition, an internal review by the 'fact-checking' company identified 140 articles with possible problems. Meanwhile, Snopes raised $1.7 million in 2021 to fight a series of lawsuits from a former tech vendor.
😂😂

— Elon Musk (@elonmusk) June 21, 2023
Fact check: BTFO
Loading...