---
Soros-Backed St. Louis Attorney Kim Gardner Resigns
Authored by Eric Lundrum via American Greatness,
On Thursday, a progressive prosecutor who was notoriously funded by far-left billionaire George Soros announced her resignation, after months of bipartisan pressure to do so.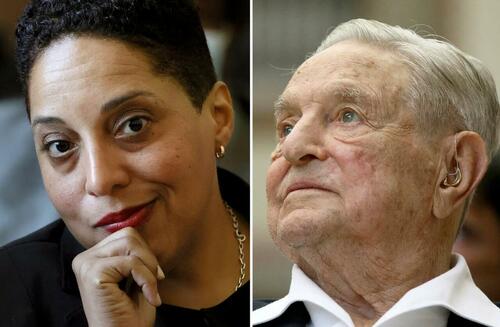 Fox News reports that Kim Gardner, the Circuit Attorney for St. Louis, announced that her resignation will be effective June 1st. Gardner was one of the first prosecutors in the country to be bankrolled by Soros, who has since expanded his efforts to other major cities across the country. She was first elected in 2016 and re-elected in 2020, largely due to Soros' financial backing. Prior to her resignation announcement, she had declared her intention to run for a third term in 2024.
After years of criticism for being soft on crime and siding with criminals over victims, Gardner faced a whole new wave of criticism from both parties over an incident in February: Teenage volleyball player Janae Edmonson, who was visiting St. Louis from Tennessee for a tournament, was hit by an out-of-control car while crossing the road; although Edmonson survived, she had to have both of her legs amputated.
The driver of the car was Daniel Riley, a man who was out on bond while awaiting trial for an armed robbery case. It was later revealed that Riley had violated the terms of bond dozens of times, but was never arrested. When the blame turned to Gardner for failing to keep him off the streets, she falsely claimed that her office had attempted to have Riley jailed once again, only to be denied by a judge; there are no records of her office filing any such motion or otherwise seeking the revocation of Riley's bond.
Following the Edmonson incident, Missouri Attorney General Andrew Bailey (R-Mo.) filed a petition quo warranto, the process by which the state attorney general can fire a prosecutor who has been determined to be neglectful of her duties. Bailey claimed that as many as 12,000 criminal cases have been dismissed due to Gardner's failures, with another 9,000 having been thrown out right before they were set to go to trial, due to Garnder's office refusing to provide evidence and speedy trials for defendants.
After Gardner's announcement, Bailey released a statement demanding that she vacate her office immediately, rather than wait for another month.
"There is absolutely no reason for the circuit attorney to remain in office until June 1," said Bailey.

"We remain undeterred with our legal quest to forcibly remove her from office. Every day she remains puts the city of St. Louis in more danger. How many victims will there be between now and June 1? How many defendants will have their constitutional rights violated? How many cases will continue to go unprosecuted?"
Gardner had already faced numerous other disciplinary measures during her time as prosecutor. She was once publicly reprimanded by the Missouri Supreme Court and ordered to pay a fine, and her office is currently facing two contempt of court hearings due to prosecutors refusing to appear for multiple court dates. In one of the contempt cases, a judge described Gardner's office as a "rudderless ship of chaos," and said that Gardner herself showed "complete indifference and a conscious disregard for the judicial process."
Loading...