---
'Sound Of Freedom' Surpasses Latest Indiana Jones Film At US Box Office
Authored by Bryan Jung via The Epoch Times,
The smash box-office success, "Sound of Freedom," is continuing to rake in earnings as it surpassed the latest Indiana Jones movie over the weekend.
The 131-minute film, about the crime of child trafficking, has beaten major Hollywood studio films, doing so with just a budget of $14.5 million, much of it through crowdfunding.
Walt Disney Company shelved "Sound of Freedom" in 2018 until Angel Studios obtained the distribution rights with it opening in U.S. cinemas on July Fourth and going on to beat Disney's "Indiana Jones and the Dial of Destiny."
The Indiana Jones movie reportedly had an estimated production budget of $294 million, not counting marketing, making the film a loss thus far.
As of Aug. 13, "Sound of Freedom" has so far raked in $172,813,772 at the domestic box office, just ahead of the $172,624,353 made domestically by the fifth movie in the Indy franchise, the first since Disney bought it from its creator George Lucas.
The Indiana Jones movie opened on the weekend of June 30 to an underperforming $60 million.
Overcoming Studio Hurdles
"Sound of Freedom" is based on a real-life former Department of Homeland Security (DHS) agent Tim Ballard, who saved children from international child sex trafficking rings. Mr. Ballard quit his DHS job and journeyed into the jungles of Colombia to save children from sex slavery.
The film also features Academy Award-winner Mira Sorvino and Bill Camp from "12 Years a Slave". 
The film was directed by Alejandro Monteverde and produced by Eduardo Verastegui. 
Mr. Ballard is portrayed in the film by Jim Caviezel, best known for playing Jesus Christ in Mel Gibson's 2004 hit Christian film, "The Passion of the Christ" and as Edmond Dantès in 2002's "The Count of Monte Cristo."
The movie has been the greatest surprise at the domestic box office in 2023, surpassing other anticipated films like "Mission: Impossible—Dead Reckoning Part One," "Elemental," and "The Flash," according to Box Office Mojo.
Angel Studios CEO and co-founder Neal Harmon told the Washington Examiner last month that "Sound of Freedom" was "initially made with [21st Century] Fox."
"After it was completed, Fox was acquired by Disney, who said, 'We can't release this film,'" said Mr. Harmon.
"Eduardo spent over a year before [Disney] released the rights to the film. At that time, he tried to take it to theaters, but just as they were, COVID hit, and another three years passed."
"We want to answer the prayers of children as soon as possible," Mr. Harmon said after independent investors saved the film from obscurity, despite discouragement from industry experts who said a summer release would be a disaster due to blockbuster competition from the big studios.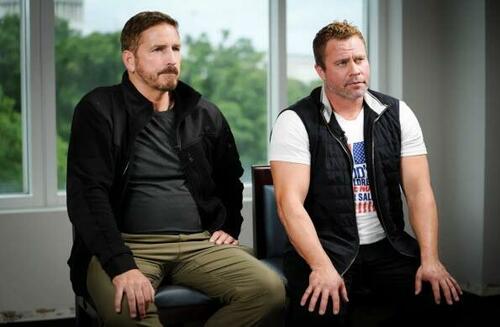 Jim Caviezel (L), actor in the new human trafficking action film "Sound of Freedom," and Tim Ballard (R), a former Department of Homeland Security special agent and founder of Operation Underground Railroad, speak during an interview in Washington on June 21, 2023. (Madalina Vasiliu/The Epoch Times)
Hollywood Critics Call Film Too Political
The film was screened by former President Donald Trump at his golf course in Bedminster, New Jersey, who praised the film as inspirational.
"It's something that I'm not sure you're supposed to enjoy or learn [from]. It's a combination," said Mr. Trump, who later posed with the star Mr. Caviezel at the screening.

"That was a great movie. And now I understand why it is doing so well. It's an incredible inspiration," he said.
In response to critics who called the film political, Mr. Monteverde and co-writer Rod Barr, wrote an Aug. 14 opinion piece in Hollywood Reporter, stating that the movie was "not in the least bit political."
"Child trafficking is not a conservative or a liberal issue. It is a fundamental human rights issue, one that strikes at our very core as human beings," the two said.

"Everyone who has seen Sound of Freedom knows that the movie itself is not in the least political. It is based on the story of a real person, Tim Ballard, who quit his job at Homeland Security to rescue trafficked children."
"In the development, research and writing of the story, we don't recall a single conversation with Tim about politics. Why? Because personal politics should be irrelevant when you are rescuing children from human trafficking," they wrote.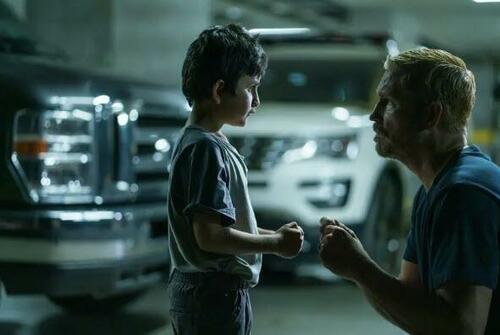 Image from the "Sound of Freedom" movie, starring Jim Caviezel, that was released nationwide on July 4, 2023. (Courtesy Angel Studios)
Mr. Monteverde and Mr. Barr added that Americans should not let politics "prevent us from doing the work necessary in the ongoing fight to end child trafficking."
Mr. Caviezel, who has been a critic of the alleged sexual scandals in Hollywood, hit back at media criticism of the movie.
"They're scared. Quaking in their boots. And it's because the public are listening to their hearts, which is what this film tells you to do," referring to those in the industry who wish to silence the film in a July interview.

"Child trafficking is a global issue, and we hope to build on the incredible momentum here in the States and share the film's powerful message worldwide," said Jared Geesey, senior vice president of global distribution for Angel Studios.
The film has only been released in North America but will be released internationally on Aug. 18, when it premiers in South Africa.
The film will later be rolled out in Australia and New Zealand on Aug. 24 and in other countries.
Moviegoers in Mexico, Guatemala, El Salvador, Colombia, Bolivia, Peru, and Costa Rica, will first see the film on Aug. 31.
Loading...