---
Supreme Court Justice Responds To Claims That High Court Is Getting Political
Authored by Jack Phillips via The Epoch Times,
Justice Brett Kavanaugh pushed back this week against claims that Republican-appointed Supreme Court justices are engaged in a partisan war against justices who were appointed by Democrats.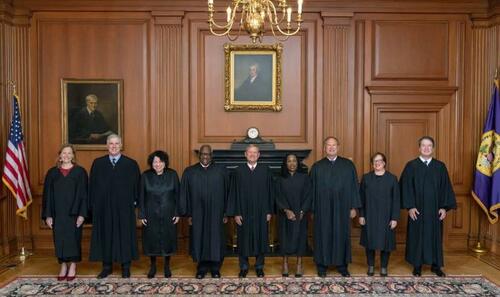 In comments to an audience in Minnesota, Mr. Kavanaugh said that the nine justices often find common ground on a range of issues in their rulings. He delivered those remarks several weeks after the court's session ended in late June.
"We have lived up, in my estimation, to deciding cases based on law, not based on partisan affiliation or partisanship," Mr. Kavanaugh, an appointee of former President Donald Trump, told a crowd.

"We don't caucus in separate rooms. We don't meet separately. We're not sitting on different sides of the aisle at oral argument, so to speak, on the bench. We work as a group of nine—as I've said before, as a team of nine."
The justice added that the Supreme Court is "an institution of law" and is not "of partisanship, not of politics."
"You might hear a lot about one, two, three, four cases a term, but we're doing 60–70 cases a term," Mr. Kavanaugh added.

"A lot of them are 9–0, but then there might be a lot of 7–2, 6–3s with all sorts of different lineups. … The relationships withstand that, I think, because we are working together on so many different cases."
Mr. Kavanaugh also estimated that the nine justices eat lunch together dozens of times per year, saying that there is a "rule at lunch [that] you can't talk about work."
"It's a good rule," he continued.

"It builds relationships and friendships and then when we have tough cases—and we only really have tough cases—you have a reservoir of good will toward each of the other people."
The remarks he made in Minnesota are the first public comments that a Supreme Court justice since the court recessed over the summer after making a handful of major decisions. In a 6–3 ruling, for example, the court struck down affirmative action rules for college admissions and also rejected President Joe Biden's student loan forgiveness plan.
A number of corporate news outlets, pundits, and Democratic Party politicians assailed the Republican-appointed justices for their decisions in those cases. But Mr. Kavanaugh said that he understands these cases are contentious and that the Supreme Court faces intense scrutiny.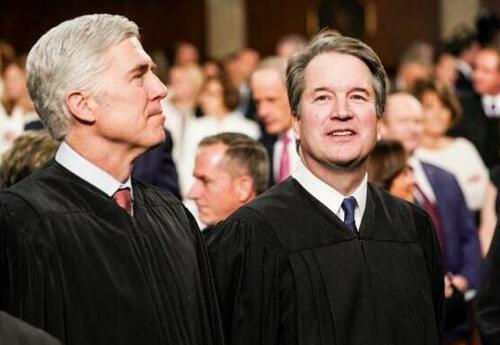 Supreme Court Justices Neil Gorsuch and Brett Kavanaugh attend the State of the Union address in the chamber of the U.S. House of Representatives at the U.S. Capitol Building in Washington on Feb. 5, 2019. (Doug Mills-Pool/Getty Images)
"You shouldn't be in this line of work if you don't like criticism," he said, according to multiple reports. "Because you're going to get it. And you're going to get a lot of it."
He added: 
"I just think the tone of how we do things in the profession has a kind of cascading effect. We live in a very polarized society of course, with a lot of tension, and I think we need as judges and lawyers to be the calm in that storm as best we can."
Meanwhile, Mr. Kavanaugh only briefly mentioned ethics issues surrounding some of the justices, including Democrat-appointed Justice Sonia Sotomayor and Republican-appointed justices Clarence Thomas and Samuel Alito in recent months. Instead, he deferred to a prior statement that was made by Chief Justice John Roberts, who in May said that the justices are continuing to work on the matter.
"That's accurate," he said. "I'm not going to add anything to what the chief justice has said on that topic."
It comes a few days after the Supreme Court issued a rare public statement that defended Mrs. Sotomayor against allegations that her staffers prodded various colleges to purchase her books. Reports, including one from The Associated Press, that cited records claimed that the Obama-appointed justice amassed a net worth of millions of dollars since she took the bench more than a decade ago.
"Judges, including Justices, routinely travel and speak to university, college and law school audiences and affiliated individuals and entities. Judicial staff play an important role in assisting on issues of ethics, travel, and security," the Supreme Court's statement said.

"Chambers staff assist the Justices in complying with judicial ethics guidance for such visits, including guidance relating to judges' publications."
"For example, judicial ethics guidance suggests that a judge may sign copies of his or her work, which may also be available for sale, but there should be no requirement or suggestion that attendees are required to purchase books in order to attend," the statement added.
Loading...