---
Supreme Court Revives Whistleblowers' Medicare, Medicaid Fraud Lawsuits
Authored by Matthew Vadum via The Epoch Times (emphasis ours),
The Supreme Court resurrected two whistleblower lawsuits against companies for allegedly defrauding Medicare and Medicaid.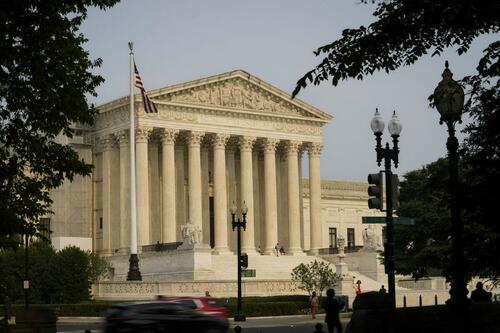 The cases concern the federal False Claims Act (FCA), a key tool the government uses to combat health care fraud, and "scienter," a legal term meaning prior intent or knowledge of wrongdoing.
Sen. Charles Grassley (R-Iowa) has called the FCA "the centerpiece of the government's anti-fraud arsenal."
The new orders followed the court's unanimous decision on June 1 to reinstate whistleblower actions against pharmacy operators SuperValu and Safeway for allegedly overcharging the government by filing false Medicare and Medicaid reimbursement claims for prescription drugs they sold.
That ruling, United States ex rel. Schutte v. SuperValu, held that the scienter requirement under the False Claims Act, which asks whether an accused party "knowingly" filed a "false" claim with the government, refers to the party's knowledge and subjective beliefs, as opposed to what an objectively reasonable person may have believed.
Sometimes called the Lincoln Law, the FCA was enacted in 1863 to deal with defense contractor fraud during the Civil War.
The act currently provides that anyone who knowingly files false claims with the government is liable for triple damages plus a $2,000 penalty for each false claim.
The FCA allows the government to pursue perpetrators on its own and for private citizens to sue those who defraud the government on behalf of the government in what are known as qui tam suits. Such private citizens, who are called relators, may be awarded part of what the government recovers.
To prove scienter under the statute, the government or the whistleblower must demonstrate that the company acted "knowingly," or with "reckless disregard," or "deliberate ignorance" of the law in question.
On June 30, in Olhausen v. Arriva Medical LLC and United States ex rel. Sheldon v. Allergan Sales LLC, the Supreme Court summarily granted the petitions of two whistleblowers while at the same time skipping over the oral argument phase when the merits of the case would have been considered.
The court issued unsigned orders in the two cases in a flurry of eleventh-hour rulings as it wrapped up its regular term and recessed for the summer. The court did not explain why it made the two new decisions. No justices dissented.
At the same time, the court vacated the judgments of the U.S. Court of Appeals for the 11th Circuit in Olhausen and of the U.S. Court of Appeals for the 4th Circuit in Sheldon, remanding those respective cases to those lower courts in light of its decision last month in United States ex rel. Schutte v. SuperValu.
Read more here...
Loading...