---
Sweden Turns To Military For Help Amid Daily Shootings, Bombings In Migrant Gangland Chaos
Last year Sweden witnessed its highest death toll from shootings on record, at more than 60 killed, with this year on track to possibly surpass that as the country's gang violence continues spiraling out of control.
At a moment scenes of illegal migrants flooding southern Europe from across the Mediterranean continue unabated, even mainstream publications like FT haven't hesitated to identify what's fueling the crime and turning Sweden's streets into war zones: "Police chiefs have said that Sweden is facing its most serious domestic security situation since the second world war as immigrant drug gangs engage in a bloody conflict," FT writes.
And there's even "child soldiers" in the heart of Scandinavian Europe: "Police believe the gangs are increasingly using children to commit the crimes, as those under 18 often go unpunished or receive low sentences from the courts."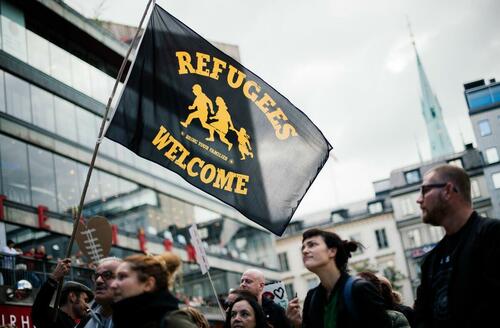 Headlines like this one days ago from the Associated Press have tragically become almost commonplace: A 13-year-old boy found shot in the woods was a victim of Sweden's gang violence. Gangs also regularly commit bombings and arson, sometimes destroying whole city blocks and districts.
Sweden has for much of the last decade been the leading bastion of liberal immigration policies in Europe, having welcomed hundreds of thousands of migrants and asylum-seekers from the Middle East and Africa. Simultaneously its third-largest city, Malmö, has for years been widely seen as Europe's gun homicide capital.
And yet, the European Left tends to only emphasize talking points of "failure to integrate" and "racism" and "rightwing extremism" - which has led to "parallel societies", serving to periodically unleash riots in places with large immigrant concentrations.
Now, after a dozen more lives were lost this month, which has included innocent bystanders and young gang members alike, government leaders are talking about 'getting tough' by calling in the military:
Sweden's prime minister on Thursday said that he's summoned the head of the military to discuss how the armed forces can help police deal with an unprecedented crime wave that has shocked the country with almost daily shootings and bombings.
Prime Minister Ulf Kristersson is meeting with both the armed forces' supreme commander and the national police commissioner on Friday to consider "how the armed forces can help police in their work against the criminal gangs."
"Sweden has never before seen anything like this," Kristersson said of soaring violent crime during a Thursday televised speech to the nation. "No other country in Europe is seeing anything like this."
According to more from the AP:
Sweden has grappled with gang violence for years, but the surge in shootings and bombings in September has been exceptional. Three people were killed overnight in separate attacks with suspected links to criminal gangs, which often recruit teenagers in socially disadvantaged immigrant neighborhoods to carry out hits.

One of the victims was a woman in her 20s who died in an explosion in Uppsala, north of Stockholm. Swedish media said she was likely not the intended target of the attack.
Addressing this week's tragic bombing, Kristersson described that "A 25-year-old woman went to bed last night on a completely ordinary evening but never got to wake up."
In Sweden, immigrants destroy Malmo shouting "Allah Akbar". This must be the enrichment part we all hear about? pic.twitter.com/ryhg2xfDYZ

— AlphaFo𝕏 (@Alphafox78) September 20, 2023
He added: "We will hunt the gangs, we will defeat the gangs." The aforementioned powerful blast in a residential area had ripped the facades off multiple houses.
Below: Gang-related shootings and killings have been the bulk of overall confirmed homicides in the country...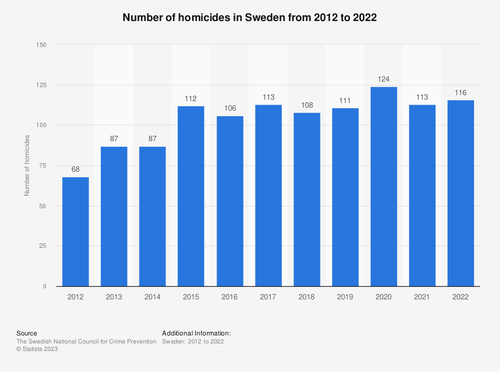 You will find more infographics at Statista
Kristersson's center-right government rose power last year largely on a platform of getting tough on crime. Kristersson has done a rare thing for a Swedish politician, placing blame squarely on "irresponsible migration policies and failed integration" under the previous government and years of failed policies.
Loading...