---
Taibbi: A Successful Prosecution Would Fold Space And Time To Make Legal Speech Felony Violence
Authored by Matt Taibbi via Racket News,
The United States of America v. Donald J. Trump may be the trippiest read since Cat's Cradle, and not in a good way.
Special Counsel Jack Smith's indictment is a case within a case, a prosecutorial enchilada filled with things for people of all political persuasions to hate. The outside is a shell of a conventional conspiracy prosecution, and these parts are genuinely damaging for Donald Trump. Inside, it's a deranged authoritarian fantasy, at times reading more like a 45-page Louise Mensch tweet than an indictment.
This radical core is somehow scarier than the allegations against Trump and co-conspirators like Rudy Giuliani, John Eastment, Sidney Powell, Jeffrey Clark, and Kenneth Cheeseboro. Despite early criticism describing the case as entirely about protected speech, Special Prosecutor Jack Smith's case does focus on some overt acts, and these sections are buttressed by witnesses who could be convincing across the spectrum.
Former Arizona Speaker of the House and onetime Trump supporter Rusty Bowers will describe being asked not to certify the results by, among others, Trump and Giuliani. Ronna McDaniel, chair of the RNC, will say she was told votes by so-called "fraudulent electors" would only be deployed if election litigation was successful. Former Vice President Mike Pence, who is rumored to be running for president and took instant advantage of indictment news Tuesday (see below), will testify Trump told him, "You're too honest," in response to prods to refuse to certify the outcome.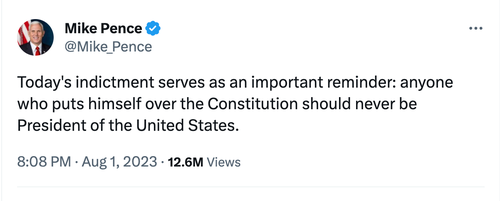 If Smith simply focused on those damaging episodes in states like Arizona, Michigan, and Georgia, or on Trump's interactions with Pence, this prosecution would be an easier sell to the general population. Instead, Smith has tried to pen a Unified Field Theory of insurrection that would massively expand the meaning of concepts like incitement to include false statements, tweets, and other forms of protected speech, down to classic Trumpisms like "I don't care about a link… I have a much better link," and "I have a lot of friends in Detroit… Detroit is totally corrupt."
In fact, if rumors are true and the four counts filed by Smith this week are later complemented by a superseding indictment, this document may end up expanding the definition of "seditious conspiracy" to include those things as well. As Adam Kinzinger said this week, he hoped additional counts will hold Trump "accountable" for all the actions of January 6th.
It's not hard to read this and see the framework of an argument that Trump's ideas, tweets and "knowingly false statements" were elements of the same conspiracy to "violently disrupt" the election for which people like Oath Keepers Elmer Stewart Rhodes and Kelly Meggs have already been convicted and sentenced to 18 and 12 years in prison, respectively. A successful prosecution would fold space and time to make legal speech felony violence.
Subscribers to Racket News can read the rest here...
Loading...