---
As AG Landry Takes Victory Lap, Matt Taibbi Taunts "Orwellian Ministry Of Truth": Take That, Internet Censors!
On Tuesday, the Fourth of July, a federal judge in Louisiana kicked the Biden administration's censorship complex in the teeth - ruling that federal officials (with limited exception) can no longer communicate or collude with big tech companies to censor "protected speech."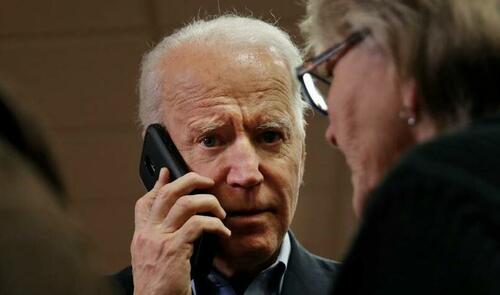 The order prohibits Biden officials from "collaborating, coordinating, partnering, switchboarding, and/or jointly working with" key academic groups behind various censorship campaigns, including the Election Integrity Partnership, a coalition of researchers led by the Stanford Internet Observatory and the University of Washington Center for an Informed Public.
This is a huge win for free speech - and comes on the heels of Twitter Files revelations of government influence and control over various hot button narratives they wished to steer. And of all people who deserve to take a victory lap - journalist Matt Taibbi and Louisiana AG Andrew Baily have opined on the ruling.
First, Taibbi drops his thoughts via Racket News...
Here's how federal judge Terry Doughty yesterday described the digital censorship controversy at which pundits a half-year now have repeatedly rolled eyes, dismissed, and mocked as a nothingburger: "If the allegations made by Plaintiffs are true, the present case arguably involves the most massive attack against free speech in United States' history."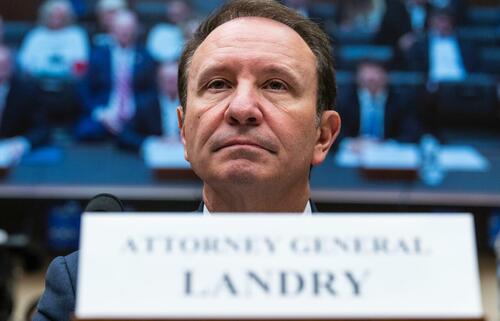 Doughty then ordered a sweeping halt to the censorship schemes outlined in both the extant Missouri v. Biden lawsuit and in the Twitter Files. Critics who've been snickering about this issue might want to read this 155-page ruling now, and ask themselves if the current Supreme Court would or would not agree with Doughty. Still think this is a nothingburger?
With this ruling in the Missouri v. Biden censorship case, Doughty went out of his way on the Fourth of July, to issue a stern rebuke at a conga line of government officials, many of them characters in the Twitter Files. Racket readers will recognize names like Elvis Chan and Laura Dehmlow (of the FBI), Jen Easterly and Brian Scully (of the Department of Homeland Security), Laura Rosenberger (Special Assistant to the President, and one of the creators of Hamilton 68) and Daniel Kimmage (of the Global Engagement Center), who were all just ordered to get the hell off the First Amendment's lawn. Paraphrasing, Doughty enjoined them from:
meeting with social-media companies for the purpose of pressuring or inducing in any manner the removal or suppression of protected free speech;

flagging posts on social-media platforms and/or forwarding to social-media companies urging the same;

collaborating with the Election Integrity Partnership, the Virality Project, the Stanford Internet Observatory, or any "like project" or group for the same purpose;

threatening or coercing social-media companies to remove protected free speech.
The New York Times, which instantly wrung its hands and stressed the ruling could "curtail efforts to fight disinformation," grumblingly handed blame to the Twitter Files, without naming them of course, and mislabeling it as a partisan enterprise:
Elon Musk has echoed Republican arguments, releasing internal company documents to chosen journalists suggesting what they claimed was collusion between company and government officials. Though that remains far from proven, some of the documents Mr. Musk disclosed ended up in the lawsuit's arguments.
The investigation led by Louisiana Attorney General Jeff Landry and Missouri's Andrew Bailey, produced documents showing overt government requests to censor people like Robert F. Kennedy, Jr., a White House official expressing frustration to Facebook that they weren't "removing bad information from search," and emails in which a Facebook official pleads with the White House to understand that they're already "reducing the virality" of "often-true content" that might promote vaccine hesitancy, among many other things. The Attorneys General likewise scored depositions with people like Dr. Anthony Fauci, and confronted him with documents showing Facebook sending his office updates about how "we are expanding the list of false claims we will remove."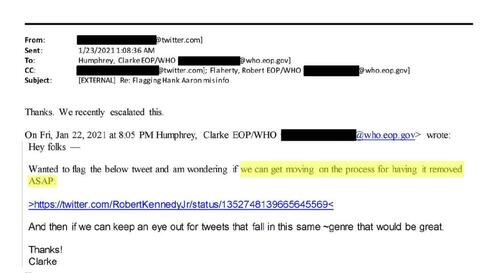 Was this illegal? Unconsititional? Did it show a pattern of mighty tech companies like Facebook and Twitter acting like they were reporting to federal officials like Fauci on content moderation? I knew what I thought it looked like, but what judges or a jury might say, who knew?
Subscribers to Racket News can read the rest here...
*  *  *
Meanwhile, Missouri Attorney General Andrew Bailey dissected Tuesday's ruling in an epic Twitter thread. Enjoy.
The judge noted the censorship emanating from the federal government looks a lot like George Orwell's "1984," that "the evidence produced thus far depicts an almost dystopian scenario" and that the feds appear to have "assumed a role similar to an Orwellian 'Ministry of Truth." pic.twitter.com/9TLuhuaqlN

— Attorney General Andrew Bailey (@AGAndrewBailey) July 5, 2023
The Court found that this evidence showed "unrelenting pressure" by federal officials and "had the intended result of suppressing millions of protected free speech postings by American citizens." pic.twitter.com/KeHpYQclOi

— Attorney General Andrew Bailey (@AGAndrewBailey) July 5, 2023
Here are just a couple disturbing facts that the Court found:

— Attorney General Andrew Bailey (@AGAndrewBailey) July 5, 2023
"Faced with unrelenting pressure from the most powerful office in the world, the social-media companies apparently complied." pic.twitter.com/jpHQ6wFK5Z

— Attorney General Andrew Bailey (@AGAndrewBailey) July 5, 2023
The feds have been trying to defend their acts by saying tech companies just censored according to their terms of service. Not so. Tech companies were forced to CHANGE their terms of service.

— Attorney General Andrew Bailey (@AGAndrewBailey) July 5, 2023
That mattered because the FBI told tech companies to expect "a hack-and-leak operation [that] would involve Hunter Biden." But the Court specifically found that the FBI "knew" that the Hunter Biden information "was not Russian disinformation." pic.twitter.com/4hmdbcNGWE

— Attorney General Andrew Bailey (@AGAndrewBailey) July 5, 2023
Here, the Court finds that federal officials also pressured Facebook to censor information that "did not violate Facebook's policies." In other words, content was taken down that would not have been but for pressure from the feds. pic.twitter.com/1u6RnpmKW8

— Attorney General Andrew Bailey (@AGAndrewBailey) July 5, 2023
Click the above tweet to read the rest of the thread...
Loading...