---
Target Doubles Down, Faces Conservative Backlash As 'Woke' Christmas Decor Hits Shelves
Authored by Tom Ozimek via The Epoch Times (emphasis ours),
Target has once again triggered conservative criticism after the retailer rolled out Christmas decorations that some saw as too "woke," like a black Santa in a wheelchair or a figurine draped in rainbow-colored "pride" paraphernalia.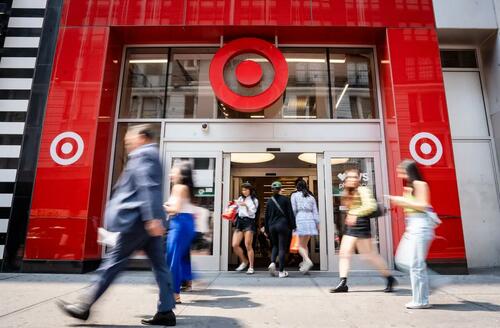 End Wokeness, a prominent conservative account on X with over 1.8 million followers, shared several photos of Christmas ornaments that are now being offered for sale at Target.
"Target outdid itself this year for Christmas," End Wokeness wrote in a post on X, with one image showing a black Santa Claus sitting in a wheelchair and another showing a figurine wearing a multi-colored "pride" hat while also holding a rainbow flag.
A number of commenters reacted with criticism and hinted at (or outright called for) a boycott.
"Wow. Just wow. You would think they would have learned from the last time. When will companies finally start to realize it? Go woke, go broke!" one person posted.
"Everyone getting ready to boycott Target again until they go bankrupt," wrote another.
Other commenters recalled earlier boycott calls after Target rolled out its "pride" clothing line over the summer that included LGBT-themed items meant for children.
"I have not stepped inside one since the tick it underwear debacle. Banned for life," a commenter wrote, referring to the so-called "tuck-friendly" swimsuit that the big box retailer was offering over the summer for transgender people.
While some conservative commentators claimed the "tuck-friendly" swimsuit was for children, Target executives pushed back on those claims and insisted the item was meant for adults.
Boycott 2.0?
The Minnesota-based retail giant caught flak earlier this year after rolling out its "pride" collection at the beginning of May, offering over 2,000 products, including clothing, books, home furnishings, and calendars, with some of the items targeted at children.
For example, books for kids aged 2–8 had titles like "Pride 1,2,3," "Bye Bye, Binary," and "I'm Not a Girl." Target also suggested "The Pronoun Book" to kids aged 0–3. In home décor, Target offered mugs labeled "Gender Fluid." It also offered transgender swimsuits for adults with a "tuck-friendly" feature.
The company's actions sparked considerable negative reactions online, leading to widespread boycott calls and the removal of some of the most controversial items from its shelves.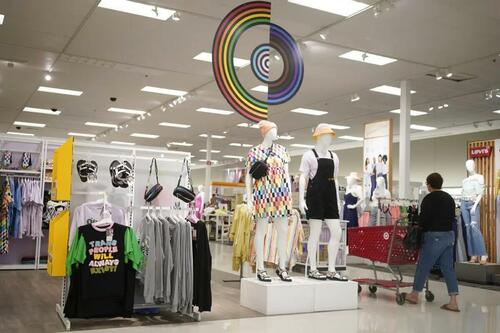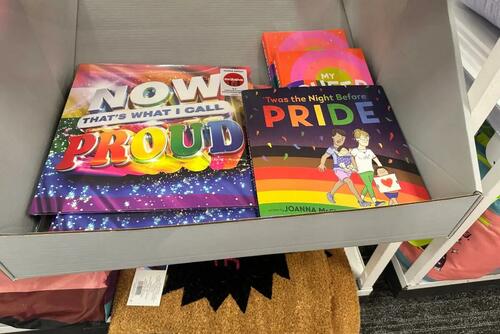 A former Target executive said that there was one item that sparked the biggest boycott calls.
"I've never seen a case where one item, that tuck swimsuit, that's really what made the difference versus the competitors. That's where the big mistake [was] made," former Target Vice Chairman Gerald Storch said in a recent interview.
After Target launched the "pride" clothing line and other items in May, triggering boycott calls, its stock price plummeted from roughly $160 to $130 per share.
The renewed boycott calls come as Target released its third-quarter earnings report, which showed a 4.9 percent decline in sales compared to the comparable quarter last year. This includes a 4.6 percent drop in sales in stores and a 6 percent sales decline online.
Target's total revenue of $25.4 billion was 4.2 percent lower than last year, with some of the decline due to "higher inventory shrink," which is code for retail theft.
The company said in a statement that it was offering over 10,000 new items ahead of Christmas, though it did not go into detail other than to say thousands are "must-have gifts" and "exclusive-to-Target items across many categories." These presumably include the items the firm's detractors have labeled as "woke."
"In the third quarter, our team continued to successfully navigate our business through a very challenging external environment," Brian Cornell, chief executive officer of Target, said in a statement.
Target did not immediately respond to a request for comment from The Epoch Times on the fresh round of boycott calls.
In addition to Target, several other companies, including Bud Light maker Anheuser-Busch, PetSmart, Chick-fil-A, and Walmart, have also faced boycott calls due to their endorsement of the LGBT agenda.
Bud Light faced a flurry of boycott calls after its marketing partnership with Dylan Mulvaney, a male social media personality who identifies as a woman.
Mr. Mulvaney, who has more than 10 million followers on TikTok, posted a series of videos promoting Bud Light and showing off a personalized Bud Light can with his likeness. Conservatives accused the brand of promoting a transgender agenda and called for a boycott.
Singer Kid Rock used Bud Light cans as target practice to express his anger at the promotional campaign, while Florida Governor Ron DeSantis said he would be boycotting Bud Light.
One sign that the boycott against Bud Light was having an effect was that the brand was recently ousted as the top-selling brand in the United States by competitor Modelo.
Loading...