---
Texas Deploys More Buses To Ship Illegal Immigrants To "At Capacity" Sanctuary Cities
Authored by Bill Pan via The Epoch Times,
Texas has expanded the scale of operations to transport illegal immigrants out of the state, adding two distressed border towns to the growing list of departure points for fleets of buses filled with illegal border-crossers.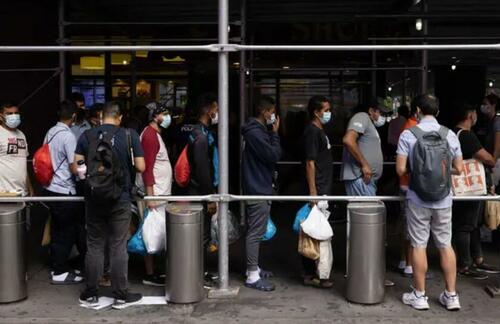 Texas Gov. Greg Abbott announced on Friday that he has directed the Texas Department of Emergency Management to deploy more buses to Eagle Pass and El Paso to transport those who illegally crossed the Texas-Mexico border to Democrat-led, self-proclaimed "sanctuary cities."
The buses in Eagle Pass and El Paso are being activated in addition to the ongoing state bus operations in Brownsville, Del Rio, Laredo, and McAllen.
"President [Joe] Biden's continued refusal to secure our border allows thousands of people to illegally cross into Texas and our country every day," the Republican governor said, noting that the move provides "much-needed relief" to Texas communities "overwhelmed and overrun" by the border crisis.

"Until President Biden upholds his constitutional duty to secure America's southern border, Texas will continue to deploy as many buses as needed to relieve the strain caused by the surge of illegal crossings."
Border Towns at Breaking Point
The announcement comes as Eagle Pass Mayor Rolando Salinas Jr., a Democrat, said more than 6,000 illegal immigrants have crossed into his city in just two days, and that thousands more are expected to to cross through in the coming days. The city itself has a population of only around 28,000.
"Nothing that we've seen ever really to have so many people crossing in without consequence and congregating at the international bridge," the mayor told Texas Public Radio, after signing a seven-day emergency declaration to "request financial resources to provide the additional services" caused by the severe illegal immigrant influx.
Meanwhile, in El Paso, where a recent wave of illegal border crossing brought over 2,000 individuals per day, shelter capacity and other resources are being strained to "a breaking point," city officials said. Just six weeks ago, the city was seeing about 350 to 400 people coming in per day.
"The city of El Paso only has so many resources and we have come to ... a breaking point right now," Mayor Oscar Leeser, a Democrat, said at a press conference on Saturday.
According to Mr. Leeser, about two-thirds of those new arrivals are single men. A estimated 32 percent of them are families, and about just 2 percent are unaccompanied children.
"I think it's really important to note that we have a broken immigration system," he said. "It's the same thing over and over again."
Buses Coming to Sanctuary Cities
Three buses carrying some three dozen illegal immigrants departed Eagle Pass for New York City on Friday, the New York Post reported, citing an eye-witness at the scene. Another bus reportedly left the border town for Chicago.
Frustrated with the swelling population of illegal immigrants in state and municipal governments' care, New York Gov. Kathy Hochul called on would-be border crossers to "go somewhere else."
"We have to let the word out that when you come to New York, you're not going to have more hotel rooms," the Democrat governor said in an Sept. 21 interview with CNN.

"We don't have capacity, so we have to also message properly."

"The smarter thing is to apply for asylum before you leave your country," she added.
Ms. Hochul's remark comes as she explores the possibility of ending a decades-old mandate for New York City to provide a bed to anyone in need of one and for as long as they need it. Both she and New York Mayor Eric Adams blame the policy for becoming a magnet for illegal immigrants.
"Never was it envisioned that this would be an unlimited universal right or obligation on the city to have to house literally [the] entire world," she said at a Sept. 20 press conference.

"We want to make sure that no families end up on the streets. We don't want anything to happen to our children, but we also have to let the world know that there have to be limits to this."
The Abbott administration mocked the Democrat governor's complaints over the escalated illegal immigrant crisis, saying that her "hypocrisy" is "astounding."
"With millions of residents, New York is only dealing with a fraction of what our small border communities deal with on a day-to-day basis," spokesperson Andrew Mahaleris said in a statement.

"Instead of complaining about 14,000 migrants being bused to New York City from Texas, Governor Hochul should be calling out her party leader, President Biden, who has been flying plane loads of migrants to New York and oftentimes in the cover of night."
According to the Abbott administration, since April 2022, Texas has bused over 11,900 illegal immigrants to Washington, over 14,800 to New York City, over 8,700 to Chicago, over 3,000 to Philadelphia, over 1,500 to Denver, and most recently, 610 to Los Angeles.
Loading...