---
Biden Admin Arrests Donald Trump Who Pleads "Not Guilty" To 37 Charges
Update (315PM ET): The Biden administration officially arrested former President Donald Trump on Tuesday for allegedly mishandling classified documents.
Trump arrived at the Miami courthouse Tuesday afternoon where deputy marshals booked him and co-defendant Walt Nauta before taking both men to be fingerprinted and processed; the arrest followed a historic indictment brought by the Justice Department alleging he willfully mishandled top-secret government documents and conspired to hinder US officials' efforts to recover them.
BREAKING: Donald Trump Arrested

The former President has arrived at the Courthouse in Miami and has been arrested.

This marks the second time that Trump has been taken into custody.

It appears evident that this arrest may be politically motivated, orchestrated by his… pic.twitter.com/u82HuujwII

— Sulaiman Ahmed (@ShaykhSulaiman) June 13, 2023
Trump, who is making a comeback bid for the White House, is the first former president who has faced federal criminal charges. Trump, who appeared wearing a navy blue suit, white shirt and red tie, pleaded not guilty to all 37 counts against him. Trump's attorney, Todd Blanche, entered the plea on his client's behalf before the federal magistrate judge.
"We most certainly enter a plea of not guilty," Blanche said.
Prosecutors claim Trump kept highly sensitive papers at his Mar-a-Lago resort, some of which they say address nuclear programs and military attack plans. The indictment accused Trump of 31 counts of violating the Espionage Act, (which carry prison sentences as long as 10 years) or the willful retention of national security information as well as one count of "conspiracy to obstruct justice," one count of "withholding a document or record," one count of "corruptly concealing a document or record," one count of "concealing a document in a deferral investigation," one count of "scheme to conceal" and one count of "false statements and representations." The other charges carry up to 20-year maximum terms.
Ahead of the arraignment, Trump was taken into custody and had his fingerprints taken; he wasn't required to have his mug shot taken, according to court officials. 
Trump is being represented by attorneys Todd Blanche and Chris Kise, at least for now; a person familiar with the situation previously told Bloomberg News that the former president is exploring other options to bring on Florida counsel.
He is appearing before US Magistrate Judge Jonathan Goodman. Following the initial hearing in Miami, the case will move to the West Palm Beach division of the south Florida federal district court; US District Judge Aileen Cannon already has been assigned to preside going forward, barring a recusal fight.
Trump departs for the courthouse today to be arrested, booked, and arraigned on multiple federal felonies. pic.twitter.com/jjG9GUZX8T

— Ron Filipkowski (@RonFilipkowski) June 13, 2023
* * *
Update (1357ET): Former President Donald Trump has arrived at the Miami federal courthouse.
JUST IN: Former President Donald Trump arrives at courthouse in Miami for arraignment, facing federal charges for handling of classified documents pic.twitter.com/o32KUYjsWU

— Florida's Voice (@FLVoiceNews) June 13, 2023
Trump arrives at the courthouse in Miami. #Trumpindictment pic.twitter.com/WUL1jFTE7g

— Majid Sattar (@majidsattarfaz) June 13, 2023
"On my way to courthouse. Witch hunt!!! MAGA," Trump posted to Truth Social while en-route.
*  *  *
Update (1340ET): Trump has departed his golf club in Doral an is currently making his way to the federal courthouse in Miami.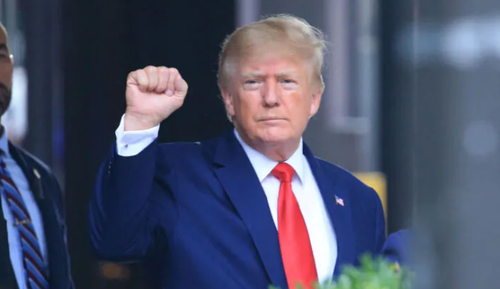 BREAKING: Trump supporters flying Anti-Communist flags in Miami pic.twitter.com/WwKGnEhkng

— Jack Poso 🇺🇸 (@JackPosobiec) June 13, 2023
*  *  *
Former President Donald Trump is expected to be arraigned this afternoon at the federal courthouse in Miami, where he's indicated that he will plead not guilty to 37 counts in connection with claims that he mishandled classified documents.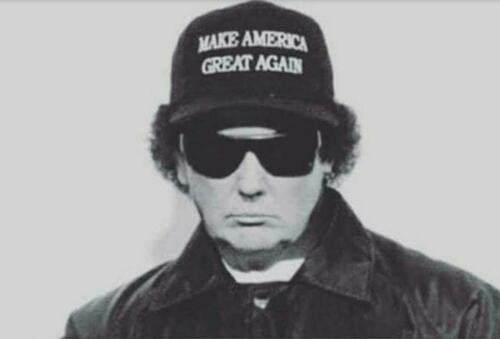 The indictment alleges that the former president made false statements, willfully retained national defense information and conspired to obstruct justice - offenses which carry a maximum of 400 years in prison if convicted on all charges.
Outside federal court in Miami, 8:51 a.m. ET pic.twitter.com/4vzIpRkwPd

— Robert Costa (@costareports) June 13, 2023
Presiding over Trump's arraignment will be US Magistrate Judge John Goodman, however the case itself will be overseen by US District Judge Aileen Cannon, a Trump appointee.
Here's the scene already in front of the federal courthouse where Trump will be arraigned this afternoon. Strangely, the sound of helicopters, hovering overhead, is mingled with the sound of roosters crowing. pic.twitter.com/QToqt3NUc8

— Janice Hisle Epoch Times (@janicehisle) June 13, 2023
Meanwhile in a Monday night court order, a federal judge ruled that the media won't be allowed to have any electronic devices in the courthouse during today's proceedings.
Trump is expected to travel back to his Bedminster, New Jersey golf club afterwards, where he'll deliver remarks this evening.
Black Trump supporters rally
Outside the Miami Courthouse, a group of around two dozen "Blacks for Trump" supporters have gathered to rail against the indictment, NBC News reports.
The "Blacks for Trump" crew is here pic.twitter.com/znG5MEwl8S

— Andrew Feinberg (@AndrewFeinberg) June 13, 2023
One member, Maurice Symonette, who calls himself "Michael the Black Man," slammed the indictment "fake" and "filled with fluff." Symonette is a staple at Trump rallies and is a former member of the Nation of Yahweh, a Black separatist cult, and one of 16 members charged with murder and attempted murder more than two decades ago.

This is the largest demonstration so far, where for more than an hour a lone supporter dressed in royal regalia waved a Trump-DeSantis sign. -NBC News
"Blacks for Trump" have arrived at the courthouse pic.twitter.com/FVMkK4HaG0

— Luke Broadwater☀️ (@lukebroadwater) June 13, 2023
On Monday, Miami Police Chief Manny Morales said that the city is bracing for potentially thousands of protesters at the courthouse, and has been coordinating with state and federal partners "to ensure that we maintain not only peace and order," but also to allow demonstrators "to express themselves and their First Amendment rights."
Loading...