---
Trump Files Motion For Mistrial In NY, Claims Judge Has "Tainted" Case
Former President Donald Trump on Wednesday requested a mistrial in his New York fraud case, arguing that the trial judge and his top law clerk have exhibited bias against Trump and "tainted" the case.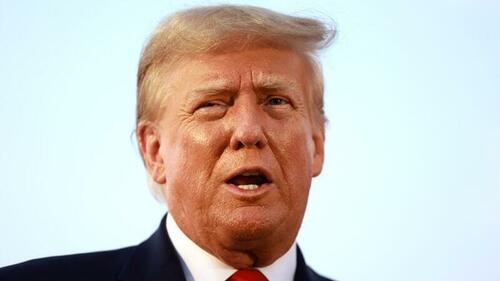 "This appearance of bias threatens both Defendants' rights and the integrity of the judiciary as an institution," Trump's counsel wrote in the 30-page motion that we imagine Judge Arthur Engoron will swiftly dismiss - until it resurfaces at Trump's likely appeal, should he lose.
Trump's counsel pointed to posts made by Judge Arthur Engoron to a Wheatley School alumni page, which the judge appears to run, referencing the case or individuals involved with it, including Trump, his son Eric Trump and Trump attorney Alina Habba.

The motion cited New York code reading that "a judge shall not make any public comment about a pending or impending proceeding in any court within the United States or its territories." -The Hill
Trump's legal team also pointed a finger at Engoron's top law clerk, who they called a "co-judge," who confers with Engoron via whispers or written notes before most orders are issued.
"The principal law clerk is given unprecedented and inappropriate latitude," reads the filing, which also says the clerk has made "partisan political contributions in excess of strict limits," including groups which support NY Attorney General Letitia James (D), a Trump foe.
Previous attacks on the clerk by Trump prompted a limited gag order which prevents the former president from talking about, or posting about, the judge's staff.
Trump's Truth Social account falsely derided the clerk as Senate Majority Leader Chuck Schumer's (D-N.Y.) "girlfriend" and included personally identifying information about her. A Schumer spokesperson called the post "ridiculous, absurd, and false" in a statement to The Hill.

As Trump and his counsel have repeatedly toed the line regarding their comments about clerk, the judge's frustration has increased — at one point, unexpectedly calling Trump to the witness stand to explain himself. -The Hill
According to a spokesperson for the NYAG's office, Trump is "once again" trying to "dismiss the truth and the facts, but the numbers and evidence don't lie."
"He can keep trying to distract from his fraud, but the truth always comes out."
Loading...