---
Trump Issues Warning Ahead Of CNN Showdown: 'Could Turn Into A Disaster For All'
Authored by Jack Phillips via The Epoch Times (emphasis ours),
Former President Donald Trump promoted his Wednesday night CNN town hall in New Hampshire but issued a word of caution about might happen.
"I'll be doing CNN tomorrow night, LIVE from the Great State of New Hampshire, because they are rightfully desperate to get those fantastic (TRUMP!) ratings once again. They made me a deal I couldn't refuse!!! Could be the beginning of a New & Vibrant CNN, with no more Fake News, or it could turn into a disaster for all, including me," Trump wrote on Truth Social. "Let's see what happens? Wednesday Night at 8:00!!!"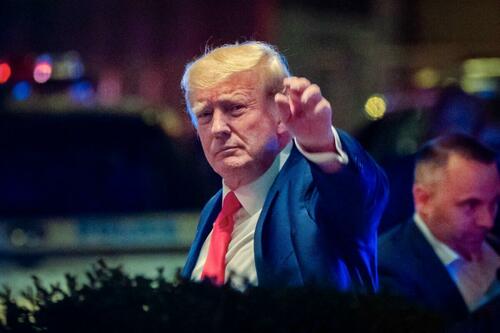 The former president did not elaborate on the "deal" he made with CNN, a network that was highly critical of Trump when he was president and after he departed the White House.
After CNN announced the Trump event, Democrats and corporate media commentators criticized the network's decision. They repeated often-used claims CNN shouldn't host Trump because of the Jan. 6, 2021, Capitol breach.
CNN parent company and Warner Brothers CEO David Zaslav pushed back against those allegations, saying that it is an opportunity to allow "both voices" to be heard before the 2024 election. "He's the frontrunner, he has to be on our network," Zaslav told CNBC last Friday.
"We are a divided government. We need to hear both voices. That's what you see. Republicans are on the air on CNN, Democrats are on the air. All voices should be heard," Zaslav stated.
The Warner Bros chief executive did not elaborate on whether the network would have a system in place to edit or censor Trump's comments. Last month, Democrat presidential candidate Robert F. Kennedy, Jr. accused ABC News of editing his remarks about COVID-19 vaccines and placing a disclaimer in a move that he described as censorship. ABC later confirmed editing Kennedy's statements that were critical of vaccines.
A CNN spokesperson told news outlets last week that "our job despite his unique circumstances is to do what we do best: Ask tough questions, follow up, and hold him accountable to give voters the information they need to sort through their choices."
Zaslav, who took control of the media giant and installed Chris Licht to replace Jeff Zucker as the head of CNN last year, added to CNBC that the town hall will be an opportunity to show CNN is a "network about the facts …  great journalism and not just politics, either." He added, "When we do politics, we need to represent both sides."
But on Monday, multiple MSNBC hosts targeted CNN for allowing Trump, who polls show has a wide lead on the other GOP candidates, on one of its programs.
"It feels to me like this is a pretty open attempt by CNN to push itself to the right and make itself attractive and show its belly to MAGA and to conservatives hoping that they will tune in," leftist MSNBC host Joy Reid said.
Her guest, the editor-at-large of anti-Trump publication The Bulwark, Charlie Sykes, claimed that CNN will not be able to "filter for misinformation" and suggested that the network should "control the questions and the answers."
"In journalism, you actually will control the questions and the answers, and you'll have some sort of a filter for misinformation. CNN will not be able to filter or control the disinformation that Donald Trump puts out on the air live and CNN will not even be able to control the kinds of issues that are talked about," he claimed.
In recent years, CNN has often lagged behind both Fox News and MSNBC in terms of primetime ratings, including in the all-important 25-54 age demographic. But in a news release issued last year, the channel said that it "reach[ed] more people in the U.S. in 2022" than any other cable news channel.
Read more here...
Loading...