---
Trump, Maintenance Guy Charged With Trying To Delete Surveillance Footage At Mar-a-Lago
Former President Donald Trump and a maintenance guy at Mar-a-Lago were charged with attempting to delete surveillance footage.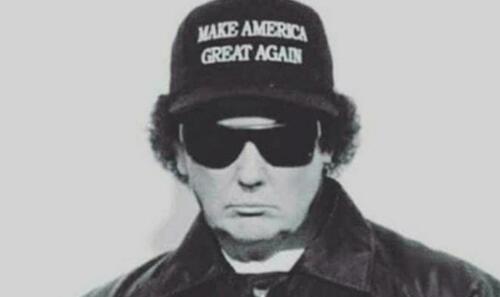 In a superseding indictment filed on Thursday, Trump and the worker charged under the Espionage Act, bringing the total number of counts Trump faces to 42.
It accuses Trump of acting with Carlos de Oliveira, the property manager of the hotel, and Trump's other co-defendant Walt Nauta, with trying to delete the footage.

The indictment notes efforts from de Oliveira, 56, to determine how long security footage was stored on the Mar-a-Lago system. It says he later told another Mar-a-Lago employee that "'the boss' wanted the server deleted."

The indictment also described de Oliveira and Nauta organizing their plans secretly, apparently walking among the bushes around the IT office where the security footage was managed. -The Hill
Meanwhile the president of a Ukrainian gas company allegedly paid the current US president $5 million dollars in connection with a quid pro-quo in which a prosecutor investigating said company - which employed the president's son for $80k/month, was fired. Said Ukrainian oligarch also made several recordings of said shady dealings as an 'insurance' policy, for which no special counsel has been appointed.
Anyway...
De Oliveira has been summoned to appear in a Miami courthouse on Monday, where he'll face charges of lying to investigators about allegedly moving boxes at the property, where he says he "never saw anything."
The indictment also adds a thirty-second document to the tally for which Trump is facing charges of violating the Espionage Act, a top secret document on a presentation about military activity in a foreign country.

The superseding indictment comes as a Washington grand jury met in another special counsel probe into Trump's efforts to remain in power after losing the 2020 election. -The Hill
Trump responded following the new indictment, with his campaign calling it "nothing more than a continued desperate and flailing attempt by the Biden Crime Family and their Department of Justice to harass President Trump and those around him."
"Deranged Jack Smith knows that they have no case and is casting about for any way to salvage their illegal witch hunt and to get someone other than Donald Trump to run against Crooked Joe Biden," the statement continues.
Loading...