---
Trump Pleads Not Guilty To Charges In 2020 Election Case
Authored by Janice Hisle via The Epoch Times,
Former President Trump has pleaded not guilty to a third set of criminal charges.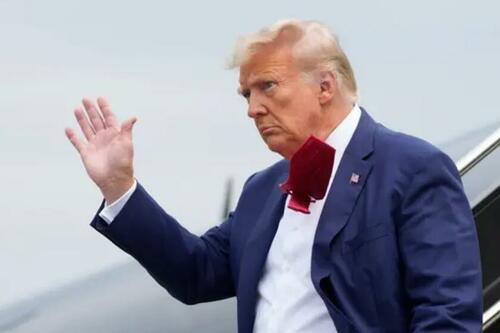 Wearing his trademark blue suit, white shirt, and red tie, Mr. Trump, 77, appeared before Magistrate Judge Moxila Upadhyaya in the U.S. District Court for the District of Columbia, in the nation's capital.
Flanked by his attorneys, John Lauro on his left and Todd Blanche on his right, Mr. Trump sat at the defense table with a serious expression, and occasionally looked at Special Counsel Jack Smith, the prosecutor who brought the charges against him.
A 45-page indictment, filed Aug. 1 by Mr. Smith, charges Mr. Trump with criminal conspiracies to defraud the United States, obstruct the certification of votes for Mr. Biden on Jan. 6, 2021, and conspiracy against citizens' right to vote.
Mr. Trump cracked a brief smile after he was sworn in; he listened and nodded as the judge spoke, reading aloud the charges and penalties he faces. He looked at the judge and listened intently.
The former president rose to his feet and stood while Mr. Lauro went to a podium and began talking, saying that he waived the reading of the full indictment. Asked what his pleading was, Mr. Trump then responded, "not guilty."
Unlike many other Jan. 6 defendants, Trump will not be detained under an agreement between the government and his lawyers. But, under the agreement, he is prevented from discussing the case.
Prosecutors were ordered to file a brief within seven days to suggest a trial date and predict how long the trial might take.
Assistant U.S. Attorney Thomas Windom said the government would be seeking a "speedy trial."
The Judge replied that the trial will be "fair."
But Mr. Lauro objected to the proposal of a speedy trial calling it "absurd." He pointed out that the government had three years to investigate and accumulate information. Likewise, Mr. Trump's lawyers need time to prepare a proper defense, he said.
Mr. Lauro also expressed concern over the possibility of "massive" amounts of information to digest, including electronic data, printed documents, and "exculpatory" information.
Mr. Windom said the government is prepared to produce a "substantial" amount of discovery material.
The next hearing date is scheduled at 10 a.m. on Aug. 28 before Judge Tanya Chutkan, who's been assigned to oversee the case. Mr. Trump has been allowed to waive his appearance at this hearing.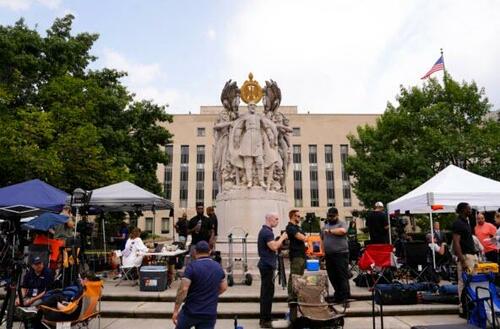 Press members gather at the E. Barrett Prettyman federal courthouse in Washington on Aug. 3, 2023. (Madalina Vasiliu/The Epoch Times)
Indictment
Mr. Trump's attorneys argue that the indictment is an attack on the former president's political speech, which is protected by the Constitution. They also argue the charges will be defeated because, unlike Mr. Smith's allegations that Mr. Trump "knowingly" spread "false claims" about the election, the former president held a genuine belief in the veracity of those claims.
Reporters, security personnel, and attorneys filled the courtroom where Mr. Trump, his attorneys, and prosecutors listened as the judge followed standard procedures, with the judge reading the charges aloud and attorneys making brief remarks before the judge accepted Mr. Trump's denial of the charges and set the next hearing date.
Mr. Trump's appearance, which lasted 27 minutes, was historic, considering his status as a former president and current presidential candidate who alleges that the current president's administration is overseeing two federal prosecutions against him.
Mr. Trump alleges that Democrat Joe Biden's Department of Justice (DOJ) is "weaponized" against him for political reasons. But Mr. Biden denies directing specific DOJ actions against Mr. Trump. Based on current opinion polls, the two men appear slated for a rematch in 2024. Mr. Trump has never conceded Mr. Biden's 2020 election victory and has maintained that the election was "stolen." His attempts to challenge or overturn the election are now viewed as criminal conduct in a four-count indictment.
Members of the public were excluded from the courtroom. Only a few took advantage of the opportunity to view the proceedings via closed-circuit monitors in overflow rooms.
Pro-Trump protesters gather around the E. Barrett Prettyman federal courthouse in Washington on Aug. 3, 2023. (Madalina Vasiliu/The Epoch Times)
Venue
Considering that 92 percent of votes cast in the District of Columbia in 2020 went to Mr. Biden, Mr. Trump's lawyers have already said they would be attempting to have the trial moved to more hospitable political territory, such as Virginia.
Some of Mr. Trump's supporters have also raised concerns that, because of her past record, Judge Chutkan might be inclined to deal harshly with Mr. Trump, although judges are pledged to decide cases impartially.
She was an appointee of Democrat President Barack Obama and handed down harsh prison sentences to other defendants charged in connection with the events of Jan. 6, 2021. Ms. Chutkan met or exceeded prosecutors' sentencing recommendations in those cases.
She also has had past dealings with Mr. Trump, and has ruled against him in multiple cases.
In 2021, she rejected Mr. Trump's claims that executive privilege should have exempted Jan. 6-related White House documents from disclosure. In that case, she wrote that Mr. Trump's arguments seemed to be based on "the notion that his executive power 'exists in perpetuity' ... but presidents are not kings, and Plaintiff is not President."
Defense
Trump's attorney John Lauro, in an interview with The Epoch Times' Jan Jekielek on Aug. 2, said there's somewhat of a silver lining to this case against Mr. Trump: "This is the first time when there'll be a full airing of all of the issues in the 2020 election."
Further, Mr. Lauro said his client was focused on getting the truth, not blocking it, and he believed in the veracity of his claims that the election was stolen.
By disclosing six unnamed, uncharged "co-conspirators" in the indictment, Mr. Smith appeared to be attempting to discourage them from testifying on Mr. Trump's behalf, Mr. Lauro said, because those people will likely fear they could be indicted.
Based on descriptions and context, five of the six co-conspirators can be identified.
They are believed to be former New York City Mayor Rudy Giuliani, who formerly served as Mr. Trump's attorney; lawyers John Eastman, Sidney Powell, and Kenneth Cheseboro, and Jeffrey Clark, a former DOJ civil attorney.
Mr. Lauro asserts that Mr. Trump's lawyers were not engaged in illegal conduct when they advised him about his challenges to the election. They were rendering legal advice, he said, and did not believe they were doing anything unlawful.
Look Ahead America (LAA),  a nonpartisan organization that has been tracking the Jan. 6  cases, added Mr. Trump's name to its database listing "over 1,000 politically persecuted Americans targeted for protesting the results of the 2020 general election."
According to LAA, "the overwhelming majority of those arrested and imprisoned were for nonviolent charges, and nobody to date has been charged with insurrection," despite mainstream news media's frequent use of that term.
In addition to the Washington charges, Mr. Trump faces dozens of document-mishandling charges under state laws in New York and federal laws in Florida. He has pleaded not guilty in those cases and claims that all of the charges are intended to thwart his third bid for the presidency.
Loading...