---
Trump Rap 'First Day Out' Goes Viral After Former President Booked And Released
Authored by Matthew Lysiak via The Epoch Times (emphasis ours),
Trump the Don has just thrown down a powerful lyrical flex—and a warning to the Deep State.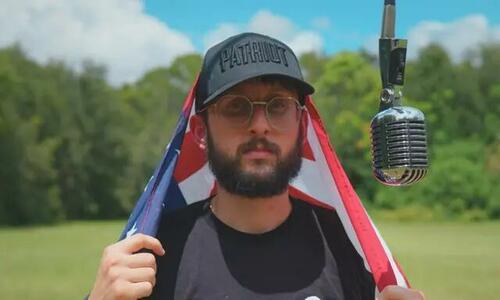 A new parody rap of a fired-up former President Donald Trump after his release from his Atlanta, Georgia booking has been rising up the charts. As of Monday morning "First Day Out" by Trump the Don had shot up to #3 on the iTunes Hip Hop chart, #34 overall, and has garnered 2.8 million views on social media since its release on Friday.
"I've been blown away by the response. It's gone completely viral," Jessie Friedman, 29, the alter ego behind Trump the Don, told The Epoch Times. "Like so many other Americans I was disgusted and felt like fighting back in a comedic way. I never expected it to blow up like this."
Mr. Friedman, a resident of central Florida, who had been rapping since the age of 13, found inspiration for the song after first seeing the former president's historic mugshot on the news. Fired up, Mr. Friedman decided to write an ode first popularized by other artists' experience rapping about their first day of freedom after being in police custody.
"In hip-hop it's common for when an artist gets out of prison they do rap for a couple minutes about their first day out to just flex and let everyone know that hey, I haven't been defeated. I'm still here standing strong," said Mr. Friedman. "I felt Trump deserved a flex of his own so I went to work."
"First Day Out," which is 90 seconds in length, shares the thoughts of a fictionalized Trump after exiting the Atlanta jail.
The song opens with shout-outs to notable conservative figures before launching into a defiant, yet humorous, screed, "Out on bail, out on bail. I won't see inside a cell."
"I got homies doing life in jail they living in Hell. These DAs are acting silly. My mugshot is worth a billi. Sold some merch and made and made a milli."
The lyrical Trump continues: "I am not who they are after. I'm just in the way, they want to get to you but I won't let 'em. Cold-hearted now I'm heartless getting back to where I started. I don't need to do the race, Ima beat the RICO charges. And if I go to prison you can't do me like the Clintons. I'll be laid up eating steak with secret service straight up chillin. Screaming Orange man bad! Got the whole world mad! Thug life shout out to all of my MAGA based chads"
The song ends with Trump issuing a warning: "Coming for the deep state I will stop the new world order. But before that I'll finish the wall at the border."
Mr. Friedman, who says he supports Trump but not the Republican Party, is hoping his music not only makes people smile, but through humor, can also inspire change in the way political parties are perceived.
"It's wild to see these rock stars, who, while growing up, I had always thought of as these counter culture renegades, step in lockstep with corporate and government powers, telling us to mask up and obey authority," said Mr. Friedman. "We look to them to fight the power, but they are all conforming. Sit down. Do what you're told. That is their message. Trump is the true rebel."
"It's sick. You can rap all you want about guns and everyone will celebrate, but talk about the Second Amendment and you get canceled," Mr. Friedman added.
Recent months have seen political songs strike a deep chord in American culture. For several weeks the number one song on the iTunes chart has been Oliver Anthony's "Rich Men of North Richmond," which chronicles how corrupt elites on both sides of the political aisle have profited at the expense of the struggling lower and middle classes.
Mr. Friedman, who currently resides in central Florida and also raps under the name "Hi-Raz The Rapper," had a chance meeting with his lyrical inspiration at the former president's Florida residence in Mar a Lago.
"It was my wedding and Trump showed up to wish us luck," said Mr. Friedman. "He was a lot of fun. Couldn't have been nicer."
The rapper says that while he is taking time to enjoy the success of his newest song, he plans to get back to work soon to create more musical parodies. However, if the former president is elected to a second term Mr. Friedman says he would gladly make time in his schedule for any potential reelection events.
"Why not light up his inaugural?" said Mr. Friedman. "I'm just this white Jewish rapper living out my dream while living in this clown world, so I say, Let's go. And knowing Trump the little bit that I do, he might just be into Trump the Don."
Loading...