---
Trump Will Be 'Imprisoned With Ivanka' Says Maxine Waters As Trials Delayed
Rep. Maxine Waters (D-CA), who hooked her Daughter up with $750,000 in campaign funds over a decade with minimal repercussions, lashed out on X after former President Trump's trial date in his Georgia RICO case was delayed - the first of two such delays issued late in the week.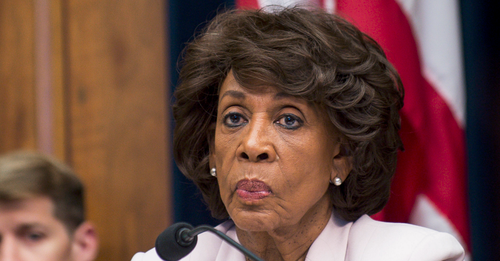 On Thursday, the Florida judge overseeing Trump's 2020 election-related case ruled that the former president will not go on trial next month along with attorneys Sidney Powell and Kenneth Chesbro, both of whom asked for an expedited schedule, Politico reported. Prosecutors wanted to put all 19 defendants in the case on trial at the same time, which Judge Scott McAfee laughed out of the courtroom.
"The Fulton County Courthouse simply contains no courtroom adequately large enough to hold all 19 defendants, their multiple attorneys and support staff, the sheriff's deputies, court personnel, and the State's prosecutorial team. Relocating to another larger venue raises security concerns that cannot be rapidly addressed," he wrote.
Maxine chimes in
"Many are worried that the Judge has extended Trump's trial date," Waters posted Thursday night on X. "Not to worry! TRUMP CAN'T RUN. TRUMP CAN'T HIDE." she continued, adding "He will be imprisoned with Ivanka by his side!"
Many are worried that the Judge has extended Trump's trial date. Not to worry! TRUMP CAN'T RUN. TRUMP CAN'T HIDE. He will be imprisoned with Ivanka by his side!

— Maxine Waters (@RepMaxineWaters) September 15, 2023
This is the same Maxine Waters that told Democrats in 2018 "wherever we have to show up. If you see anybody from that cabinet in a restaurant, in a department store, at a gasoline station, you get out and you create a crowd, and you push back on them, and you tell them they're not welcome anymore, anywhere!"
YOUR REACTION: Far-left Democrat Maxine Waters (@RepMaxineWaters) explodes after learning that trial date for Trump has been extended in Georgia, says he's going to prison anyway with Ivanka: "Many are worried that the Judge has extended Trump's trial date. Not to worry! TRUMP… pic.twitter.com/UbHwExSJV1

— Simon Ateba (@simonateba) September 15, 2023
Totalitarian Despotism on full display. Living reason for the Bill of Rights.

— Christopher L Hansen (@CLHansenATL) September 15, 2023
On Friday, a New York appeals court judge halted a trials scheduled for Oct. 2 in NY Attorney General Letitia James' fraud lawsuit against Trump and the Trump Organization.
More via the Epoch Times;
State Justice David Friedman, with the 1st Department of the New York Supreme Court Appellate Division, granted an interim stay of the trial—slated to start Oct. 2—and referred the matter to a five-judge panel, which expects to rule in the last week of September, a spokesperson said. He also ordered the full appeals court to consider a reported lawsuit that President Trump had filed against the trial judge, Arthur Engoron, on an expedited basis.
President Trump's lawyers had raised issue with Judge Engoron's refusal to grant a request for a three-week trial delay, which he said (
pdf
) was "completely without merit." They also asked the judge to pause the trial until he issues a ruling on the statute of limitations regarding certain claims in Ms. James's lawsuit, it was
reported
.
First reported by the Daily Beast, the lawsuit against Judge Engoron also asserted that the jurist is overstepping his authority. A state appellate court issued a ruling several months ago that asked the judge to determine which Trump Organization real estate deals are too old and beyond the statue of limitations.
The judge declined to issue a comment on the matter via a court spokesperson. Meanwhile, Ms. James' office issued a statement on Thursday ruling, telling multiple news organizations that "we are confident in our case and will be ready for trial."
The lawsuit filed by Ms. James, a Democrat, alleges President Trump defrauded banks, insurers, and others with annual financial statements that inflated the value of his skyscrapers, golf courses, and other assets and boosted his net worth by as much as $3.6 billion. Her lawsuit seeks $250 million in penalties and a ban on the former president doing business in New York.
Loading...