---
As Hearing Begins, Evidence Of Bias Mounts Against DC Judge
Update (1030ET): With regard to bias we thought the following comments from the hearing this morning may also elucidate some of Judge Chutkan's views...
"Mr Trump, like every American, has a First Amendment right to free speech. But that right is not absolute."

"A defendant's free speech is subject to conditions," Chutkan adds, noting that such speech must "yield to the orderly administration of justice."
We don't think that's how it works judge...
Trump's lawyer Lauro says Trump should retain the right to respond to his political opponents, such as Pence.
Chutkan sharply rebuked:
"The defendant's desire to... respond to political opponents has to yield!"
To which Lauro responds that he worries the judge is setting a 'contempt trap'.
As Techno Fog detailed earlier via The Reactionary substack (subscribe here), this past week, the Government submitted a proposed protective order in its DC case against Donald Trump. It was broad, proposing the Court restrict Trump's ability to communicate any exculpatory evidence to the broader public during the 2024 election: all materials provided by the Government could only be used by Trump and his attorneys "solely in connection with the defense of this case, and for no other purpose."
That request was made to Obama-nominated District of Columbia Federal Judge Tanya Chutkan, who oversees Trump's DC case. For context, that case undoubtedly involves hundreds of witnesses, terabytes of information, and millions of pages of documents. Typically, Judge Chutkan would allow for at least one week for Trump's team to file a response. (the Court's local rules allow 14 days to respond to motions). How do we know that? Because we went through Judge Chutkan's other cases where a protective order was disputed - more on that below.
Curiously, however, Judge Chutkan decided to demand an expedited briefing and hearing schedule - against the reasonable requests of Trump's attorneys, who requested just a little bit extra time. Here's the timeline:
August 4, 2023: Special Counsel Smith files his motion for protective order.
August 5, 2023: Trump is ordered to file his response to the motion for protective order by 5:00 on Monday, August 7, 2023.
August 5, 2023: Trump's lawyers file a motion to revise the briefing schedule on the government's motion for protective order, seeking only three extra days – a deadline of August 10. This is under the timeframe discussed in the Court's local rules, which allow for 14 days to respond to motions.)
August 5, 2023: Judge Chutkan denies Trump's requested extension.
August 7, 2023: Trump's lawyers file their response to the government's proposed protective order. Judge Chutkan demands dates and times for a hearing on the protective order, which she orders to take place by August 11, 2023.
August 8, 2023: Trump and the Special Counsel file their joint notice. Special Counsel says it is available "at any time on August 9, 10, or 11." Trump requests a setting on Monday or Tuesday (August 14 or 15) where both of Trump's lawyers can be present. A very reasonable request.
August 8, 2023: Judge Chutkan denies Trump's request and sets the protective order hearing for August 11, 2023 - exactly one week after the protective order was filed by Special Counsel Smith.
That's a quick timeline in any case. The hearing is set a week after Special Counsel Smith filed the motion for protective order. Judge Chutkan only gave Trump's lawyers two days to respond to that motion – with one of those days being a Sunday. But in a case where the next election might be at stake, it's unfairly quick, a timeline that Trump's lawyers observed were "inconsistent with his due process rights."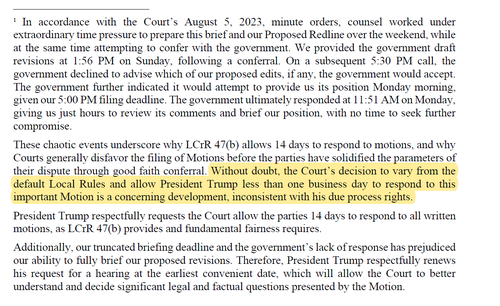 Judge Chutkan's history suggests that she is specifically targeting Trump, treating him worse than other defendants who have faced disputes over protective orders. Let me show you.
Back in 2018, the US Government prosecuted Maria Butina for acting as an agent of Russia without notifying the Attorney General (and for conspiracy to act as a Russian agent). Butina had a much less complicated case as opposed to Trump's.
Judge Chutkan presided over Butina's case.
The protective order deadlines and hearing dates were much less abbreviated – and much more fair to the defendant.
Subscribers to The Reactionary can read the rest here...
Loading...