---
Trump's Veterans Day Message Was Quite Different From Biden's
Authored by Jack Phillips via The Epoch Times,
President Joe Biden and former President Donald Trump both released differing messages on Nov. 11, Veteran's Day.
"Today, we honor the story of our veterans - the story of our nation at its best," President Biden wrote on X.

"On Veterans Day, let's recommit to fulfilling our one sacred obligation as a nation: to prepare those we send into harm's way and care for them and their families when they come home."
In a Veterans Day speech at the Memorial Amphitheater in Arlington National Cemetery, President Biden made reference to "those who have always, always kept the light of liberty shining bright across the world," while making reference to his late son, Beau, who was deployed to Iraq about 15 years ago.
"We come together today to once again honor the generations of Americans who stood on the front lines of freedom ... to once again bear witness to the great deeds of a noble few who risked everything, everything, to give us a better future," President Biden also said.
During the event, president was joined by first lady Jill Biden, Vice President Kamala Harris, and second gentleman Douglas Emhoff. Several members of his cabinet also joined.
On Saturday, President Biden announced that military veterans who were exposed to toxins could be able to enroll in no-cost health care starting next year.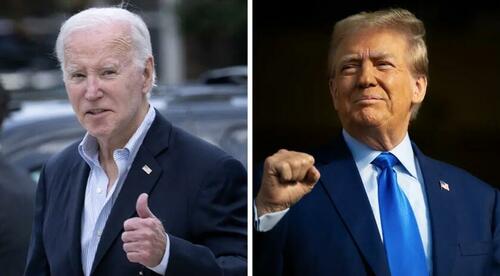 President Trump marked Veterans Day with a message on his Truth Social social media platform:
"To our heroic veterans, I am grateful for your service to our country and honored to wish you a Happy Veterans Day."

He added that there is "no greater act of selfless service than defending America's God-given freedoms and liberty."
Hours later, he wrote a message on the platform noting that in "honor of our great veterans on Veteran's Day, we pledge to you that we will root out the communists, Marxists, fascists, and radical left thugs that live like vermin within the confines of our country."
They will "do anything possible, whether legally or illegally, to destroy America, and the American dream," added President Trump, who was later seen at a UFC fight in New York on Saturday.
"The threat from outside forces is far less sinister, dangerous, and grave, than the threat from within," the former president also wrote.

"Despite the hatred and anger of the radical left lunatics who want to destroy our country, we will make America great again!"
Two GOP presidential candidates issued Veterans Day messages to underscore their military ties.
"Proud of my veteran Michael Haley and the many men and women who have served to defend our freedoms," former U.N. ambassador Nikki Haley wrote on X, along with a photo of her husband Michael, a National Guard officer.
And Florida Gov. Ron DeSantis, a former Judge Advocate General (JAG), sent this thanks to "all who have worn the cloth of our country."
He added, "As a veteran myself, I am honored by the unwavering support we receive. I will always have the backs of our vets."
Nov. 11, once known as Armistice Day, is the anniversary of the armistice that ended World War I in 1918. According to the Department of Veterans Affairs, the first celebration that used the term Veterans Day occurred in Birmingham, Alabama, in 1947.
World War II veteran Raymond Weeks had set up a "National Veterans Day," which included a parade and other events to honor veterans. It has held on Nov. 11.
"In 1954, after the return of service personnel from both World War II and the Korean War, U.S. President Dwight D. Eisenhower signed a bill rededicating Nov. 11 as Veterans Day, encouraging Americans to commit themselves to the cause of peace and to honor America's veterans for their courage, honor, patriotism and sacrifice," according to the National World War I Museum.
Loading...