---
US Pending Home Sales Unexpectedly Jumped In July
With homeowners trapped by a record gap between current and effective mortgage rates...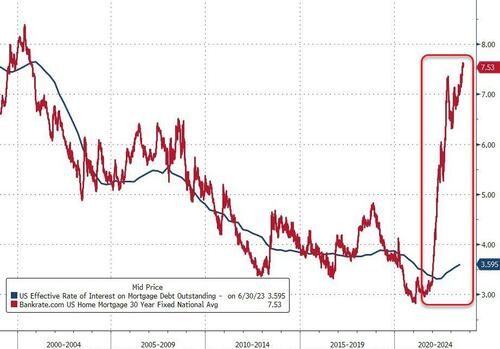 ...US Pending Home Sales were expected to return to decline in July (-1.0% exp) after rising in June for the first time since Feb. Instead, Pending Home Sales surged 0.9% MoM higher (second straight monthly gain), but the year-over-year sales remain down 13.8%...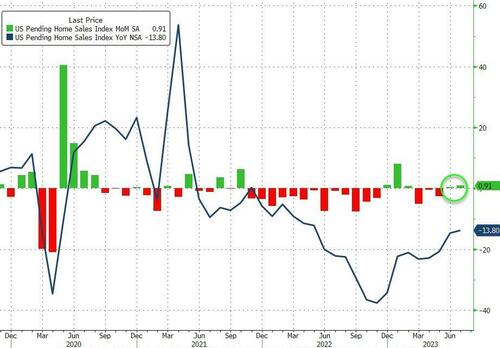 Source: Bloomberg
By region, July pending sales rose the most in the West as meaningful price declines in the past year lured buyers, Yun said. They also increased in the South, but fell in the Northeast and the Midwest.
Rising mortgage rates, which surged this month to the highest level since 2000, have dealt a severe blow to affordability. With so many homeowners staying put, having locked in much lower rates years earlier, there's a scant number of available properties. That's kept prices elevated as result.
"The small gain in contract signings shows the potential for further increases," Lawrence Yun, NAR's chief economist, said in a statement.

"However, rising mortgage rates and limited inventory have temporarily hindered the possibility of buying for many."
Still, when one looks at both the pending and existing home sales index, it is difficult to share Larry's enthusiasm. Also notable is the record disconnect between existing/pending transactions and new home sales which have been storming higher in recent months.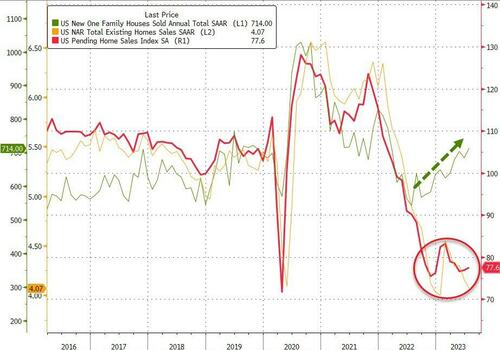 The pending-home sales report is a leading indicator of existing-home sales given houses typically go under contract a month or two before they're sold.
Loading...