---
Watch: Biden Almost Falls Down Steps On Same Day As Report About Handlers' 'Mission' To Prevent Him Falling
Authored by Steve Watson via Summit News,
Joe Biden almost fell down the small set of Airforce One steps that are specifically used to prevent him falling On Tuesday. The incident occurred on the same day that a report emerged detailing the lengths that his handlers are going to to prevent Biden from constantly falling over.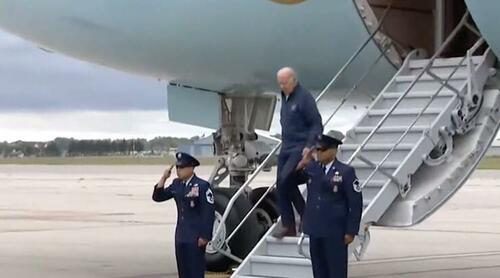 Here's Biden almost decking it flat on his ass as he descended the smaller set of steps on a trip to Michigan for a photo op with striking UAW workers.
Biden nearly loses his footing — even as he uses the short stairs to avoid such situations — as he exits AF1 in Michigan.

He then heads over to greet, among others, rabid antisemite Rashida Tlaib. pic.twitter.com/qgv5k3mO7T

— RNC Research (@RNCResearch) September 26, 2023
ANOTHER ANGLE: Biden nearly trips as he exits Air Force One using the short stairs — which his staffers make him use to avoid tripping pic.twitter.com/RBcactMYHN

— RNC Research (@RNCResearch) September 26, 2023
He was there for around 12 minutes, but had brought a convoy of scores of huge vehicles.
September 26, 2023
Biden, who constantly calls on Americans to reduce carbon emissions and calls climate change the "greatest existential threat," arrives at the UAW strike in his two-dozen-plus-vehicle motorcade pic.twitter.com/oKcZ6zlfXw

— RNC Research (@RNCResearch) September 26, 2023
Earlier in the day a report emerged from Axios detailing how White House insiders are secretly working to prevent Biden falling and injuring himself.
AXIOS: Biden team's don't-let-him-trip mission

😬😬😬https://t.co/0fercTQzrI

— RNC Research (@RNCResearch) September 26, 2023
The report states that Biden is working every day with physical therapist Drew Contreras doing exercises to counter his seriously impaired balance. Contreras has referred to these as "proprioceptive maintenance maneuvers," whatever that means.
Professor James Gordon, associate dean and chair of the Division of Biokinesiology and Physical Therapy at the University of Southern California, stated "I have never heard the term 'proprioceptive maintenance maneuvers', adding that it is not a clinical term in standard use.
Related:
*  *  *
Brand new merch now available! Get it at https://www.pjwshop.com/
In the age of mass Silicon Valley censorship It is crucial that we stay in touch. We need you to sign up for our free newsletter here. Support my sponsor – Summit Vitamins – super charge your health and well being.
Also, we urgently need your financial support here.
Loading...