---
"This Is Personal": McCarthy Hits Back After Gaetz Removal Threat
Update (1146ET): House Speaker Kevin McCarthy on Sunday responded to a threat by Rep. Matt Gaetz (R-FL) to oust him from the Speakershp, telling CBS News' "Face The Nation" that it's "personal" for the Florida lawmaker.
"That's nothing new, he's tried to do that from the moment I ran for office," said McCarthy, adding "I'll survive, you know this is personal with Matt."
"Matt voted against the most conservative bill to protect our border…secure border," McCarthy continued.
"I'll survive," House @SpeakerMcCarthy says after Rep. Matt Gaetz said Sunday that he will introduce a motion to vacate McCarthy from his seat this week.

"Bring it on. Let's get over with it." pic.twitter.com/SnCVIHTN4f

— Face The Nation (@FaceTheNation) October 1, 2023
Gaetz, meanwhile, hopped on ABC's "This Week" to say that McCarthy will get his wish, and that he's going to file a motion this week to vacate him as speaker.
.@SpeakerMcCarthy is going to get his wish. I'm going to file a motion to vacate against him this week.

If at this time next week Kevin McCarthy is still Speaker of the House, it will be because the Democrats bailed him out. He can be their Speaker, not mine. pic.twitter.com/ITlcwynY39

— Rep. Matt Gaetz (@RepMattGaetz) October 1, 2023
*  *  *
Rep. Matt Gaetz (R-FL) announced on Sunday that he will file a motion this week to remove McCarthy as speaker, and will use a parliamentary process that hasn't resulted in the removal of a speaker since 1910.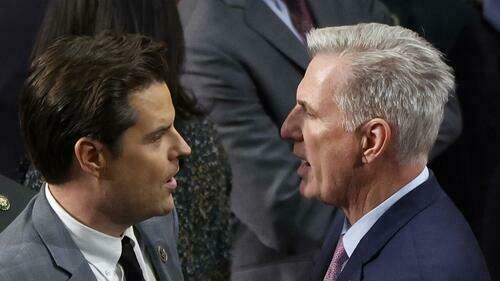 The move comes after McCarthy reached across the aisle for bipartisan support to pass a Continuing Resolution which will keep the US government operating until mid-November, and then Democrats revealed that McCarthy had struck a side deal to guarantee Ukraine funds at a later date.
Wow.@SpeakerMcCarthy made a side Ukraine deal with Democrats and didn't tell House Republicans until after his Continuing Resolution passed.

More deceit. https://t.co/LC91laLyTp

— Matt Gaetz (@mattgaetz) October 1, 2023
Speaking with CNN's "State of the Union," Gaetz said he will file what's known as a motion to vacate.
"I think we need to rip off the Band-Aid," said Gaetz. "I think we need to move on with new leadership that can be trustworthy."
When asked how many Republicans were behind him, Gaetz said he has enough.
"Enough so that when you host this show next week, if Kevin McCarthy is still Speaker of the House he will be serving at the pleasure of the Democrats," said Gaetz. "He will be working for the Democrats. The only way that McCarthy will be Speaker of the House is if Democrats bail him out. Now they probably will."
Matt Gaetz wants McCarthy OUT:

"I intend to file a motion to vacate Kevin McCarthy as Speaker of the House this week. We need to rip off the bandaid." pic.twitter.com/oXLvXK2Z0I

— Citizen Free Press (@CitizenFreePres) October 1, 2023
Gaetz's announcement came just hours after the CR was passed, and says it's the latest in a string of broken promises by McCarthy.
"This isn't personal. This is about spending," said Gaetz. "This is about the deal Kevin McCarthy made."
McCarthy will need a simple majority of the House to stop Gaetz's effort to oust him. If just five Republicans join the Democrats, it could work. Democrats, meanwhile, would generally be expected to back such a motion since they would prefer one of their own, Minority Leader Hakeem Jeffries (D-NY) as speaker.
"I'm going to be totally blunt. There are a lot of trust issues in my chamber right now," said Rep. Byron Donalds (R-FL), who thinks McCarthy is in trouble, in a statement to Fox News.
Byron Donalds on Fox News blames Kevin McCarthy for why he didn't end up voting on the CR pic.twitter.com/HozOXvgaeE

— Aaron Rupar (@atrupar) October 1, 2023
As Bloomberg further notes, 
Even if McCarthy survives the current mutiny, Republican dissenters could call for a new vote at any time or impose procedural hurdles to block consideration of legislation. That essentially requires him to either maintain the alliance with Democrats—essentially a coalition government in the House—or resolve differences with hardliners who now have one more reason to resent his leadership.

In 2015, then-Speaker John Boehner resigned when hardliners threatened such a rebellion rather than rely on Democratic votes to remain in power.

House Democrats led by Representative Hakeem Jeffries of New York could decide to bail out McCarthy, even if they don't actually cast votes to keep him in his post. Enough members could simply not show up, hold back their votes, or merely vote "present," lowering the threshold number of "nays" to removal that McCarthy needs to prevail.
Weeks ago Rep. Dean Phillips (D-MN) says he and other Democrats would consider helping McCarthy remain in power, but backpedaled on those comments after the speaker authorized the formal impeachment inquiry of President Joe Biden, which Phillips called an act of "pandering."
Loading...