---
Watch: Gold Star Father Blasts "Asshole" Biden
Authored by Steve Watson via Summit News,
During a discussion with the House Foreign Affairs Committee Tuesday, Gold Star father Mark Schmitz labeled Joe Biden a "disgrace" and an "asshole".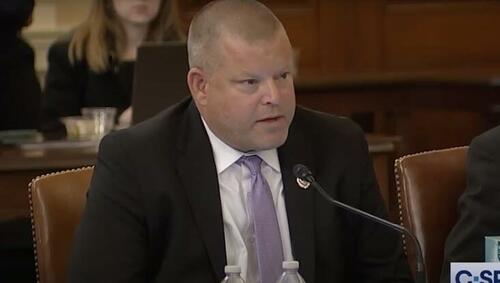 The committee is investigating the botched Afghanistan withdrawal and the suicide bombing in August 2021 at Kabul airport that killed 13 U.S. service members
Schmitz, who lost his son during the attack, Marine Corps Lance Cpl. Jared Schmitz, said Biden has "more American blood" on his hands "than any president in U.S. history."
"Not a single person has been held accountable," Schmitz urged, adding "Our so-called leader can't seem to even utter their names in public, not even once."
Addressing Biden, he said 'You, sir, stole their lives, their futures, their dreams and have ripped apart 13 families."
"Two years has gone by, and where are we? To be frank, we're knee deep in bulls***, is where we are," Schmitz asserted, adding ""Everyone who held a key position in the military still has that position or has been promoted."
Again addressing Biden, he continued, "we've seen the way you've been treating us as Gold Star families. And there couldn't be anything more disgusting and cowardly than the way you have treated us. You are a disgrace to this nation. You have no business having ultimate command over our military, and I regret not saying that to your face when I had the opportunity in Dover."
Watch:
Wow. Mark Schmitz, whose son was killed in Kabul during the Biden Afghanistan withdrawal, goes scorched earth.

Says the admin has the families "knee-deep in bullshit," Biden is a "disgrace" to the United States, and Blinken/Austin need to "pack up their shit" and resign. pic.twitter.com/q1dWugT9an

— Dylan Housman (@Dylan_Housman) August 29, 2023
Related:
*  *  *
Brand new merch now available! Get it at https://www.pjwshop.com/
In the age of mass Silicon Valley censorship It is crucial that we stay in touch. We need you to sign up for our free newsletter here. Support my sponsor – Summit Vitamins – super charge your health and well being.
Also, we urgently need your financial support here.
Loading...