---
Watch: Massive Teen Hordes Swarm Two California Malls - Beatings, Gunfire, Stabbing Ensue
Leisurely shoppers at two different California malls suddenly found themselves amid disturbing frenzies of teenage antisocial behavior on Sunday afternoon. At each of the malls, the mayhem carried on for hours, with a series of brawls and other disturbances culminating in gunfire and a stabbing as overwhelmed security guards and local police summoned reinforcements from nearby jurisdictions. 
First, we take you to the "Del Amo Fashion Center" in the Los Angeles suburb of Torrance. According to the police and the Los Angeles Times, a staggering one thousand juveniles descended on the mall and proceeded to savage each other. 
The chaos caused by teenagers occurred in Del Amo Fashion Centre in Torrance on 23rd of August, 2023. pic.twitter.com/1bFa2k3cfV

— C. Dennis Chang (@cdennischang) August 29, 2023
What's happening with today's youth? The Del Amo footage just keeps getting crazier. pic.twitter.com/5AyZPaxq4N

— Wilmington Chronicles (@Wilmington_) August 28, 2023
Here's another mob descending on a single victim. While the tweet says the victim is white, that's not clear to us:
White guy gets jumped by a large group of scholars in Torrance, California.

Around 4 p.m. Torrance police received a call reporting "a large crowd of juveniles fighting among themselves". pic.twitter.com/qSEmo1LNLk

— iamyesyouareno (@iamyesyouareno) August 28, 2023
If you look closely at the video above, you'll see a black adult male in a blue shirt bravely push his way into the pack to stop the beating that was in progress.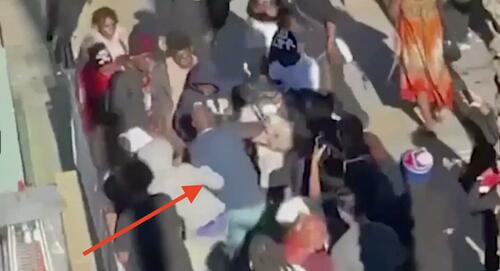 According to KTLA5, that hero was Maurice Hardy, who told the station, "I've got two little brothers and if I see something like that happening, I would want somebody to help them," Hardy said. "So I thought, 'I got to help them.' I don't like bullies. I don't like stuff like that."
This video shows security personnel overwhelmed by the chaos, and being challenged to fistfights by brazen teen-fiends who are as inclined to beat up the guards as they are each other: 
TORRANCE CALIFORNIA—Approximately 1,000 juveniles swarmed the Del Amo Mall on Sunday, starting fights and causing a massive disturbance.

There was also a report of gunfire.

It took several hours for the crowd to disperse while city officials warned the public to steer clear of… pic.twitter.com/gbN1fVSUec

— Amiri King (@AmiriKing) August 28, 2023
🚨 WATCH: CAUGHT ON TAPE A Massive Brawl Involving approx 1,000 Juveniles Breaks Out At Del Amo Fashion Center mall in California draws large police presence.

Civil war
Revolutionary war
Don't tread on me pic.twitter.com/3omawhjQN8

— Coolwa (@Cooolwanyc) August 29, 2023
A shot was fired in Torrance but didn't hit anyone. The same happened on Sunday at the East Bay Mall in Emeryville, a city wedged between Oakland and Berkeley. There, the trouble started around 4:30 pm with a pack of 50 teens creating an unspecified disturbance at one of the businesses at the mall.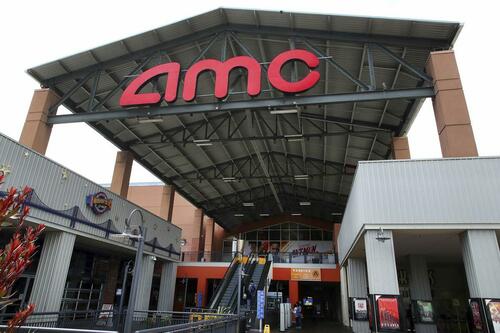 Over the next two hours, some 250 more teenagers amassed near the AMC theater. ABC7 says they were drawn lured by National Cinema Day, a promotion that saw theater chains offering $4 tickets -- probably for the last time ever. One shopper said people were "pepper-spraying each other" and "throwing chairs," prompting her group to make a roundabout escape through a parking garage. 
🚨 Emeryville Police: multiple fights broke out involving 300 juveniles near AMC Theater at Bay Street mall around 5 pm.

Police said the call to congregate was put out on social media.

1 shot was fired, no one injured. A juvenile was stabbed, non life threatening injuries. pic.twitter.com/Z1jQvjtsn0

— Betty Yu (@bett_yu) August 28, 2023
Fighting erupted....
Teenager fires a gun after hundreds of teens swarmed Bay Street shopping center in Emeryville, California today 🚨

A woman was also stabbed in the neck while multiple fights broke out. pic.twitter.com/g5wKRVbYSa

— BAY AREA STATE OF MIND (@YayAreaNews) August 28, 2023
...and then gunfire: 
Emeryville, just north of Oakland, CA
======================

"Emeryville police say they were on the scene Sunday evening after about 300 juveniles broke into groups and were involved in multiple fights near the AMC Theater on Bay and Shellmound Streets."

"Emeryville police… pic.twitter.com/6hAMsvmoRR

— Crime in NYC (@CrimeInNYC) August 28, 2023
The gunshot in Emeryville wasn't enough to scare off the teens. The discord played out for another hour before a teen was stabbed: 
400 TEENAGERS SWARMED BAY STREET SHOPPING CENTER IN EMERYVILLE, CALIFORNIA TODAY 🚨

WOMAN ST*BBED IN THE NECK AFTER MULTIPLE FIGHTS BREAK OUT, SHOTS FIRED pic.twitter.com/LJsCoYpCBj

— BAY AREA STATE OF MIND (@YayAreaNews) August 28, 2023
"It's terrifying being out in public and it's frustrating that it's happening by our own kids," Nadine Huerta told NBC Bay Area. 
"I don't believe that kids were gathering to fight," East Oakland Youth Development Center CEO Selena Wilson told ABC7. "I think kids were gathering to get a lot of energy out and I think there is a lot of pent up rage, anger, frustration and anxiety that kind of creates this powder keg that is easy to ignite." 
Wilson attributes the antisocial behavior to a variety of factors. Allow ZeroHedge to list her factors in order, from credible to preposterous. They are: forced isolation during the Covid lockdowns (absolutely); a housing crisis (um...maybe?); political divisions (LOL...among these teens?); and climate change (ROFLCOPTER).
Conspicuously absent from Wilson's list: fatherless households and lax policing. She says parents and caregivers need "additional resources" to manage the burgeoning "mental and social health crisis." Upon learning that many of the hoodlums in the Emeryville riot were from its student population, the Oakland Unified School District messaged parents, urging them to talk to their kids about how to peacefully resolve conflicts. 
Informed people are increasingly wary of venturing into public venues where teens are likely to convene. "I don't come here on the weekend, same as other places," Michelle Moore told NBC Bay Area. "It's silly, but I've been doing that for a while because crime has gotten so bad." 
Not silly at all, Michelle, not silly at all. 
Loading...