---
Watch: Joe Biden Won't Pardon Hunter, White House Backtracks On Business Deals
The White House on Thursday ruled out the possibility that President Biden would end up pardoning his son, Hunter, after a federal judge on Wednesday rejected an absurd plea deal which effectively made Hunter bulletproof from future prosecution for various crimes.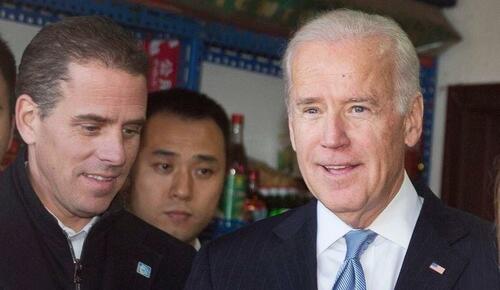 The judge's decision puts Hunter's case on hold for several weeks as both sides submit new materials to judge Maryellen Noreika, Axios reports.
Watch:
BREAKING: @whitehouse @PressSec says President @JoeBiden will not pardon his son, Hunter Biden if convicted of tax fraud and probably other crimes. WATCH pic.twitter.com/MKedWodHVe

— Simon Ateba (@simonateba) July 27, 2023
Meanwhile, the White House has backtracked on its language concerning Joe Biden's claim that he 'never discussed' Hunter's business dealings with his son, after evidence emerged late last month contradicting that claim.
"I have never spoken to my son about his overseas business dealings," Biden claimed in September 2020 on the campaign trail. One month later, he doubled down in a radio interview, saying "I don't discuss business with my son."
Except, in late June a text message presented during testimony by IRS whistleblowers before the House Ways and Means Committee reveals Hunter essentially asking a Chinese businessman where their bribe is.
"I am sitting here with my father and we would like to understand why the commitment made has not been fulfilled," wrote Hunter via WhatsApp on July 30, 2017. "Tell the director that I would like to resolve this now before it gets out of hand, and now means tonight."
Hunter then warned that "if I get a call or text from anyone involved in this other than you, Zhang or the chairman, I will make certain that between the man sitting next to me and every person he knows and my ability to forever hold a grudge that you will regret not following my direction. I am sitting here waiting for the call with my father."
Spin, baby!
Now, the White House's verbiage is a bit different when it comes to Hunter and Joe - after Ian Sams, a spokesman for  the White House counsel's office, told the Washington Examiner "As we have said many times before, the president was not in business with his son."
The White House press secretary repeated the line on Tuesday. 
As RealClear Wire notes;
Asked by RealClearPolitics at the daily White House briefing Wednesday why the language had shifted and if both statements were simultaneously true, Karine Jean-Pierre replied, "Nothing has changed on this. You could ask me a million different ways on this question. Nothing has changed."
The exchange was enough for New York Rep. Elise Stefanik, the chairwoman of the House Republican conference, to allege that the White House was engaged in a coverup.
"The facts are the facts," Stefanik told RCP. "The White House has changed their statement on Hunter Biden. The American people are smart and no matter how many times the Biden White House claims otherwise, they know that the White House is lying."
While administration aides have repeatedly side-stepped questions about Hunter Biden's business dealings with Ukrainian and Chinese businesses, citing the fact that the president's son "is a private citizen," this is not the first time the president's inner circle has insisted that the father and son were not business partners.
During the 2020 presidential campaign, a spokesman for Biden told the New York Times that the former vice president never had any stake in his son's myriad dealings. "Joe Biden has never even considered being involved in business with his family, nor in any overseas business whatsoever." The White House has only recently returned to that language.
The ongoing political controversy was compounded by new legal drama Wednesday when a plea deal between Hunter Biden and federal prosecutors stemming from two misdemeanor tax charges was unexpectedly placed on hold. The defense was reportedly shocked that the deal, which would spare the president's son from prison, would not shield him from future prosecution under other laws that notably include the Foreign Agent Registration Act.
Leo Wise, the lead prosecutor for the Department of Justice, said in federal court that there was "an ongoing investigation." When the court asked for more details, Wise reportedly replied that he wasn't "in a position where I can say."
Legal wrangling to salvage or update that plea agreement is ongoing, but House Republicans will continue to press their own case. Devon Archer, a close friend and former business partner of Hunter Biden, is set to speak to lawmakers behind closed doors next week. The New York Post reported earlier this week that Archer will testify that Hunter Biden was in the habit of calling his father, then Vice President Joe Biden, and placing him on speakerphone during business meetings with foreign companies.
House Republicans were already doing a close reading of previous White House statements when Jean-Pierre, asked about the New York Post report, said Monday that the president "was never in business with his son."
Led by Stefanik, House Oversight Chairman James Comer of Kentucky, Judiciary Chairman Jim Jordan of Ohio, and Ways and Means Chairman Jason Smith of Missouri sent a letter to the White House demanding answers about their updated language.
House Republicans allege that the shift in language came after the House Oversight Committee discovered messages between Hunter Biden and a Chinese business associate where the president's son alleged that he was "sitting here with my father and we would like to understand why the commitment made has not been fulfilled."
Stefanik told RCP that they have not heard back from the Biden administration. "The White House Counsel has until tomorrow to respond to our oversight letter demanding answers to Joe Biden's involvement in Hunter Biden's shady foreign business practices," she said before adding, "We will not stop until all of the corruption comes to light and accountability is served."
The White House referred reporters to the DOJ and to Hunter Biden's legal representatives Wednesday, describing his legal trouble "as a personal matter for him."
"As we have said, the president, the first lady, they love their son, and they support him as he continues to rebuild his life," Jean-Pierre said to kick off the briefing.
Until adding this summer that the president and his son were never in business together, the White House continued to refer to Biden's previous statements from the campaign trail. Was it still the case, a reporter asked in April 2022, that Biden had never spoken to his son about his business dealings? Then-White House Press Secretary Jen Psaki replied, "Yes."
Loading...