---
Biden Family Tried To Hide Over $10 Million In Foreign Payments: House GOP
Summary: House Republicans laid out evidence of a vast network of Biden family dealings which reek of corruption - including;
The Biden family received, and tried to hide, over $10 million in payments from foreign nationals
A previously undisclosed $1 million in Romanian-linked payments
Ties to Romanian 'influence peddling'
A 'web' of 20 LLCs created while Joe Biden was Vice President with a 'complicated corporate structure'
'At least 15' of the LLCs were formed after Biden became VP in 2009 - several of which were owned or co-owned by Hunter
These LLCs accepted payments ranging from $5,000 to $3 million
The committee wants to know what legitimate business the Biden family was in
"Biden family members and business associates created a web of over 20 companies—most were limited liability companies formed during Joe Biden's vice presidency," reads a memorandum. "Bank records show the Biden family, their business associates, and their companies received over $10 million from foreign nationals' companies. The Committee has identified payments to Biden family members from foreign companies while Joe Biden served as Vice President and after he left public office.?
"These complicated financial transactions appear to conceal the source of the funds and reduce the conspicuousness of the total amounts made into the Biden bank accounts. Chinese nationals and companies with significant ties to Chinese intelligence and the Chinese Communist Party hid the source of the funds by layering domestic limited liability companies," Comer continued.
Watch:
The memo outlines efforts by the Biden family to hide, conceal and confuse sources of money - including funds from China which Joe Biden said were 'not true.'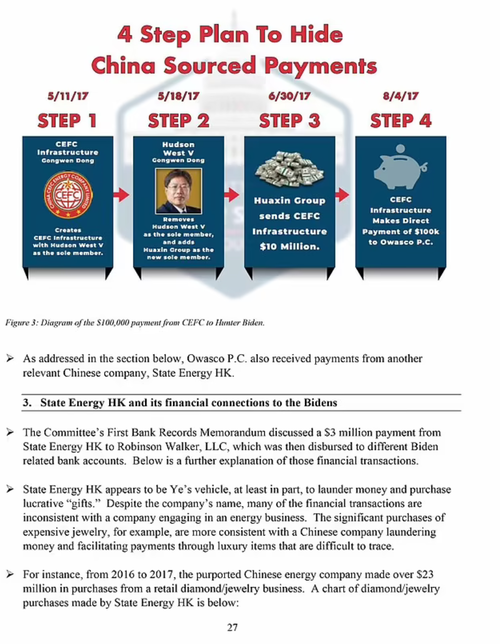 "It is inconceivable that the president did not know it, and the White House refuses to correct the President's statement ... the president is now using the federal government to run interference for his family and his own role in these schemes," said Rep. James Comer (R-KY) during the press conference.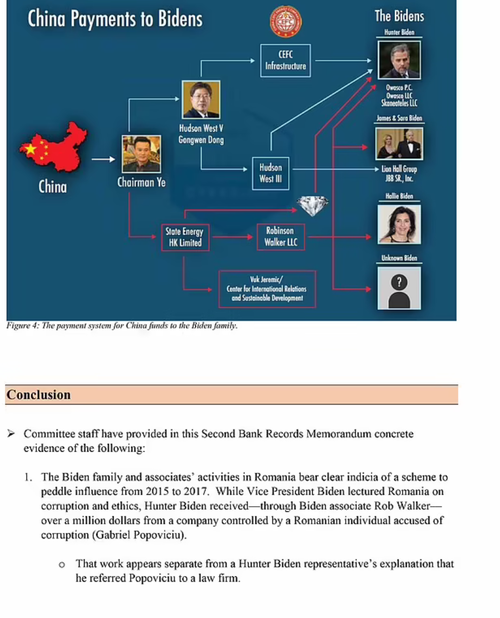 More via the Daily Mail;
The Romanian transactions outlined in the bank records released by the committee were from Cypriot - a company controlled by Gabriel Popoviciu, who was at the time under investigation for criminal corruption in Romania and later convicted for bribery-related offenses.

Between 2015 and 2017, Robinson Walker, LLC received $3 million from Bladon Enterprises Limited - Popoviciu's Cypriot company - which was then paid out to Biden family members in a total sum of over $1 million.

The first payments were received by the LLC just weeks after then-Vice President Biden hosted Romanian President Klaus Iohannis to the White House and they discussed anti-corruption policies.

Biden family accounts gained $1.038 million from Robinson Walker, LLC in a series of 17 deposits, 16 of which were made while Biden was still in the White House. The payments went to associate James Gilliar, Hunter Biden, Hallie Biden, Owasco LLC and an 'unknown Biden bank account.'

'It appears from bank records the Bidens were using Robinson Walker, LLC to conceal that the source of these payments was Popovici,' the memo says. 

The memo also 'serves as a response to misinformation' Republicans say has been spread by President Biden, Democrats in Congress and their allies regarding the China-connected findings in a first memo released last month. 

On March 16, Comer released a 'First Bank Records Memorandum' detailing a payment of $3 million in 2017 received by Biden family associate Rob Walker from a CEFC China Energy-linked firm State Energy HK Limited.

About $1 million of that money was then passed from Walker to several Biden family members - including Hallie Biden - in more than 15 incremental payments.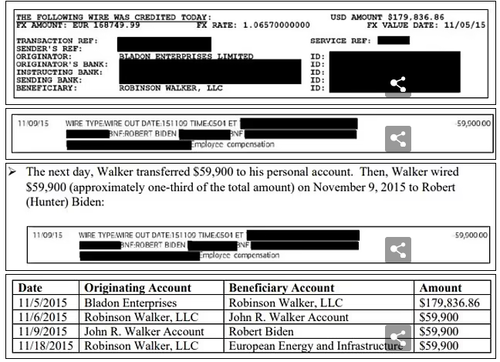 "It is unclear what services were provided to obtain this exorbitant amount of money," said Comer.
*  *  *
Rep. James Comer has scheduled a press conference to lay out an array of evidence against the Biden family, after claiming in a recent interview that he has evidence that the DOJ has failed to look into a "web of LLCs" that have taken in millions of dollars from foreign countries in exchange for policy actions.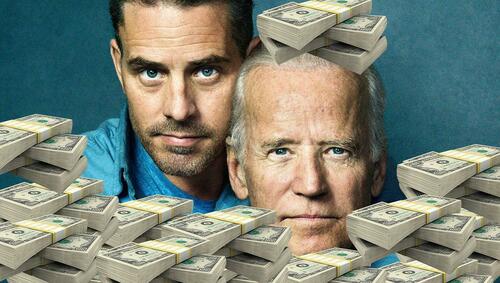 Comer has expressed concern that the Biden DOJ will indict Hunter Biden on relatively minor crimes in order to refuse to comment or produce evidence related to a prosecution underway.
"My message to the Department of Justice is very loud and clear. Do not indict Hunter Biden before Wednesday, when you had the opportunity to see the evidence that the House Oversight Committee will produce with respect to the web of our losses, with respect to the number of adversarial countries that this family input penalty and this is not just about the president's son," Comer told Fox News' Maria Bartiromo on Sunday. "This is about the entire Biden family, including the president of the United States. So we believe there are a whole lot of accounts that the IRS and the DOJ don't know about because we don't believe they've done a whole lot of digging in this. And we have we spent the past hundred days poring over bank documents. I've used subpoena power to get these bank documents. We've been meeting with the former associates of the Bidens in their different influence peddling scheme. We've been meeting with whistleblowers. We know exactly what this family was doing. And by all accounts from the media reports that we're getting, what they're looking at charging Hunter Biden on is a slap on the wrist. It's a drop in the bucket. So Wednesday will be a very big day for the American people in getting the facts presented to them so that they can know the truth."
Loading...