---
Watch Live: Wray Gets Flayed On Capitol Hill After FBI Bombshells
FBI Director Christopher Wray is set to appear before the House Judiciary Committee Wednesday morning at 10 a.m. ET, where he is expected to face questions over the weaponization of his agency against former President Donald J. Trump, the FBI and the DOJ, appeared to give Hunter Biden the kid glove treatment in comparison, and how the FBI influenced Twitter to censor conservatives, particularly those amplifying the Hunter Biden laptop story.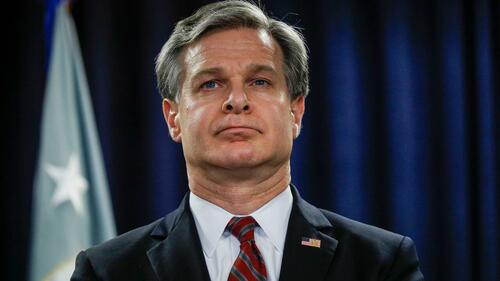 This will be Wray's first appearance in front of the House Judiciary Committee since Republicans won the House and Rep. Jim Jordan (R-OH) became its chair. Jordan says they will "examine the politicization" of the FBI under Wray and Attorney General Merrick Garland.
Watch live:
Wray will also likely face questions over the FBI's cover-up up the claim that Burisma's owner had secret recordings between he and the Bidens as an 'insurance policy,' which the agency stonewalled in the production of supporting documents.
"These recordings were allegedly kept as a sort of insurance policy for the foreign national in case he got into a tight spot," said Sen. Chuck Grassley (R-IA). The 1023 also indicates that then-Vice President Joe Biden may have been involved in Burisma employing Hunter Biden," he continued. "More than that, the FBI made Congress review a redacted unclassified document in a classified facility. That goes to show you the disrespect the FBI has for Congress."
As Graham J. Noble notes in Liberty Nation, who opines on the partisan nature of the FBI.
Wray can certainly argue that political considerations play no part in how he runs the FBI, but the perception, for a great many Americans, is quite the opposite. It doesn't help Wray's case that his disgraced predecessor, James Comey, has emerged as a partisan and fierce critic of Trump. Wray is a lot less pompous and a great deal more careful, but he's got his work cut out for him if he is to come away from Capitol Hill with more trust from Republicans than he currently enjoys.
Meanwhile, 2024 presidential candidate Vivek Ramaswamy has 15 questions for Wray:
1. If U.S. voters in 2024 elect a U.S. President who seeks to shut down the FBI, what is your recommended plan to help execute on this policy directive in an orderly manner?

2. John Durham issued a lengthy report in May accusing the FBI of acting negligently in opening the Trump-Russia investigation in 2016 based on insufficient information. As head of the Bureau, after having read and reflected on Mr. Durham's report, what steps will the Bureau take to prevent baseless politicized investigations like that which impeded President Trump's first term in office?

3. In 2020, you claimed ANTIFA was an "ideology, not an organization." Do you still believe that? If yes, who or what exactly do you believe destroyed downtown Portland, firebombed businesses, and attacked the city courthouse for months?

4. Regarding the events of January 6 at the Capitol, there have been multiple reports suggesting that undercover FBI agents were involved in fomenting protesters. Can you clarify the FBI's precise role in this situation and provide explanation of the facts?

5. Considering cases like the Gretchen Whitmer "kidnapping plot," do you think the FBI does a responsible job of handling informants and undercover agents? Do you believe FBI-led entrapment is and should be unlawful?

6. Will you share the Jeffrey Epstein client list with the public?

7. Will you investigate members of Congress who used a taxpayer slush fund for hush money to hide sexual assault allegations?

8. What is your opinion about the Department of Justice labeling concerned parents at school board meetings as "domestic terrorists?" Do you share this view?

9. The unprecedented raid of former President Trump's Mar-a-Lago residence raised serious public concerns about the political persecution of the current president's chief political opponent. What alternatives did you evaluate before sending FBI agents to raid the residence of a former U.S. President?

10. The FBI's handling of investigations into Hunter Biden's foreign business deals and Joe Biden's involvement in these deals leave many unanswered questions about the Bureau's decisions. Why do you believe that a settlement between Hunter Biden and the U.S. Department of Justice for a 10+ year-old offense was announced only within a couple of weeks following the federal indictment of the 45th U.S. President?

11. Why did the FBI refuse to cooperate with Congress with respect to oversight inquiries pertaining to then-Vice President Joe Biden's alleged involvement in a $5 million bribery scheme with a Ukrainian company?

12. Is the FBI investigating Gen. Mark Milley for his supposed back-channel discussions with the Communist Chinese government shortly after the 2020 U.S. Presidential election?

13. How many FBI agents were fired last year? How many should have been fired?

14. Your predecessor James Comey received a multimillion-dollar book deal and charges six-figure speaking fees. Do you believe this is appropriate behavior for the former Director of the FBI?

15. Do you believe it is appropriate for the FBI to celebrate the legacy of J. Edgar Hoover, the namesake of the building in which the FBI is currently headquartered?
Loading...