---
Watch: The Southern Border Is Literally Wide Open
Authored by Steve Watson via Summit News,
Thousands of illegal immigrants are simply walking over the border into the U.S. after the federal government decided to leave the gates wide open, saying that there is a risk of floods and resulting environmental hazards.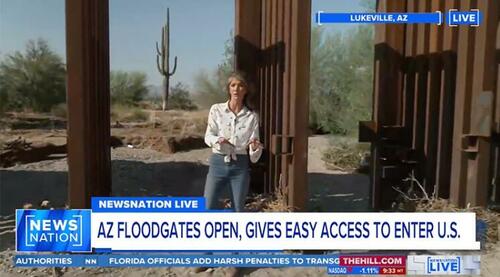 The New York Post reports "The US Border Patrol has now admitted it's responsible for the decision to leave giant flood gates in the border wall wide open — giving thousands of illegal immigrants an easy opportunity to stream into Arizona."
The report notes that "Border Patrol agents, acting on superiors' orders, welded some 114 gates open to stop anyone from closing them — which the agents had repeatedly been doing in a bid to stop people from being able to cross the border."
The CBP claims that "High water flow combined with excessive sediment and debris buildup can stress or comprise the design integrity of the barrier," and therefore they have literally left the border wide open.
As a result, cartels are taking migrants by the busload and just dropping them off so they can walk into the country:
Brandon Judd, the president of the national Border Patrol union is enraged, stating that "Those gates should never be open," adding "In my opinion and in the Border Patrol agent's opinion, those gates should never come open."
"We thought the agents were going to tell us something," one Ecuadorean migrant said. "But we just walked in."
Said another from Cuba: "It was so easy to get into the U.S."
"Nothing like our journey through Mexico. That part was hard," she added. "I thought there was going to be more security."
NEWSNATION: "The floodgates are literally open here in the Tucson [border] sector," where illegal immigrants are "coming through an open door."

"There are a 141 different gates along the southern border ... and the majority of those are open by the federal government." pic.twitter.com/ILqXAvQzZW

— RNC Research (@RNCResearch) August 24, 2023
Journalist Bill Melugin has been documenting the fallout of the gates being wide open for days now:
Top Border Patrol 3 sectors yesterday:
1) Rio Grande Valley - 1,700+
2) Tucson, AZ - 1,500+ (this is where the federal government has welded open border gates and masses of migrants are coming through daily, see attached article.)
3) Del Rio - 1,300+ https://t.co/Wm75v39ElA

— Bill Melugin (@BillMelugin_) August 24, 2023
*  *  *
Brand new merch now available! Get it at https://www.pjwshop.com/
In the age of mass Silicon Valley censorship It is crucial that we stay in touch. We need you to sign up for our free newsletter here. Support my sponsor – Summit Vitamins – super charge your health and well being.
Also, we urgently need your financial support here.
Loading...