---
Watch: White House Asked Why Biden Made Up 9/11 Ground Zero Narrative
The White House press pool is beginning to ask the right questions, and we can expect that these obvious inconsistencies will continue to dog the Biden campaign into the 2024 election.
First, on Wednesday the White House's national security council spokesman John Kirby was at the podium and was appropriately grilled about why "the president lied about being at Ground Zero the day after the 9/11 attacks" among other falsehoods. "What is going on with the president? Is he just believing things that didn't happen did happen, or is he just randomly making stuff up?" 
Top Biden spokesman John Kirby completely ignores a question on why Joe Biden so frequently makes up completely demonstrably false stories in a desperate attempt to feign empathy pic.twitter.com/MCvBil3tM5

— RNC Research (@RNCResearch) September 13, 2023
Kirby completely dodged the question, and provided a non-answer to the very specific question, as the above clip of the tense exchange shows. 
Amazingly and surprisingly, CNN has run the following "fact check" headline, demonstrating just how blatant a falsehood it was (...when the Democrat-run White House has lost CNN, it's bad):
CNN Fact check: Biden falsely claims he was at Ground Zero 'the next day' after 9/11

In a speech to service members and first responders on the anniversary of the terrorist attacks of September 11, 2001, President Joe Biden falsely claimed that he was at Ground Zero the day after the Twin Towers fell in Manhattan.

Biden, returning from a whirlwind trip to Asia, said in his Monday remarks at a military base in Alaska: "I join you on this solemn day to renew our sacred vow: never forget. Never forget. We never forget. Each of us – each of those precious lives stolen too soon when evil attacked. Ground Zero in New York – I remember standing there the next day, and looking at the building. And I felt like I was looking through the gates of hell, it looked so devastating because of the way – from where you could stand."

Facts First: Biden was not at Ground Zero the day after 9/11. He actually went to Ground Zero nine days after the attacks.
CNN continues to chronicle other recent lies as follows: 
He did it three times in a single speech last month – falsely claiming to have witnessed a bridge collapse in Pittsburgh in 2022 (he actually visited the site more than six hours after the collapse), falsely claiming his grandfather had died just days prior to his own birth at the same hospital (his paternal grandfather died more than a year prior in another state), and again repeating a long-debunked false story about a supposed conversation with an Amtrak conductor who was deceased at the time the story would have had to take place.
Next, here's another moment a member of the White House press pool belatedly pushed for more answers regarding the growing Hunter Biden scandal...
"Can you explain why the president interacted with so many of his son's foreign business associates!? More than half of voters told CNN they believe the president was involved and he lied! You can't have a response to that, Karine?"

Jean-Pierre walks away from @stevennelson10 pic.twitter.com/y7n2y1VaNw

— Greg Price (@greg_price11) September 13, 2023
Karine Jean-Pierre didn't even try to answer, but just walked off, as apparently the pointed question wasn't an approved, choreographed line of questioning.
Another moment this week where a tough journalist pressed the administration for serious answers - though again none were forthcoming, is seen in this important exchange between the State Dept spokesperson and correspondent Sam Husseini. The Biden official has a smirk on his face, appearing to almost chuckle at one point, as he dismisses the question entirely... 
BREAKING - State Dept refuses to address how much USAID money went to Wuhan Institute of Virology and collaborator Ralph Baric, who developed techniques for weaponizing viruses (h/t @decensorednews)... pic.twitter.com/YGCkgkguHG

— Sam Husseini (@samhusseini) September 12, 2023
All of the above is a mere fresh sampling of the types of questions that Biden and his officials will no longer be able to hide from and dodge headed into the 2024 election. He can expect many more like it, also given the Trump campaign will be unrelenting in pushing these things further into the spotlight.
While the Dems have carefully controlled Biden's interactions with the press thus far, largely shielding him while obfuscating and trying after embarrassing moments to clean up his messes (and not mere 'gaffes' as is becoming increasingly evident), this will simply become impossible as the presidential race grows more intense into next year.
* * *
Meanwhile, when you've also lost David Ignatius...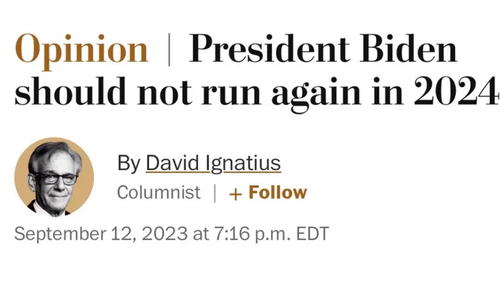 Loading...