---
"We're Going To Take Over": Chicago Residents Threaten To "Deal With" Influx Of Disruptive Illegals
Enraged residents of a Chicago suburb sounded off over the disruptive behaviors of illegal migrants who were dropped off at a local shelter.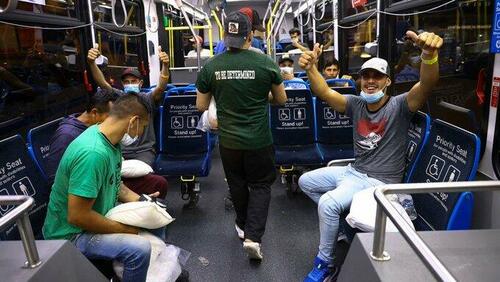 "I would ask you all to go out there – go out there at night, in the middle of the night – and see what goes on," one woman said during a meeting with city leaders.
Locals say the illegals are loitering, partying late at night, littering, engaging in prostitution and there's been at least one fight between locals and migrants, CBS News reports.
"It got a little heated," said Chicago Deputy Police Chief Stephen Chung, adding "Objects got thrown."
According to residents, they're out of tolerance for asylum-seekers, and feel unsafe.
"They disrespect us, they rob us, they harass us," said another women.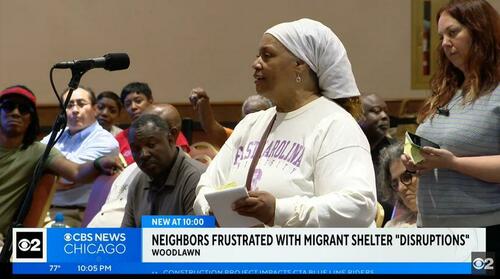 "Let me say this – they've got one more time to deal with it, because otherwise, next time they deal with it, they're going to deal with it from the streets. We're going to take over," said one man.
Woodlawn, Chicago residents blow up over illegals in the neighborhood:

"They disrespect us, rob us, harass us"

"We're gonna take over. Nobody is gonna be able to stop us from what we're gonna to do them." pic.twitter.com/8bO5u86WSX

— End Wokeness (@EndWokeness) July 27, 2023
Much of residents' anger was directed at city officials in attendance – including Ald. Jeanette Taylor (20th), Chicago Deputy Police Chief Stephen Chung, and Department of Family & Support Services Commissioner Brandie Knazze.

At one point, police had to intervene, breaking up a quarrel during public comments.

"It absolutely is a problem," Taylor said at the meeting.

Taylor said she has now seen some of those problems firsthand.

"The people who are keeping up the trouble are the people who are kicked out of the damn shelter," she said. -NBC News
City officials promised residents that they're working on solutions to improve the situation for the neighborhood, and that there will be consequences for those caught breaking the law.
Chicago is starting to look like LA with all of the migrants being housed at every police station. Ridiculous. I do remember just a couple years ago, I slept outside w/ homeless residents to get them shelter because the police station put them out. My my things have changed! pic.twitter.com/009icmk5TY

— Ja'Mal Green (@JaymalGreen) July 27, 2023
"We need to get a handle on it now," said Taylor. "and because the city never had a real plan, it's been an opportunity. [Mayor Brandon Johnson] hasn't been in office 90 days yet, so they're working as hard as they can and as much as they can to put a plan together for everybody."
Residents aren't buying it.
Meanwhile in NYC...
Wow

— Elon Musk (@elonmusk) August 3, 2023
Loading...