---
Wherefore Whataboutism? 10 'Crimes' Dems Skated On, Then Charged Enemies With
Authored by Ben Sellers via Headline USA,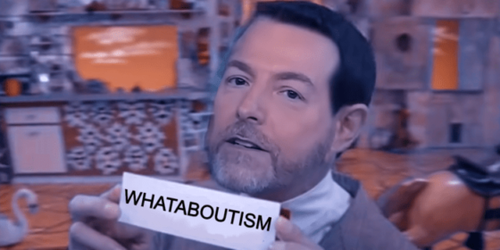 The DNC spin machine known as the mainstream media was in overdrive last weekend churning out a carefully crafted and delicately nuanced message that offered unique insight into their current mindset of evasion and deflection. 
Few pundits could credibly feign shock over the latest politically charged indictment against President Donald Trump, related to his heretofore entirely legal efforts to wage election challenges amid unprecedented irregularities in a 2020 race that saw Joe Biden overtake him in the wee morning hours of Nov. 4.
The partisan motives of the Justice Department could not be more obvious, and any sort of performative outrage would be wasted on both skeptics and true believers who felt the ends justified the means to prevent another Trump presidency.
Likewise, media efforts to brush off the clear evidence of corruption among the Biden family crime syndicate—which points to a possible impeachment, although Republicans remain divided over its practical benefit—presented a dilemma for journalists who wished to emerge with their last vestiges of credibility unscathed.
"Eventually, the truth will come out, and all of those in the political and media establishment who have been in denial or part of the cover-up will once again, deservedly, look like fools or worse," noted Richard W. Rahn, a former Nixon campaign staffer who had a "front-row seat to the Watergate scandal," in a recent Washington Times op-ed.
WEAPONS OF MASS-MEDIA DEFLECTION
Instead of addressing these delicate issues head-on, some pundits sought to shift the focus onto conservatives, who were quick to criticize both Trump's spurious indictments and efforts to cover up the Biden family's casebook felonious conduct by pointing out the clear double standard.
In honor, perhaps, of the recently deceased Pee Wee Herman (one of TV's pioneer child-groomers), the secret word of the day on Sunday was "whataboutism."
According to the Media Research Center, the jargonistic buzzword prominently figured into retiring Meet the Press host Chuck Todd's interview with Rep. Jamie Raskin, D-Md.—the ranking minority member of the House Oversight Committee, which has led the way in investigating Biden's bribery and other alleged crimes.
"We're gonna have a campaign that is gonna be filled with a lot of 'whataboutisms,'" Todd fretted.
"We know the Republicans are gonna talk about Hunter Biden here," he added. "And I know that the—a lot of the technical defense of the president with Hunter Biden is, well, the president didn't do anything wrong."
However, Todd wasn't the only one to deflect from the Biden family by accusing Republicans of whataboutism.
Peter Baker, chief White House correspondent for the New York Times, invoked the term in a so-called news analysis on Thursday, MRC reported.
"The wave of whataboutism from Trump world crested with this week's indictment but has been building for months, a way of shifting attention from the former president's kaleidoscopic legal troubles," Baker began.
"…Never mind that Hunter Biden was not and is not seeking to be the president of the United States and that no hard evidence has emerged indicating that his father used his office improperly," he then falsely claimed.
LIES UPON LIES
The layers of brazen irony involved in not only accusing one's political rivals of the very offenses for which they, themselves, are guilty—but then accusing their critics of deflection for attempting to call attention to the underlying issue—go part and parcel with the Democrats' No. 1 political strategy for neutralizing Trump: the "Big Lie."
Their Hitler-inspired gaslighting psy-op happens to be a particular favorite of Raskin, who has routinely accused Republicans of conducting their own "Big Lie" campaign for pursuing election integrity and other constitutional norms.
But the Left's web of deception aside, conservatives have every right to own and embrace whataboutism since legal precedent is central to many of the defenses that Trump is now tasked with putting forward, both in the court of law and public opinion.
Indeed, in some of special counsel Jack Smith's more experimental and theoretical lawfare attacks, Democrats' past impunity may be the only thing to go on.
Without further ado, here are 10 shining examples of the unethical—and arguably illegal—misconduct that Democrats shamelessly and hypocritically have turned a blind eye toward when politically inconvenient, only to weaponize at their leisure.
The list below is by no means comprehensive, of course. And it certainly does not reflect all the things Democrats have done that they falsely accused their Republican counterparts of doing.
I have limited it only to those in which they have, in the face of credible evidence, avoided any serious legal consequences, only to turn around and try to prosecute their enemies on a far shakier foundation.
The list also is limited largely to situations that have arisen since the beginning of the Trump era, in 2016, although there are undoubtedly many more examples reaching back to the Clinton and Obama eras—and beyond—that may have fit the bill.
Finally, it is in no particular order, although clearly some of the crimes listed have more serious implications than others.
1. Violate the Foreign Agents Registration Act
Prior to the Mueller investigation, FARA was rarely taken seriously in Washington, D.C. However, its targeted deployment against several Trump allies including George Papadopoulos, Paul Manafort and Michael Flynn—along with other menial "process" charges—was designed to get them to flip on Target No. 1.
Most recently, the Justice Department used FARA in a bid to intimidate and discredit Biden whistleblower Gal Luft, who is currently in hiding.
Luft is accused of being a foreign agent for the same Chinese energy company on which Hunter Biden was a board member, although the president's son thus far has managed to avoid any FARA charges of his own.
After a failed plea bargain, that may change. But it doesn't change the fact that several members of the Biden family, and many other China-friendly Democrats, have a long history of blurring the lines between their foreign business deals and political advocacy while managing somehow to steer clear of FARA.
2. Contempt of Congress
When the DOJ charged former Trump campaign adviser Steve Bannon with contempt of Congress last year, it was the first such criminal case in nearly 40 years.
That is not to say that several other cases had not been recommended—including attorneys general Eric Holder by a Republican Congress and William Barr by a Democrat one. Neither opted to pursue charges against himself.
Lois Lerner, the corrupt IRS administrator who weaponized her authority to target Republican nonprofits during Barack Obama's 2012 re-election campaign, also faced no consequences after being held in contempt for refusing to testify and instead pleading her  Fifth Amendment right against self-incrimination.
Ironically, while leading the DOJ's Public Integrity Section at the same time, current anti-Trump special counsel Jack Smith pressed to criminally investigate the nonprofits from which Lerner had withheld tax-exempt status for political reasons.
3. Delete evidence/obstruct justice
Even after former special counsel Robert Mueller found that there was no predicating cause for the FBI to launch its Crossfire Hurricane investigation against Trump, Democrats still complained that Mueller's report had accused him of attempting to obstruct justice for his refusal to comply with the sham investigation. To this day, they continue to point to that accusation as proof that Trump did commit a crime in connection with the Hillary Clinton-concocted Russia-collusion hoax.
They finally got their vindication in the first federal indictment against Trump after the DOJ suspiciously tacked on two late-breaking obstruction charges that accused him of attempting to destroy security-camera footage from his Mar-a-Lago estate.
Further, DOJ admits it has NINE MONTHS of security footage from inside Mar-a-Lago. Defense attys told Judge Cannon last week the total footage equates to THEEE YEARS of video bc multiple cameras.

DOJ and Jack Smith are corrupt beyond repair.

— Julie Kelly 🇺🇸 (@julie_kelly2) July 28, 2023
Meanwhile, let's not forget that Clinton willfully flouted a congressional subpoena by using BleachBit software to wipe her hard-drive of any incriminating evidence in the email scandal surrounding her private server—and then played dumb about it. She also had an IT guy smash her cell phones and mobile devices with a hammer.
It doesn't get more obstructive than that. However, then-FBI Director James Comey, who was tasked with determining whether to file charges after the suspicious recusal of Attorney General Loretta Lynch, decided it would be impossible to prove Clinton's intent for such an unfortunate mishap.
4. Mishandle classified documents
Speaking of Trump's Mar-a-Lago case, "obstruction" is not the only crime for which there is a Clinton precedent. The underlying accusation that Trump mishandled classified documents also poses problems for those claiming equal protection under the law was afforded.
Hillary's use of a private email server to re-route her State Department emails and avoid Freedom of Information exposure revealed 91 instances of classified information appearing on her server—which, incidentally, is believed to have been hacked by the Chinese.
Bill Clinton also mishandled classified material in his post-presidency—a situation that most parallels Trump's since both men can argue that the Presidential Record Act gave them broad authority to determine what records to maintain in their private archives versus turning over to the National Archives. In President Clinton's case, he kept tapes of secret audio recordings in his sock drawer but successfully argued that they were "personal items."
Lastly, there is President Joe Biden, who was revealed to have been stashing classified documents in multiple locations at his home and a D.C. office space that Chinese investors may have had access to.
Special counsel Robert Hur has been tasked by Attorney General Merrick Garland with slow-walking that investigation until it is an entirely moot historical footnote, at which point the DOJ will quietly bring it to a close—unless it becomes politically necessary to dispatch with Biden before then.
5. Demand a quid pro quo from Ukraine
The anonymous whistleblower allegation that famously triggered Trump's first impeachment was that he had threatened to withhold military aid to Ukraine while also encouraging newly elected President Volodymyr Zelenskyy to reopen a dormant investigation into the Burisma energy company that was likely to enshroud the Bidens at a time when Joe Biden was a potential campaign rival.
As it turns out, the corruption involving the Bidens' Burisma dealings was entirely valid, and Trump's urging that Zelenskyy reopen the probe was justified. His supposed "quid pro quo" linking of that request as a condition of military aid was tenuous at best.
Biden, on the other hand, had made explicit to Zelenskyy's predecessor his linking of a $1 billion loan guarantee with the firing of the prosecutor who had been investigating Burisma. It is now clear why, since Obama's vice president had accepted a $5 million bribe from Burisma, along with a separate $5 million kickback for his board-member son.
Stunningly, Biden even bragged about his coercion of Ukraine President Petro Poroshenko in a now notorious 2017 panel at the Council on Foreign Relations.
6. Election meddling/disinformation
Democrats accused the Trump campaign of soliciting Russia's help in the 2016 election and again claimed that Russian "disinformation" had aided Trump in 2020 via Hunter Biden's laptop from Hell.
As it turned out, both were abjectly false and were, in fact, propaganda campaigns being waged by America's own deep-state intelligence operatives to meddle in the election outcomes.
While demanding that social-media sites censor accurate conservative speech under the pretense of "disinformation" U.S. intel agencies have been openly engaging in information warfare against their own citizens to cover the tracks of the true criminal conspiracy.
As for involving foreign entities, it has been documented that the Democratic National Committee was working with Ukraine to solicit dirt on Trump officials, even as it falsely decried Trump's role in Russia's alleged hacking of the DNC servers.
And the Clinton, Obama and Biden administrations all have been linked to Chinese campaign donations of dubious legality through dark-money intermediaries and laundering operations. Not to even mention Hillary Clinton's foreign-money campaign slush fund, which she began accruing while jet-setting as head of the State Department.
7. Illegal ballot harvesting
This is a bit of a standalone offense, in the sense that many blue states have decriminalized and actively encourage the practice of ballot harvesting, despite its potential use as a conduit for widespread vote fraud.
Although evidence validates concerns that the practice undermines election integrity, Democrats continue to argue in debates that no such evidence exists and that the only thing ballot harvesting facilitates is a more perfect democracy.
That is, unless it happens to benefit a Republican candidate in a red state where the rules are more restrictive.
Such was the case in North Carolina's 9th Congressional District following the 2018 election, when Baptist minister Mark Harris prevailed in what many hoped would be a seat flip after Democrats gerrymandered the state's congressional maps.
The district included parts of suburban Charlotte and several rural counties stretching eastward,where Harris had outsourced his get-out-the-vote effort to local political operatives—one of whom was later accused of ballot-harvesting.
In a high-profile case, Democrats brought out heavy-hitting lawyer Marc Elias—who was notorious for finding extra bags of ballots in mysterious places and reversing the outcome of must-win elections—to play hardball against the Christian pastor, even forcing Harris's own son to testify against him.
Elias succeeded in breaking Harris's will to fight, but the architect behind the Steele dossier ultimately lost the war as Rep. Dan Bishop, one of the most conservative House members, prevailed in the election rematch with no allegations of ballot harvesting to impugn his victory.
8. Call for 'fake' electors
The Jan. 6 federal indictment against Trump and a recent Michigan stunt that saw alcoholic state Attorney General Dana Nessel indict 16 GOP "fake electors" for conspiracy have two slight problems.
The first is historical precedent. In previous disputed elections—notably Hawaii's 1960 presidential election—there have been two slates of electors sent when questions about the outcome lingered past the deadline for the Electoral College vote. In December 2020, Michigan's final tally was still pending the outcome of several court cases, despite the election's certification by far-left Gov. Gretchen Whitmer.
However, the second problem with Democrats' efforts to criminalize this political maneuver is even more damning. Evidence exists showing Michigan Democrats had plotted to do the exact same thing, sending an alternate slate of electors, in the event that Trump had won the 2020 election.
There also are several historic precedents for so-called faithless electors who opted to vote for someone other than the person they were designated to elect, an affront to democracy if ever there were one.
Hillary Clinton hoped to reverse Trump's 2016 victory through just such a procedure and recruited a cabal of celebrity influencers to wage a seditious campaign to that effect.
Throw every one of these insurrectionists in PRISON pic.twitter.com/ry1Y80E3CY

— Benny Johnson (@bennyjohnson) July 19, 2023
9. Violently disrupt Congressional proceedings
Trump and hundreds of political dissidents have all been accused of disrupting congressional proceedings during the Jan. 6 uprising at the U.S. Capitol, which forced the Joint Session of Congress intended to confirm the Electoral College votes to recess for several hours.
Democrats claim that this was some sort of an unprecedented affront, with then House Speaker Nancy Pelosi calling it a "gleeful desecration" of the "temple of Democracy," despite the Constitution's provisions requiring separation of church and state.
She had no such reaction, however, when left-wing activists repeatedly disrupted the Senate confirmation hearings for future Supreme Court Justice Brett Kavanaugh.
In the most outrageous of these instances, two women believed to be paid activist cornered then-Sen. Jeff Flake, R-Ariz., in an elevator and screamed at him, coercing him to withhold his "yes" confirmation vote until an FBI investigation into Kavanaugh had been completed.
A sexual assault survivor confronted Sen. Jeff Flake in the elevator. The incident happened right before he requested a delay in the Senate vote. pic.twitter.com/QR8hNix0Ci

— AJ+ (@ajplus) September 28, 2018
Rather than facing federal charges, one of these insurrectionists was even invited by newly elected Rep. Alexandria Ocasio–Cortez, D-N.Y. to be her guest at the following year's State of the Union address.
AOC's guest for the #StateOfTheUnion is Ana Maria Archila, who screamed at Jeff Flake in an elevator before the Kavanaugh vote.@AOC has not said a single word about about Lt. Gov. Fairfax, whose accusations are almost exactly the same as Kavanaugh: totally uncorroborated pic.twitter.com/qfVRZuwpTT

— Caleb Hull (@CalebJHull) February 6, 2019
10. Rape
The dubious rape allegations lodged against Kavanaugh by leftist college professor Christine Blasey Ford and several others became a shining example of the pernicious, Crucible-like mob mentality of the #MeToo movement when intermingled with political motives.
Ford could not recall the specific details of her alleged assault, which she claimed had occurred decades prior during a drunken high-school party and had been buried so deep in her subconscious that the memory was not triggered until her assailant became a national news figure on the other side of the political spectrum.
That same template—and its call to "believe all women"—was echoed in the spotty recollections of Trump rape accuser E. Jean Carroll. But the difference was that Carroll actually won her suit against Trump in a Manhattan court, with judge and jury pool stacked against the former president.
It later turned out that Carroll, who was bankrolled by anti-Trump tech billionaire Reid Hoffman, had been active in lobbying for New York to pass its special window temporarily repealing the statute of limitations on sex assaults—a move some suspect was specifically enacted to target Trump.
But while Trump faced specious accusations from sometime in the mid-1990s, the top Democrat in New York when the state first initiated its so-called Adult Survivors Act, then Gov. Andrew Cuomo, somehow managed to evade any serious legal consequences for much more recent—and credible—allegations of sexual assault involving at least 11 women.
Conveniently, Cuomo was not charged criminally due to the statute of limitations. As of May, he remained unremorseful and was eyeing a possible political comeback while insisting that he was the true victim.
Cuomo's exoneration by the leftist Establishment puts him in good company with President Joe Biden, who has enjoyed widespread media dismissal of one credible sexual assault allegation involving a former Senate staffer, Tara Reade, and has been accused of inappropriate behavior involving women and children—including his own daughter—countless other times.
Ben Sellers is the editor of Headline USA. Follow him at twitter.com/realbensellers.
Loading...