---
Why Do Democrats Keep Farting On Camera?
Authored by Ben Sellers via Headline USA (emphasis ours),
Last week, Rep. Alexandrio Ocasio-Cortez (D-NY) hopped on a livestream to give a 'very fine people on both sides' damage control speech regarding the situation in Israel, after the Democratic Socialists of America came out for Hamas following last weekend's brutal attack on Israelis.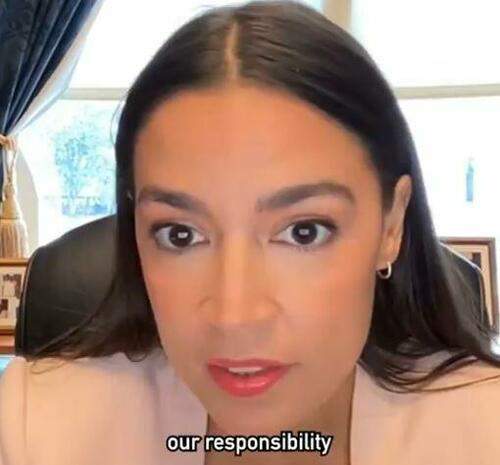 She did anything but clear the air... as Twitter followers couldn't help but notice that during the 45-second livestreamed social-media broadcast, the socialist lawmaker unmistakably appeared to break wind around the 38 second mark.
It came at a particularly awkward moment, during which "AOC" happened to be accusing Israel of genocidal war crimes after it struck back for the slaughter of more than a thousand innocent civilians—including the rape and torture of many—and the kidnapping of roughly 150 others whose fate remains unknown.
"[T]he United States has a responsibility to ensure accountability to human rights to prevent the ethnic cleansing of Palestinians, and to ensure that horrors do not happen in the names of victims who do not want their [fart] tragedy used to justify further violence and injustice," she said.
The United States' responsibility is to human rights. That means supporting the safety of the Israeli people and preventing the ethnic cleansing of Palestinians. pic.twitter.com/7CsuN6uO3w

— Rep. Alexandria Ocasio-Cortez (@RepAOC) October 12, 2023
But while few would have predicted it to be the next development in a story that has shocked the world and fueled global anxieties like never before about the outbreak of World War III, it is not the first time farts have become an unwanted diversion for AOC.
One of her first acts as a freshman lawmaker was to draft the "Green New Deal," a multi-trillion-dollar framework for revamping the entire U.S. economy in order to achieve net-zero carbon emissions.
Unfortunately, the plan was widely ridiculed for its outlandish proposals—not the least of which was its fixation on regulating cow farts.
Despite the popular rejection of it at the time, leftists and globalists have continued to push the Green New Deal agenda under different labels, including President Joe Biden's "Build Back Better" plan and the "smart city" initiatives being coordinated by the World Economic Forum.
And at least one nation—New Zealand—has attempted to impose a tax on cow farts—although it is unclear how they are assessed.
In all likelihood, Ocasio–Cortez, who let the video remain up on her Twitter site as of Friday morning, felt no sense of shame over her own methane emission.
She has performed other acts of public humiliation before, including dancing to bongos while enraged citizens jeered her at a town-hall meeting.
Dare you to find something more cringey than these AOC dance moves pic.twitter.com/X8tz8BJ7YF

— Daily Caller (@DailyCaller) October 20, 2022
However, the Bronx boofer may have doomed her future presidential aspirations if history offers any indication.
At least two past Democratic presidential candidates who have publicly cut the cheese went on to bomb in the ballot box.
Hillary Clinton left the normally loquacious Sens. John Edwards and Barack Obama practically speechless after a burst during a November 2007 CNN debate ahead of the Democratic primary.
Although Clinton was by far the better known name and widely considered to be the frontrunner at the time, Obama wound up closing the gap and going on to win the election—and two terms in office—while Clinton would go on to win the nomination in 2016 only to lose the general election.
In 2019, while conducting an on-camera interview with then Hardball! host Chris Matthews, Rep. Eric Swalwell, considered to be a serious political upstart with a bright future and a formidable political adversary for then-President Donald Trump, appeared to shift a bit in his seat.
Shortly thereafter, Swalwell let out a ripper that reared back his shoulders, but continued to make his point without missing a beat.
At that point Swalwell already had launched and failed a short-lived presidential campaign, which lasted only about three months. However, the fart—and subsequent news of an affair with a Chinese honeytrap spy named Fang Fang—not only raised serious concerns about Swalwell's judgment and integrity, but also made it hard to take him seriously.
In January, Swalwell was one of three Democrat lawmakers who was stripped of his committee assignments due to concerns that he was unfit to serve on the House Intelligence Committee since he was potentially a compromised Chinese asset.
And who could forget when Rahm Emanuel farted on the Charlie Rose show?
Or when Rep. Jarrold Nadler (D-NY) may have duked in his diapers.
Jerry Nadler poops his pants, Pelosi calls him distinguished, Nadler waddles off stage. pic.twitter.com/zcJ8jrV6GF

— Jesse Watters's hand (@JesseWatersHand) September 24, 2020
How much did he poop? Depends...
Rudy toot toot?
It's not just Democrats...
I present this clip of Rudy Giuliani testifying without editing or commentary. (Watch for the 👀) pic.twitter.com/h4ndjLO56p

— Ryan J. Reilly (@ryanjreilly) December 3, 2020
And last but not least, current independent candidate Robert F. Kennedy Jr. was caught in a fart scandal in July, but not one of his own making.
While attending a private dinner with several members of the New York media at an Italian restaurant in Manhattan, RFK Jr. was upstaged by the evening's host, literary agent Doug Dechert (a conservative), who began to argue about global warming while several cups deep into the evening's libations.
When the debate with his friend across the table became too tiresome, Dechert shut it down with a "loud, prolonged fart," wrote Page Six reporter Mara Siegler, "while yelling, as if to underscore his point, 'I'm farting!'"
The moment apparently left many at the table shell-shocked, but perhaps not RFK Jr.'s campaign manager, Dennis Kucinich, who had dealt with public flatulence at least once before.
Kucinich also was a candidate in the 2008 Democratic primary and was onstage during the Hillary Clinton incident.
Ben Sellers is the editor of Headline USA. Follow him at twitter.com/realbensellers.
Loading...