---
Yet Another Fear-Mongering COVID Surge Turns Into Trickle As Hospital Admissions Wane
Authored by Jack Phillips via The Epoch Times (emphasis ours)
After multiple weeks of increasing COVID-19 hospital admissions, federal data show that the figure is now falling.
In the week ending Sept. 16, U.S. Centers for Disease Control and Prevention (CDC) data show hospitalizations are down 4.3 percent. The number had been increasing since July, although the CDC's historical trends shows that hospitalization numbers were relatively low compared with previous increases in the virus—notably compared with a prior "surge" that occurred in the summer of 2022.
Meanwhile, the latest figures show that emergency department visits are down 19.3 percent and test positivity is down 1.6 percent. Deaths are up by about 12.5 percent, the data show, but that figure is also relatively low when compared with previous years.
The EG.5 variant, which has been dubbed Eris, accounts for about 24.5 percent of all cases, according to the CDC's variant tracker. FL.1.5.1, known as Fornax, is estimated to be responsible for about 13.7 percent of COVID-19 infections, the CDC figures show.
About a month ago, amid a steady rise in hospitalizations, some health officials suggested that it doesn't appear to be as bad as before.
"Looking at that graph [of] hospitalizations, even though it's on an upward trend, that's still lower than it was last year at this time," Dr. John Segreti, an epidemiologist and the medical director of infection control and prevention at Rush University Medical Center in Chicago, told ABC News. "The fact that the numbers are going up fairly slowly, I think is a good sign."
Responding to the figures last month, Dr. Shira Doron, chief infection control officer for Tufts Medicine, said that the recent "upswing is not a surge; it's not even a wave."
"What we're seeing is a very gradual and small upward trajectory of cases and hospitalizations, without deaths really going along, which is great news," the doctor added.
Last week, the Biden administration announced it would use $600 million to produce new COVID-19 tests that it will send out for free to people who order them via the U.S. Postal Service.
Twelve manufacturers that employ hundreds of people in seven states from California to Maryland have been awarded funding and will produce 200 million over-the-counter tests to replenish federal stockpiles for government use, in addition to producing enough tests to meet demand for tests ordered online, the Department of Health and Human Services said.
Dawn O'Connell, assistant secretary for preparedness and response at HHS, said that though some portions of the public may be tired of the pandemic and its implications, at-home testing remains a key way to slow the spread of new cases.
"Whether or not people are done with it, we know the virus is there, we know that it's circulating. We know, if past is prologue, it'll circulate to a higher degree and spread, and cases will go up in the fall and winter seasons," Ms. O'Connell said. "Anticipating that that would be true again, or something similar, we want to make sure the American people have these tools."
Mandates?
The publication of the new data comes after a handful of hospitals, county governments, and a small number of schools and colleges mandated mask requirements starting in August. The CDC and Food and Drug Administration (FDA) again recommended new COVID-19 booster shots for anyone aged six months and older earlier this month.
And several Bay Area health agencies in California announced last week that mandatory masking would return to hospitals and health care settings for the fall and winter months.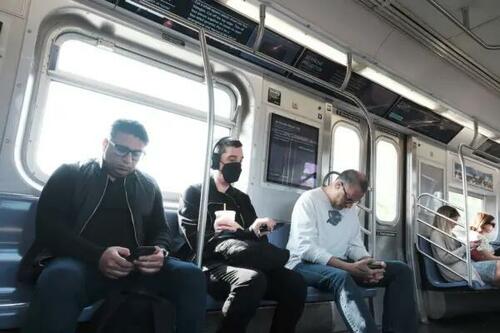 Contra Costa, Sonoma, Alameda, and San Mateo counties issued mask orders for health care staff in hospitals and other care facilities. The orders start on Nov. 1 and last until April 30, 2024, officials said, citing recent increases in COVID-19, influenza, and other respiratory viruses that are typically commonplace during the colder months, according to statements and local media reports.
"Each year we see that higher rates of influenza, COVID-19 and other respiratory viruses that can cause severe respiratory infections occur annually between late fall and spring," Dr. Karen Smith, the Sonoma County interim health officer, said in a statement.
Contra Costa Health Services CEO Anna Roth, meanwhile, the Northern California county's board of supervisors last week that the mandate will be enacted, according to local media reports.
"We are issuing the health order today around masking for high-risk facilities, health care facilities specifically," Ms. Roth stated, according to a local CBS affiliate station. "So again, masking in hospitals, masking in skilled nursing facilities, masking in high-risk facilities."
Mask mandates have already been in effect at hospitals in San Francisco. The city is already enforcing year-round masking for health care staffers, visitors, and patients, reported the San Francisco Chronicle. Officials in Santa Clara County, which encompasses much of Silicon Valley, already set a mask mandate back in March.
The Associated Press contributed to this report.
Loading...