---
Apple Blames "Bug" For iPhone 15 Overheating, Plans To Issue Software Update 
Apple is preparing to release a new iOS 17 update to address "a few conditions" it has "identified" that can cause the new iPhone 15 models with a titanium frame to run warmer than expected.
Days after the new iPhone release on Sept. 22, customers who stood in line at Apple stores complained their new phones were overheating to the point of being too hot to hold and even shutting down on their own, with some folks recording temperatures above 120 degrees.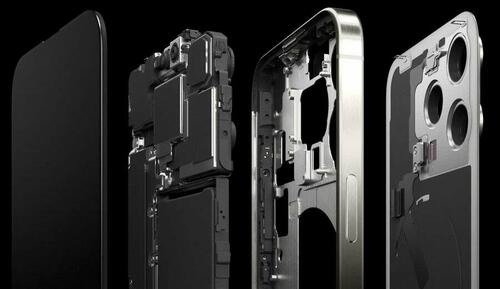 The complaints are mainly about the iPhone 15 Pro and Pro Max. Apple told CNET on Saturday that it's working on a new iOS 17 system to prevent overheating when the phone runs certain apps. 
"We have identified a few conditions which can cause iPhone to run warmer than expected. 

"The device may feel warmer during the first few days after setting up or restoring the device because of increased background activity. We have also found a bug in iOS 17 that is impacting some users and will be addressed in a software update. Another issue involves some recent updates to third-party apps that are causing them to overload the system. We're working with these app developers on fixes that are in the process of rolling out," Apple said in a statement.
CNET pointed out Instagram, Asphalt 9, and Uber are some apps that "overload the A17 Pro chip's CPU, causing the iPhone to get warmer than normal." Apple said it's working with third-party developers to develop fixes.
It wasn't just apps. CNET's Patrick Holland said, "The 15 Pro Max did become noticeably hot after I used my MacBook Pro's 140W power adapter to charge it." 
News of the iPhone 15 overheating has sent searches about the issue soaring in recent days.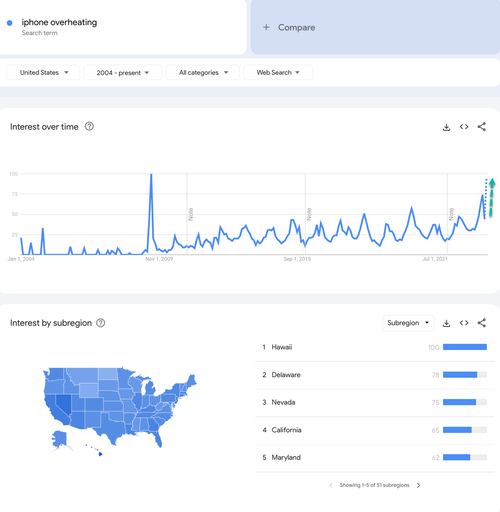 Several breakout search trends include "Why is my iPhone overheating?" and "iPhone hot" and "Apple iPhone overheating."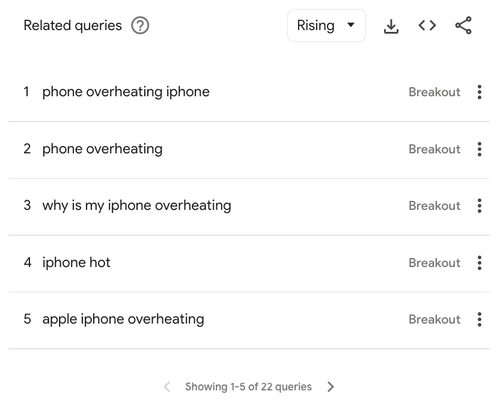 Negative press about the new iPhone could dampen sales as the company has experienced an overall year-over-year sales slump in the last three quarters. Apple is trying to sell the iPhone 15 Pro Max (1TB storage) for as much as a high-end laptop, around $1,600 (before taxes).
Loading...