---
Rival Anthropic Rejects OpenAI Board's Merger Offer, Report Says 
After the unexpected firing of former OpenAI CEO Sam Altman on Friday, OpenAI's board of directors approached Dario Amodei, the co-founder and CEO of rival large-language model developer Anthropic, about a merger of the two companies, according to a report by The Information, which cited a "person with direct knowledge."
The person said OpenAI's board approached Amodei after they fired Altman on Friday. They noted the deal was sweetened to allow Amodei to replace Altman as CEO. 
The Information reported Amodei declined the offer, adding, "It's not clear whether the merger proposal led to any serious discussion." 
Reuters also reported Amodei declined the offer, citing two people briefed on the matter. 
OpenAI's board of directors replaced Altman on Sunday with ex-Twitch CEO Emmett Shear. Then, on Monday, Altman joined a new advanced AI research team at Microsoft, as well as other OpenAI staff, 'to continue the mission': 
the mission continues https://t.co/d1pHiFxcSe

— Sam Altman (@sama) November 20, 2023
Later on Monday, 700 OpenAI employees threatened to resign if the board that ousted Altman did not change. The employees represent about 90% of OpenAI's workforce, and if a mass exodus occurs, it would cripple the startup. They noted in a letter to the board: 
Your actions have made it obvious that you are incapable of overseeing OpenAI. We are unable to work for or with people that lack competence, judgement and care for our mission and employees. We, the undersigned, may choose to resign from OpenAI and join the newly announced Microsoft subsidiary run by Sam Altman and Greg Brockman. Microsoft has assured us that there are positions for all OpenAI employees at this new subsidiary should we choose to join. We will take this step imminently, unless all current board members resign, and the board appoints two new lead independent directors, such as Bret Taylor and Will Hurd, and reinstates Sam Altman and Greg Brockman.
As for Altman's return, the crypto-powered Polymarket betting website shows a 52% chance.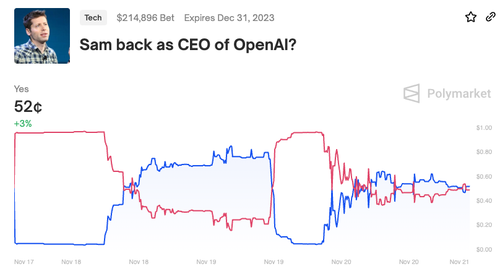 Only 5% odds Altman will sue OpenAI.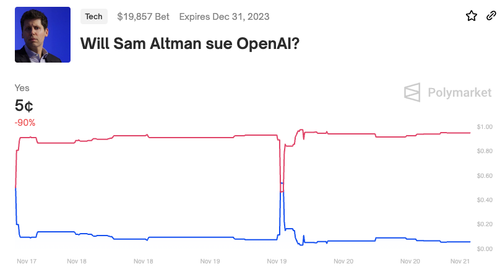 About 2% odds Altman was fired due to a data leak/privacy issue.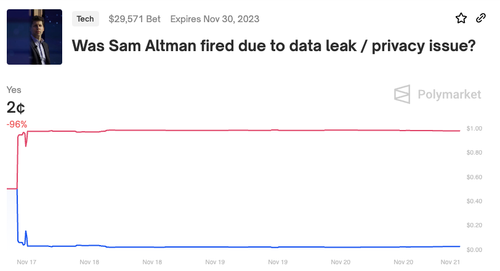 Altman's sister? 
May 8, 2023
Let's not forget Anthropic is FTX-backed. 
The Effective Altruists staged a coup to kick out Sam Altman of OpenAI to then go try to sell OpenAI to Anthropic AI, an Effective Altruist led company and another company invested in by ANOTHER Sam (Bankman-Fried). We can't even make this up.

— Autism Capital 🧩 (@AutismCapital) November 21, 2023
Why is OpenAI's board scrambling? 
Loading...