---
Pornhub Blocks Virginia-Based IP Addresses Ahead Of New Age Law 
Virginia is the latest state to adopt an age-verification law, known as SB 1515 and proposed by Republican state Sen. William M. Stanley Jr., for the internet's biggest adult websites, including Pornhub. Even before the law went into effect on Saturday, Pornhub blocked users in the state. 
Users with Virginia-based IP addresses are no longer able to browse the world's most trafficked porn site. According to The Virginian-Pilot, users are greeted with this message: 
"As you may know, your elected officials in Virginia are requiring us to verify your age before allowing you access to our website.

"While safety and compliance are at the forefront of our mission, giving your ID card every time you want to visit an adult platform is not the most effective solution for protecting our users, and in fact, will put children and your privacy at risk."
The statement continues and says the new law doesn't properly enforce the age verification requirement. Pornhub offered a solution to protect children: "Identify users by their device and allow access to age-restricted materials and websites based on that identification."
"As we've seen in other states, [requiring ID] just drives traffic to sites with far fewer safety measures in place. Very few sites are able to compare to the robust Trust and Safety measures we currently have in place," the statement reads, adding, "To protect children and user privacy, any legislation must be enforced against all platforms offering adult content."
Here's the current landing page for PornHub if you live in Virginia.

Proud of the work we've done at @approject to help make this happen. This is a no-brainer to protect kids. Let's get this done in all 50 states! pic.twitter.com/RUXFAoNBGw

— Jon Schweppe (@JonSchweppe) June 30, 2023
"Until a real solution is offered, we have made the difficult decision to completely disable access to our website in Virginia," wrote Pornhub. 
... and this is certainly not going to be well received by Virginian users. Blocking access to Pornhub might result in enough angry phone calls and emails to Gov. Glenn Youngkin's office. 
However, a spokeswoman for the governor told media outlet WRIC that they stand behind the new law: 
"The governor remains committed to protecting Virginia's children from dangerous material on the internet." 
According to Free Speech Coalition, a non-profit adult industry trade association, its 'Age Verification Bill Tracker' shows Louisiana had the first age requirements for adult websites that went into effect in January. Since then, a tidal wave of bills and enforcements has swept across the country. 

The tracker shows Utah's age requirement law went into effect on May 5, Mississippi and Virginia on July 1, Arkansas on July 31, Arizoinz (if passed) on August 1, Texas on September 1, and Montana on January 1, 2024.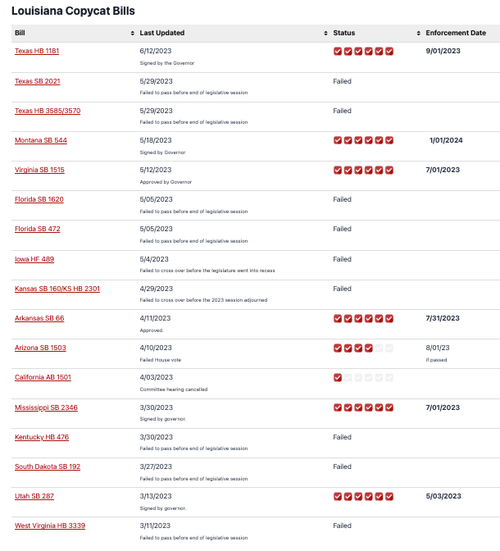 "It's not a matter of if these laws will be ruled unconstitutional but when," Free Speech Coalition's spokesperson Mike Stabile told WRIC. He noted:
"Adult content–even material harmful to minors– is First Amendment-protected speech and the Supreme Court has ruled repeatedly that restrictions on its production and consumption face the highest legal bar: strict scrutiny."
Pornhub is gambling on its users, exerting enough political pressure on Youngkin's administration to overturn the law. If unsuccessful, the company might see market share in the state dwindle to other sites.
Loading...