---
Watch: Virgin Galactic Launches "First Private Astronaut Mission"
Space tourism company Virgin Galactic Holdings Inc. is launching its first private space flight Thursday morning. The flight, called "Galactic 02," will carry three paying customers from Spaceport America in New Mexico to the edge of space. 
Entrepreneur and health and wellness coach Keisha Schahaff and her daughter Anastatia Mayers -- along with former Olympian Jon Goodwin -- will be passengers aboard spaceplane VSS Unity while it's attached to the wing of the mothership called VMS Eve.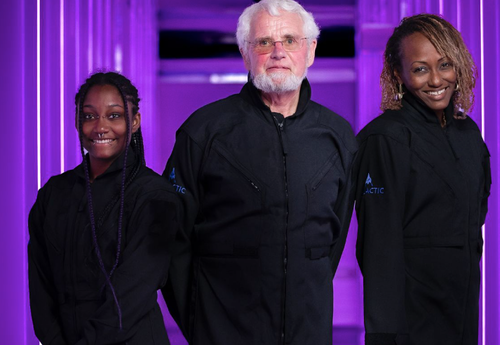 Around 40,000 feet, VMS Eve, will detach from the mothership, firing its rockets, propelling it more than 50 miles above Earth's surface -- the altitude the US government considers space.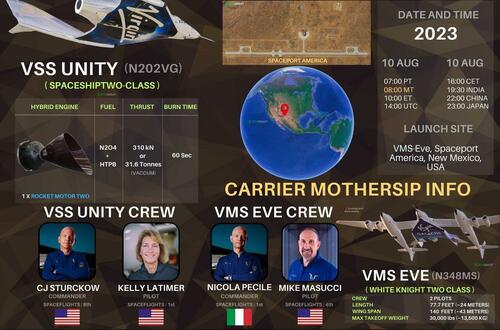 Virgin Galactic's live stream begins around 1100 ET. The flight's launch time has yet to be disclosed. 
In the early days, Virgin Galactic was selling tickets to space for $200,000 per seat, then $250,000. Tickets were recently reopened after sales were halted following the 2014 crash of a Virgin Galactic spaceplane during a test flight. Tickets are now upwards of $450,000 per seat. 
"Galactic 02 is going to set the stage for a new era of suborbital human spaceflight that will dramatically broaden access to space for private individuals," CEO Michael Colglazier told investors during a conference call last week. 
Bloomberg noted a "backlog of roughly 800 ticket holders who have been waiting" for the suborbital joyride. 
Last month, the space tourism company launched its first commercial flight called "Galactic 01." 
Access to space costs only as much as the average single-family US home. 
Loading...