---
BTD...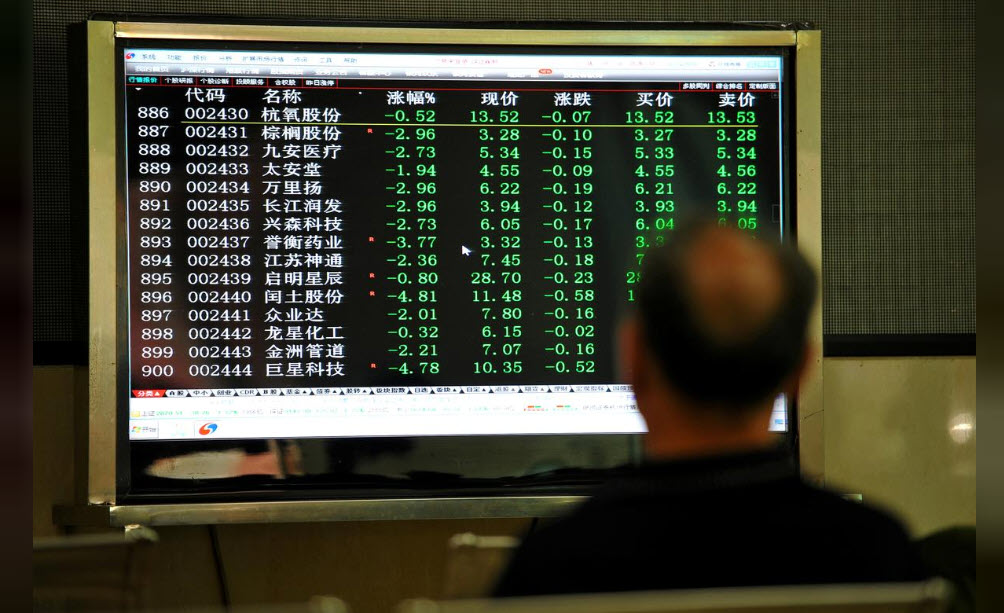 See TME's daily newsletter email below. For the 24/7 market intelligence feed and thematic trading emails, sign up for ZH premium here.
Stay the course, buy the dips, too early to sell
That summarizes Barclays Equity Strategy team's European 2022 outlook. Barclays add that they expect inflation to ease, so central banks can gradually move towards normalisation and preserve P/Es from a liquidity shock.
Barclays continues: "COVID, inflation and China are the wild cards, maturing expansion may bring higher volatility, excess liquidity is everywhere, and all-time-high stock prices, with pockets of euphoria, raise correction risk. So fundamentals should prevail, and the contrarian bearish view may pay off at some point, but we think it is too early to sell. As long as central banks err on the side of caution and activity is resilient, we think equities will grind higher and dips should be bought" (Barclays)
SPX - too much panic?
SPX is down 20 handles from the ATH close and it feels like the world is ending. We have seen the SPX futs fluctuate a lot on an intra-day basis, but close to close vol remains low. Despite the relatively low close to close vol, VIX is trading at 19.5. Last time VIX traded here, SPX was 300 handles lower.
Don't forget this is a shortened week before buying VIX in panic...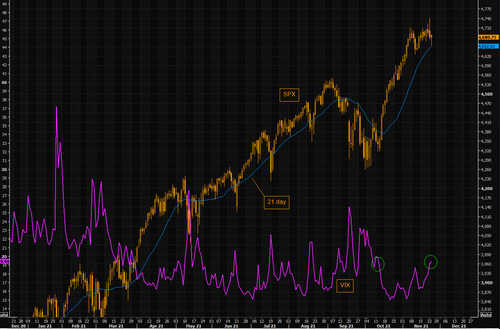 Source: Refinitiv
AAPL: improving lead times
JPM is updating their lead time tracker for the most important company in the world. "In Week 10 of our iPhone 13 series tracker, lead times across all the models moderated for the second sequential week in a row and represented only the third time that the lead times across the entire series moderated since we began tracking. Importantly, while lead times still remain elevated relative to the iPhone 12 series on an average basis, the variance is significantly less than in past weeks, with some models in certain regions boasting lead times on par with the iPhone 12 series. Improvement in lead times consistently over the last couple of weeks could be indicative of a steady ramp in supply, even as demand is expected to pick up again in December through to the year-end on account of the holidays". Chart shows "iPhone Availability Tracker" - lead times in days.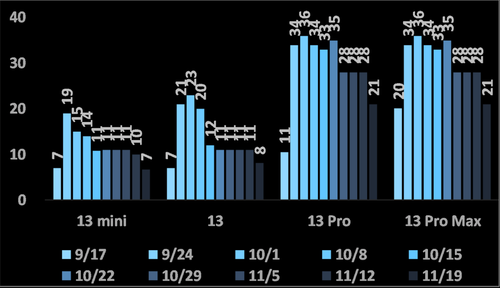 Source: JPM
Kolanovic is Powell positive
Marko: "Powell's reappointment reduces uncertainty, and hence should be a positive for risk assets. Historically, markets try to test new Fed Chairs, so we believe this outcome will be avoided. Additionally, Powell's experience from 2H18, where policy tightening contributed to the strong market selloff into year-end, will likely result in a cautious approach to liftoff next year" (Marko Kolanovic).
Here is a non-consensus potential tailwind
Marko Kolanovic sees the possibility of easing US-China tariffs as a non-consensus tailwind for US and China Equities. Kolanovic: "While most investors remain negative on US-China trade, we see a potentially compelling case for easing tariffs. In fact, heading into 2022 US midterms, easing tariffs could align with Biden's campaign commitment, support the party's election strategy, and address business concerns. Lower tariffs could also provide some consumer relief at a time when government benefits are rolling off and consumer inflation is elevated. During the US-China trade negotiation over April 2018 to January 2020, Chinese equities rallied when tensions fell (with small/mid-caps outperforming) and corrected when tensions escalated. There has been already some positive movement. A reversal of existing tariffs could represent a direct EPS benefit of $5 for the S&P 500 with up to an additional $5 from second-order effects" (JPM Cross-Asset).
Tesla started "it" all
Everything was awesome until Musk started tweeting about his Tesla sales. Tesla remains one of the most important stocks. Mania in Tesla remains huge and this is the aggregate psychology of the market on steroids.
What about Tesla gamma? Charts 2 and 3 show that Tesla is approaching the "negative flip" level again. It would be interesting to see dealers add to volatility by selling low and buying high in Tesla...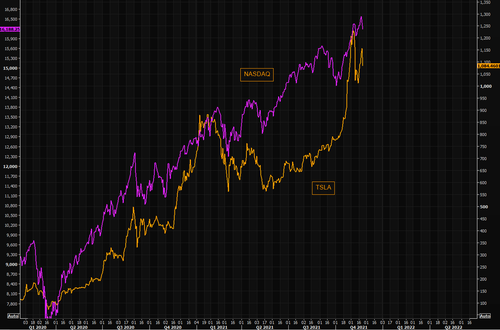 Source: Refinitiv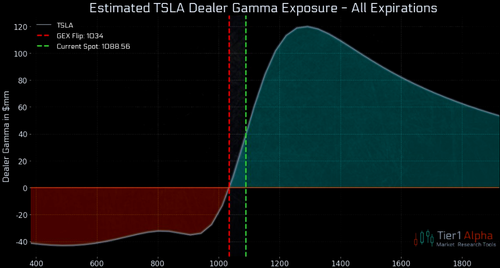 Source: Tier1Alpha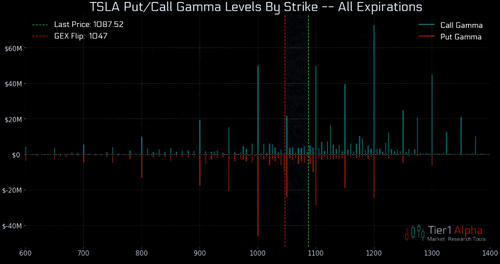 Source: Tier1Alpha
No bull in Istanbul
The TRY crash continues with the FX down 8% as of writing. BBVA remains the biggest sucker (outside Turkey). Obviously the bank has other exposures than Turkey, but this move definitely hurts. Sure they have hedges on, but these need to be rolled over.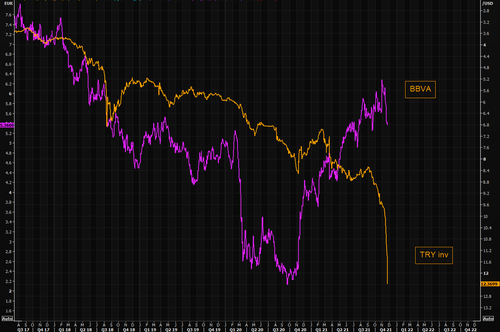 Source: Refinitiv
Time for EM to feel some of the TRY pain?
The TRY crash remains a local problem, but the move is now so extreme we should start seeing some spill over effects to the general EM space. The set up resembles the 2018 TRY crisis. Note how EM volatility, VXEEM, lagged the initial TRY crash back in 2018, but caught up later.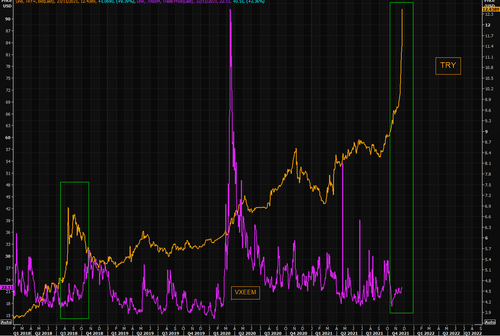 Source: Refinitiv
Past the peak in equity inflow
Equity inflows have been particularly strong in the recovery, but momentum peaked in Q2 in line with activity data.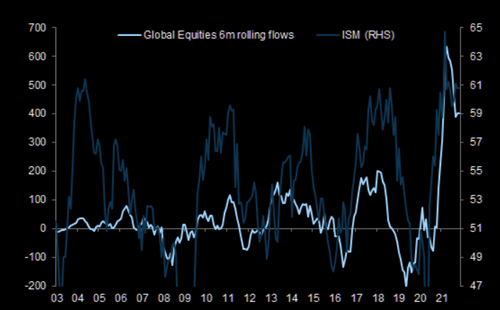 Source: EPFR
That positive macro momentum will boost appetite
GS cross-asset: "Positive macro surprises near term should boost risk appetite into next year".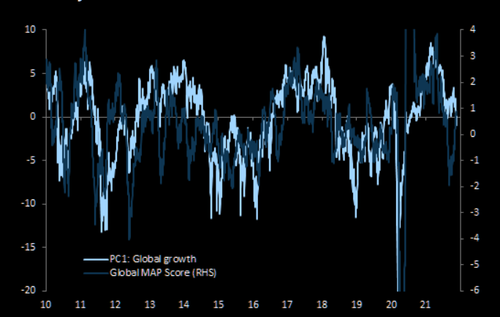 Source: GOAL