---
"Bubble Trouble: what you need to know from the derivatives markets"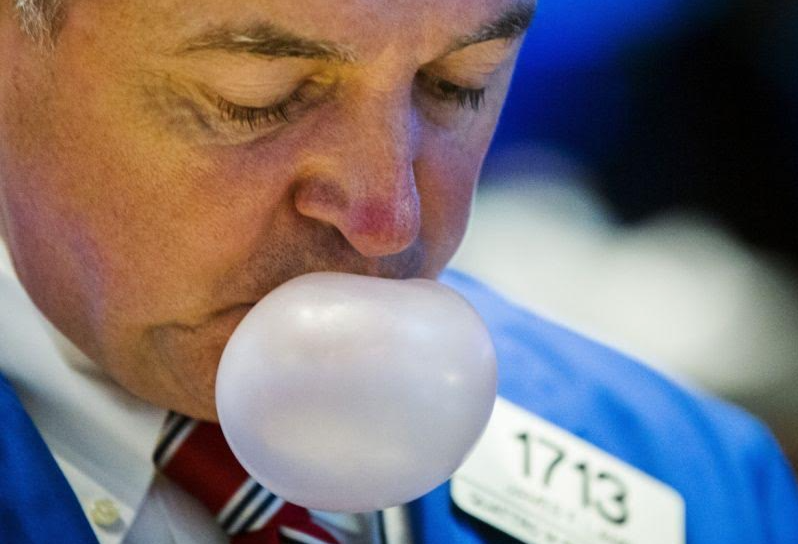 See TME's daily newsletter email below. For the 24/7 market intelligence feed and thematic trading emails, sign up for ZH premium here.
VIX panic in two charts
VIX term structure ended on a "high" note with short end of the curve exploding to the upside. We are back to backwardation. Second chart shows VIX and the 2/8 months spread, both closing at highs basically. Despite all the panic, VIX has actually reacted slightly less violent compared to the early December correction.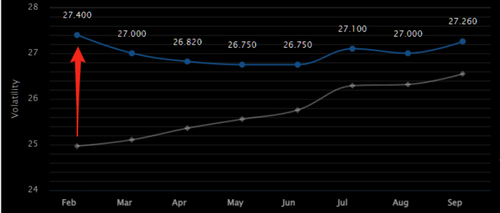 Source: vixcentral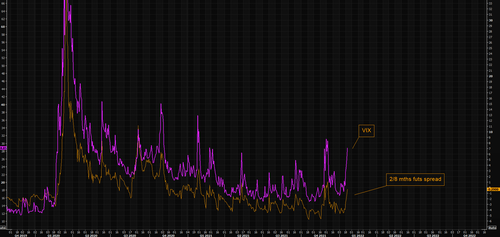 Source: Refinitiv
NASDAQ stress enters extremely stressed territory
Note that VXN has surpassed early December levels, while VIX remains below those highs. Second chart is even more important. As we have been pointing out over the past weeks, NASDAQ is the rate sensitive play, and given the fact bond volatility has traded at elevated levels for a long time, VXN was lagging MOVE by a wide margin. On Jan we wrote (here): "If rates matter for NASDAQ, then..." Fast forward to today and that tech/rates vol gap is basically closed. The relative logic of that trade has played out very well. Things from here are slightly less "clear"...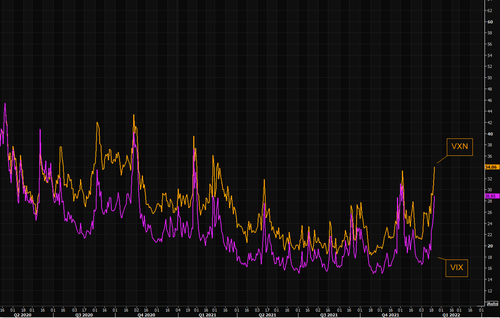 Source: Refinitiv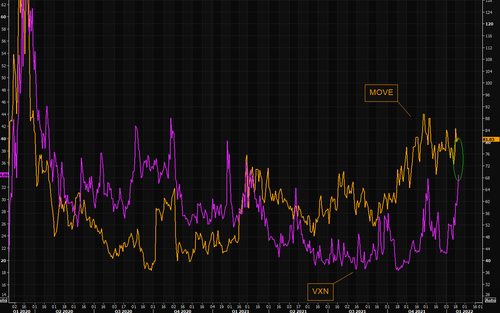 Source: Refinitiv
Suddenly put love is huge
People hate puts when they should love them, and love them when they should hate them. Current love for puts is huge. We have said it many times before and will say it again: "buy protection when you can, not when you must".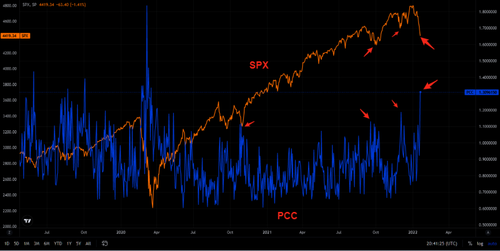 Source: TRadingview
The rates valuation impact
Nordea's Mikael Sarwe points out the rather self explanatory chart and writes: "Always funny to see what a little bit of real rate increase does to valuation mathematics...". Go figure what is cheap and what is expensive...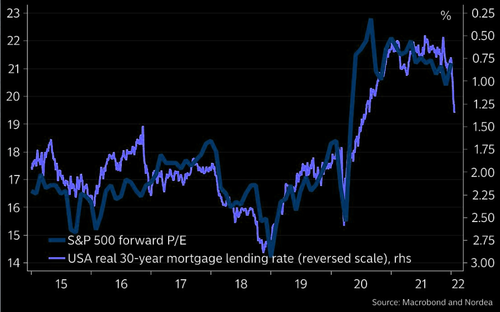 Source: Nordea/Macrobond
More levered than at the peak of the tech and / or housing bubble
Crescat: "The median S&P 500 company today is more levered than it was at the peak of the tech and housing bubble. In a rising cost of capital environment, the size of a balance sheet matters."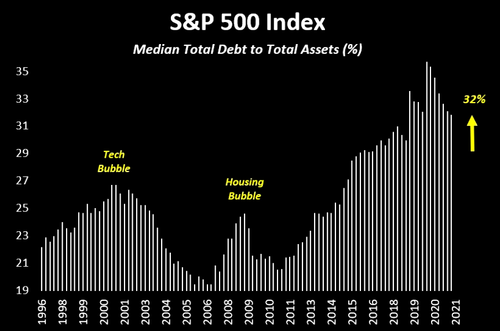 Source: Crescat
Bubble Bubble we are in trouble
Jeremy Grantham, the famed investor who for decades has been calling market bubbles, said the historic collapse in stocks he predicted a year ago is underway and even intervention by the Federal Reserve can't prevent an eventual plunge of almost 50%.
In a note posted Thursday, Grantham, the co-founder of Boston asset manager GMO, describes U.S. stocks as being in a "super bubble," only the fourth of the past century. And just as they did in the crash of 1929, the dot-com bust of 2000 and the financial crisis of 2008, he's certain this bubble will burst, sending indexes back to statistical norms and possibly further.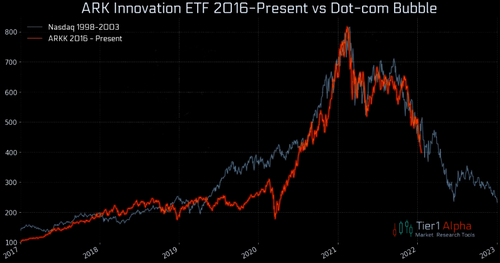 Source: Tier1Alpha
Buy-the-Dip: meet the massive paper profits...
Some interesting takes from the always excellent Privorotsky at the GS London trading desk. First, he notes that CTA trigger level in equities are now in play and are likely to start having an impact. Second more importantly, shall we trough out all these "prime brokerage positioning indicators" as we are now running into a completely different supply / demand dynamic? GS: "Despite readings in our PB of gross and nets being low, tech exposure having been reduced it feels that more long term holders are trying to protect big paper profits accrued during the pandemic. Market participants have been conditioned to an environment where dips are shallow, rates are reflexive and at the first signs of weakness the central bank floods the market with liquidity".
Bitcoin ain't immune
Bitcoin is falling hard, trading well below the huge trend line we have been outlining over past weeks, as it remains inside the negative trend channel that has been in place since the November ATHs. The death cross that occurred some two weeks ago shouldn't be dismissed (even though the last death cross eventually had BTC bottom out). 40k is the key support level in the short term. Let's see if we "close" below it today. Next support is around the 36k, and then the big supports around the 30k level. If you think there is a lot of equity risk that needs to be flushed out, similar logic should be applied to BTC. There are still so many BTC longs out there that are long without a plan and lack all form of risk management, where longs are built on hope.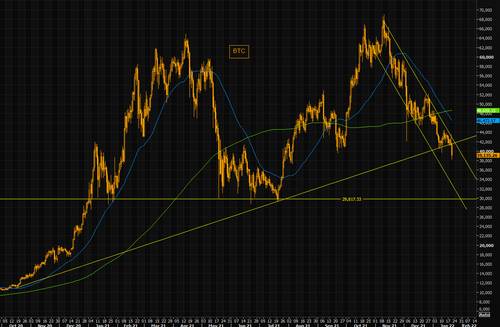 Source: Refinitiv
Still think Fed is not behind?
The one chart that needs little explanation...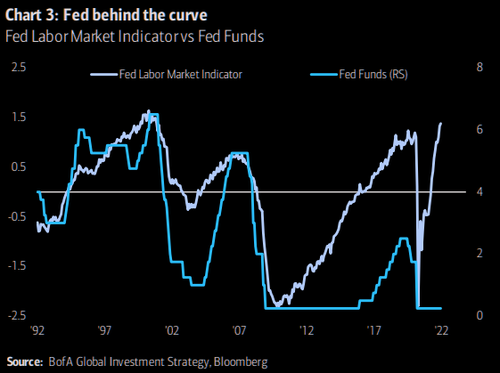 Source: BofA
Fed is great...but not at managing volatility
Fed's BS just printed another new all time high. That is supposed to stabilize stuff, but VVIX continues refusing to be "managed" by Fed. Fed has distorted volatility markets for a long time and the end "product" isn't looking great, but that is something for the bigger picture longer term view.
Source: Refinitiv
Retail Remains The Marginal Buyer – But P/L Is Slipping… 
This is disregarding the flow late afternoon yesterday, when Retail actually sold. ....After a slow first few days in January, retail came roaring back and has now bought ~$24B in US equities + ETFs YTD on QDS estimates, 45% higher than at this point in 2021 and ~2x the 2016-21 average. The rolling one-week average daily net bought for the group now sits at ~$2.5B – the highest since Feb. of last year and only the 4th time such a level has been reached on QDS records. Thematically, retail continues to favor Growth with Tech, and Discretionary – plus Financials – the top 3 sectors bought with YTD.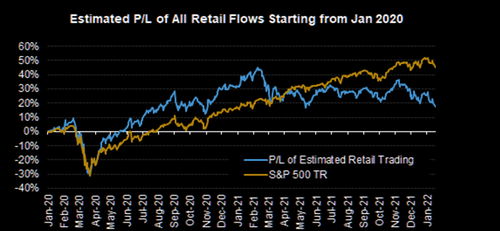 Source: MS QDS