---
The crypto collapse: what you need to know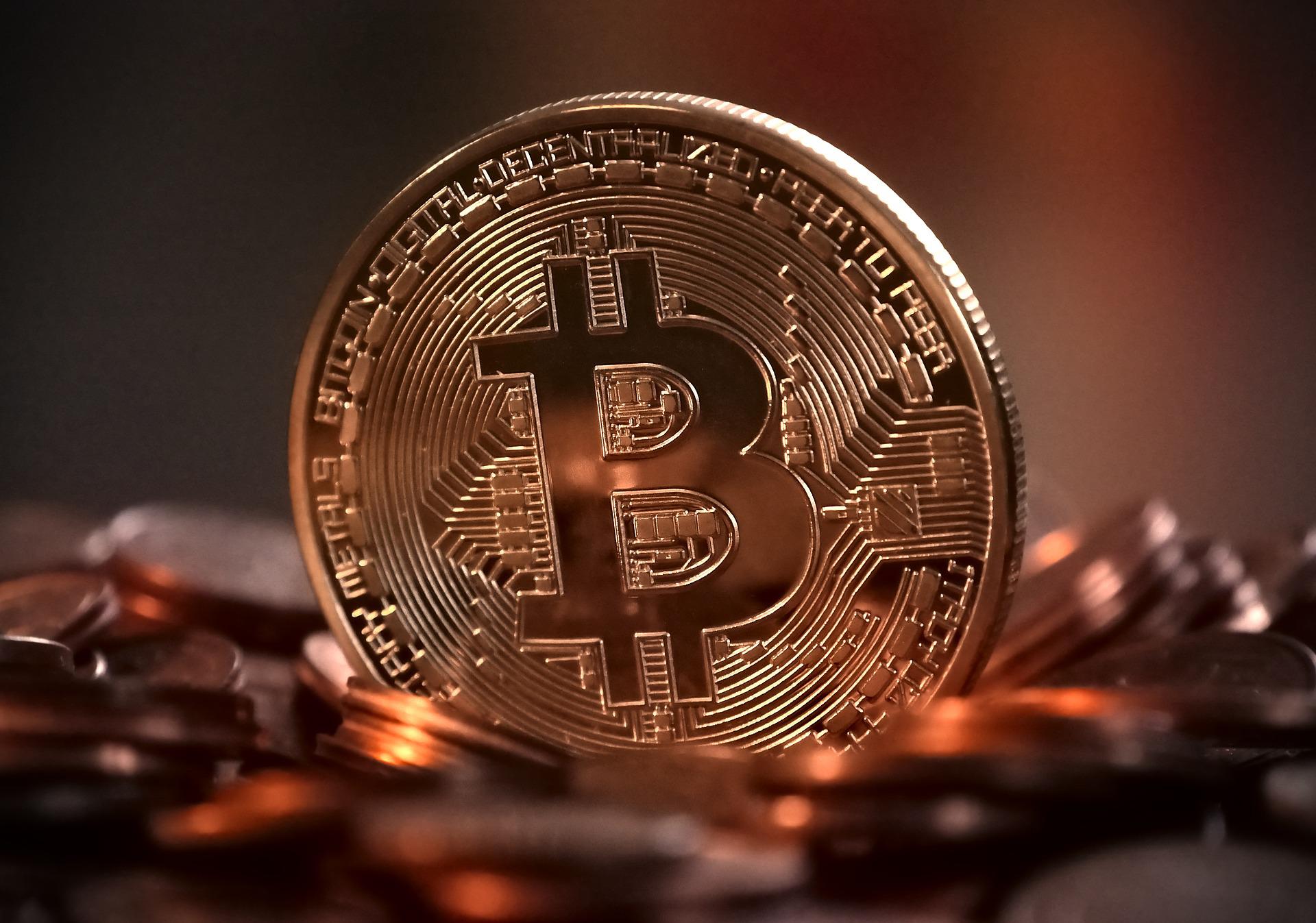 See TME's daily newsletter email below. For the 24/7 market intelligence feed and thematic trading emails, sign up for ZH premium here.
TME now has a dedicated crypto feed that is FREE for now
Click the crypto tab on themarketear. Enjoy it on the desktop or download our progressive app (install via Chrome or Safari on your phone, by tapping Add to Home screen from the browser menu). Note this trial will be a free option for a limited time only.
Bitcoin - the waterfall motion
Bitcoin continues crashing today again, down around 8% as of writing, trading around the 26k level. Since breaking the crucial 40k and 38k levels we have been pointing out as line in sand levels, BTC has been in free fall. Below 30k is very little real support until the 20k level. Note that the 50 day crossed the 100 day. Second chart shows the weekly view. 200 weekly moving average comes in around just below the 22k level. Volatility is huge and losses are even bigger...
Source: Refinitiv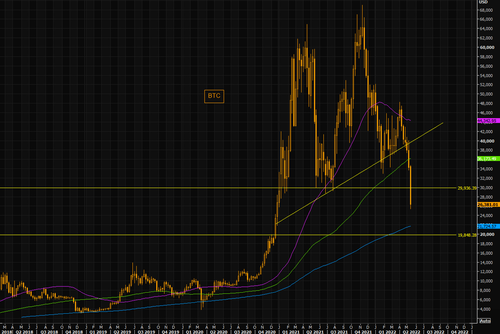 Source: Refinitiv
Bitcoin's inflow problem
People have been talking about the institutional bid in BTC for years, but it simply isn't showing up. MSTR and El Salvadors prop bets are obviously not enough. Given the latest volatility explosion in cryptos, we find it unlikely the institutional buyers will start showing up. They are busy trying to manage equity volatility...and are not looking for even more volatility.
Source: JPM
ETH - chart extreme
It was only on Sunday (here) we pointed out the latest break down in ETH as we wrote: "ETH is falling below the huge trend line that has been in place since Feb 2021. A close below and things risk getting even more ugly..." That was some 30% ago. Volatility is extreme and things are extremely "fluid". 1700 is a huge support level and the day low so far. First bigger resistance is the 2k and then the 2300 levels. Note how far up the 100 and the 200 day moving averages are...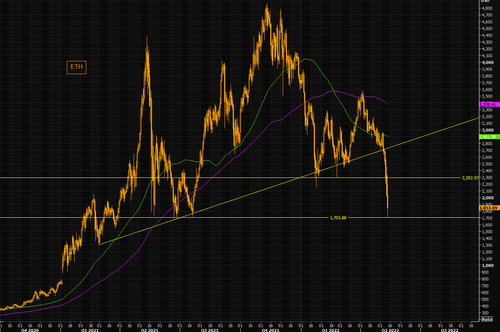 Source: Refinitiv
Cryptos oversooold
RSI of BTC and ETH are extremely oversold. Dare to catch some falling knives?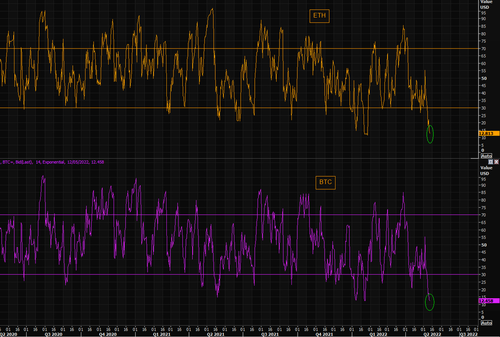 Source: Refinitiv
Need more oversold crypto charts?
We leave to you to debate if we are in a crypto winter environment or not, but the current backwardation is basically showing more oversold levels than May 2021. Second chart shows the longer term BTC view of the futures spread since 2018. JPM reminds us: "...when demand is particularly weak and price expectations turn bearish, the futures curve shifts into backwardation. This was the case during the crypto winter of 2018" (they don't think we are heading for a crypto winter).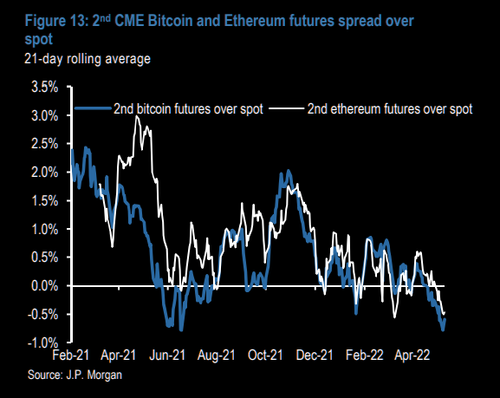 Source: JPM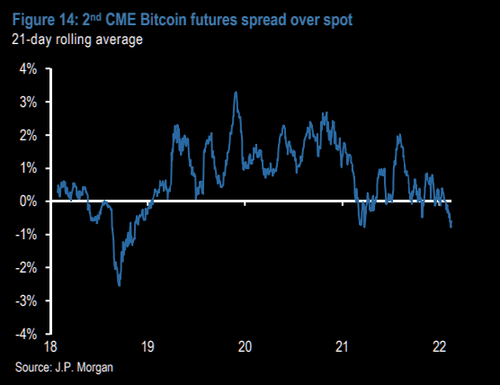 Source: JPM
The real crypto explosion - volatility
The move in crypto vols has been absolutely crazy. In just a few days BTC short term maturities have moved from around 55 to now trading above 140. The ETH 1 week maturities have moved from 65 ish to 160+ as of writing. On April 29 (here) we outlined our crypto long volatility logic and we wrote: "It sounds somewhat odd, but BTC volatility could be a relatively cheap global "just in case" hedge..." Chasing crypto vols here is a very late trade...In case you haven't booked the global hedge profits, make sure to do it sooner rather than later.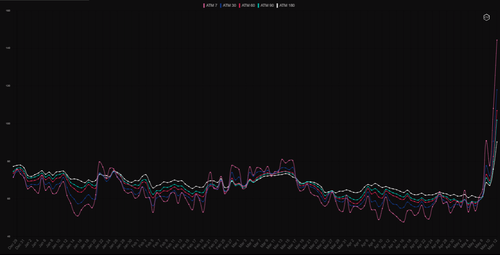 Source: Genesisvolatility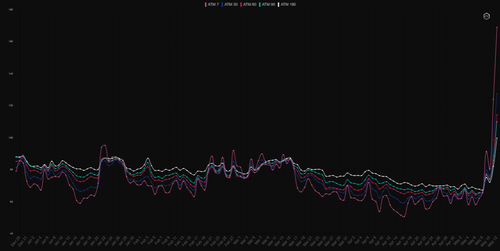 Source: Genesisvolatility
Bitcoin's risk on/off obsession
Don't forget, BTC is a risk on/off asset. Shorter term as well as longer term term correlation perfection...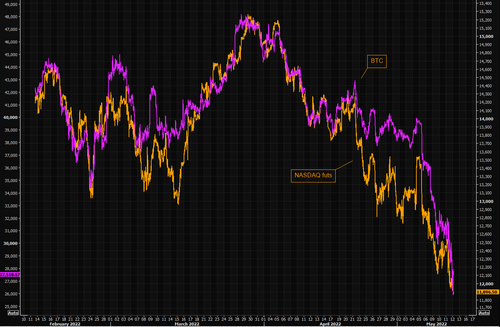 Source: Refinitiv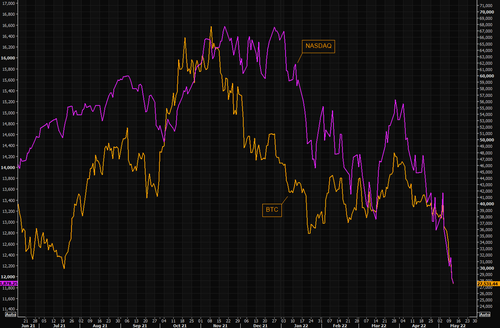 Source: Refinitiv
What about the inflation hedge?
People still refer to BTC as the inflation hedge. It didn't follow the US 10 year breakevens latest move higher, but it seems to be "noticing" the move lower in breakevens...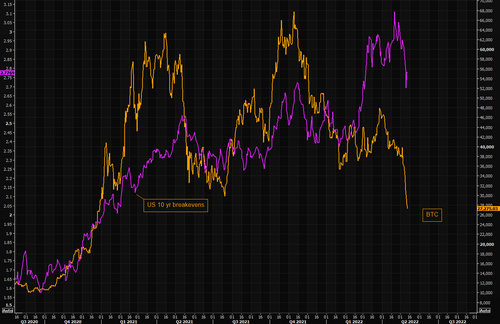 Source: Refinitiv
Cryptos are skewed
Both BTC and ETH skew has gone into extreme "fear" mode. The crowd is paying up for puts, taking skew to new recent extremes. This is what contagion fear looks like...
Source: Refinitiv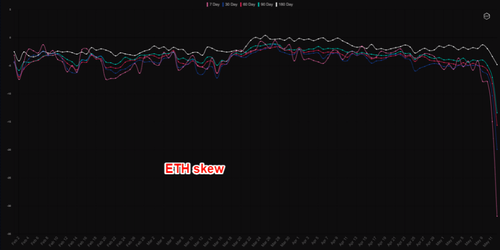 Source: Refinitiv
Fed's BS delta and bitcoin
Fed's BS lifts all boats, crypto included. Regular readers of TME are familiar with the Fed BS "delta" vs BTC chart. Bitcoin has been "discounting" the delta of Fed's balance sheet for a while already. Second chart shows BTC on a log scale.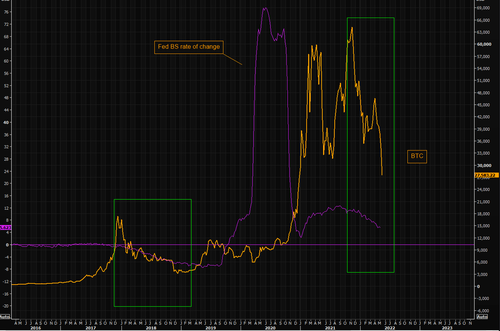 Source: Refinitiv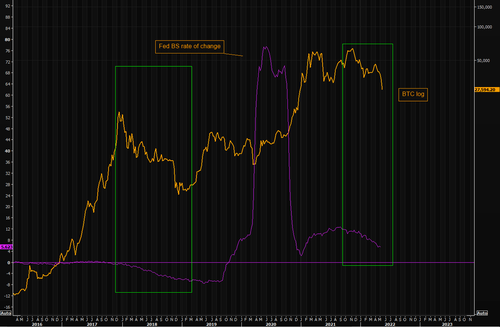 Source: Refinitiv
An army of blockchain unicorns...
A record 14 blockchain unicorns emerged in Q1'22, bringing the sector's total to 62...(CB Insights)
In the long run crypto always goes up
In case you missed it. Coinbase 2031 bond.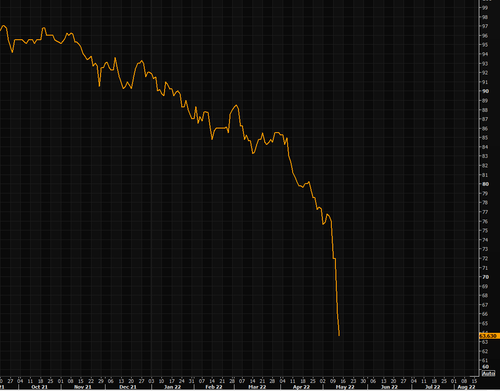 Source: Refinitiv
Brian's billions
"Coinbase Global Inc. founder Brian Armstrong had a personal fortune of $13.7 billion as recently as November and about $8 billion at the end of March. That's now just $2.2 billion, according to the Bloomberg Billionaires Index, after a selloff in digital currencies from Bitcoin to Ether triggered a precipitous decline in the market value of Coinbase, the largest US cryptocurrency exchange" (Bloomberg)
More and more people were supposed to get into crypto
US exchanges Coinbase and Binance. US suffered bigger volume declines this year.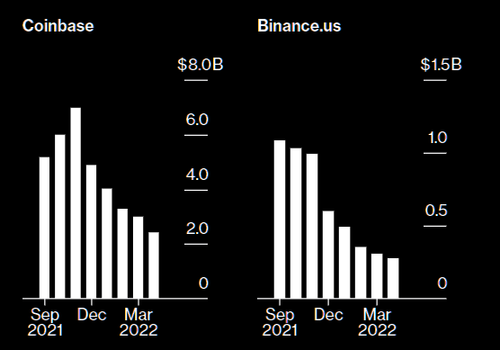 Source: Bloomberg
The -80% club: where BTC is a winner
% below high for selected cryptos...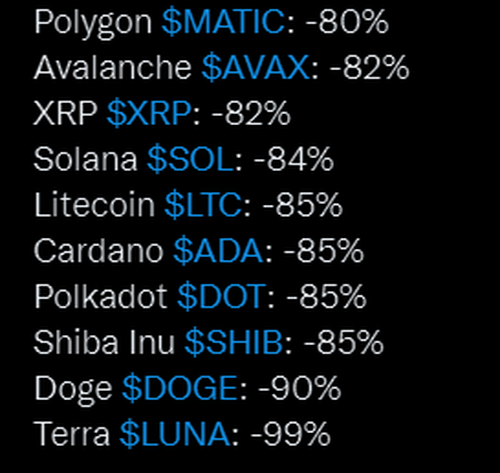 Source: Bilello
Crypto bros need to extend this one
There are a lot of people out there that will never come back from the most recent carnage in this space. Maybe it leads to inflation easing as there is no more easily earned millions to be spent this summer...Never forget, always watch the downside.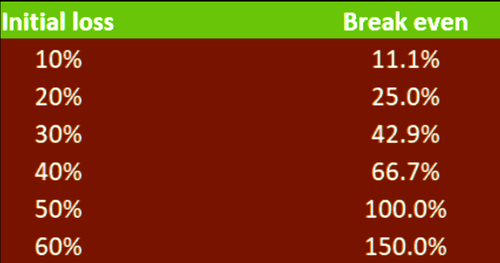 Source: TME
Loading...