---
Crypto reflections - do you dare to buy the dip?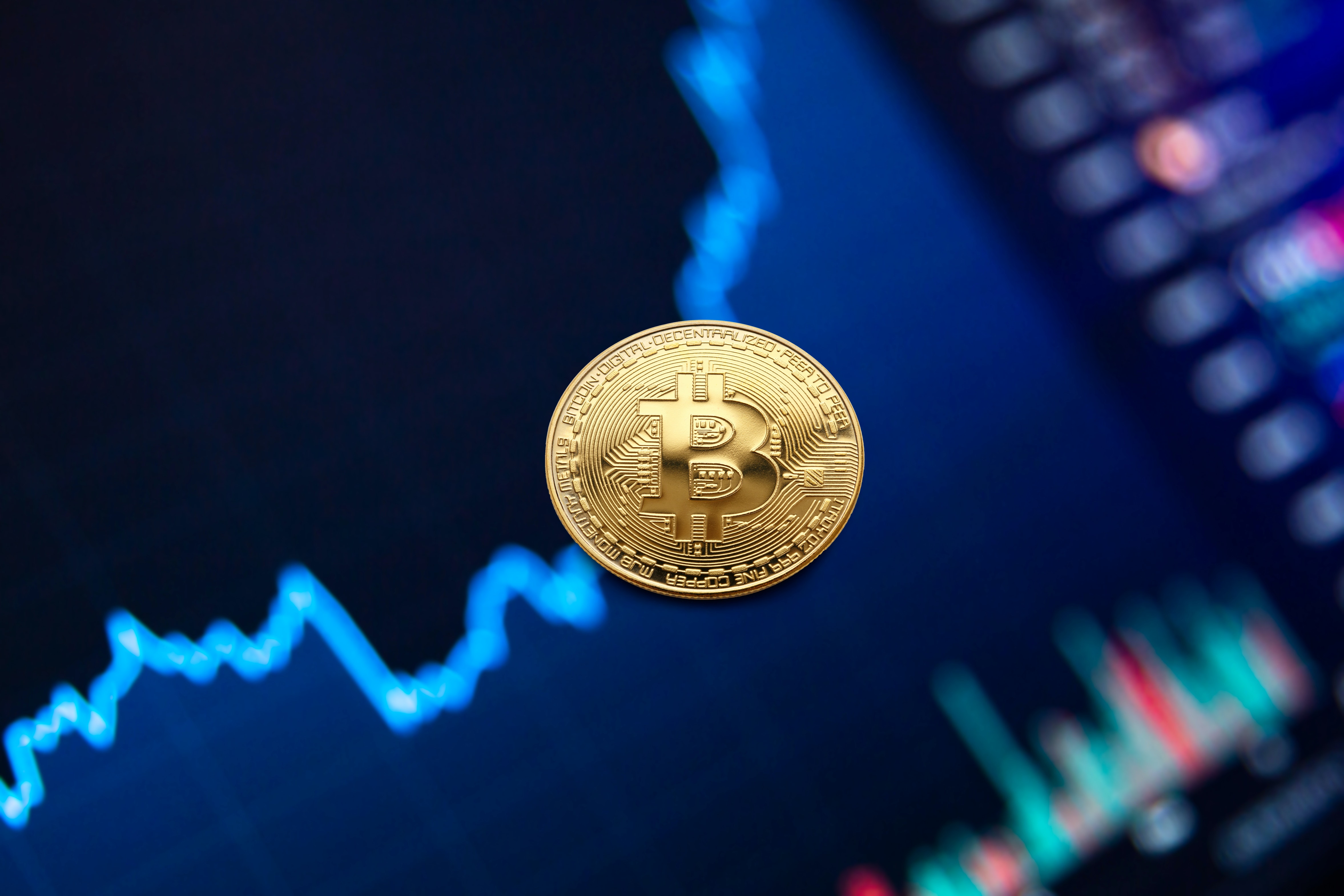 See TME's daily newsletter email below. For the 24/7 market intelligence feed and thematic trading emails, sign up for ZH premium here.
Bitcoin - the giant head and shoulders
Bitcoin continues "working" the huge HS formation we pointed out earlier this week. Note we have not traded this much below the 200 day moving average in a very long time. 40k is a huge level to watch. Note this being a key level over the past year. BTC is a non trending asset over the past year and has produced lot of volatility and frustration. Why not a violent short term bounce just when everybody is fearing their BTC longs and shorts are getting very confident?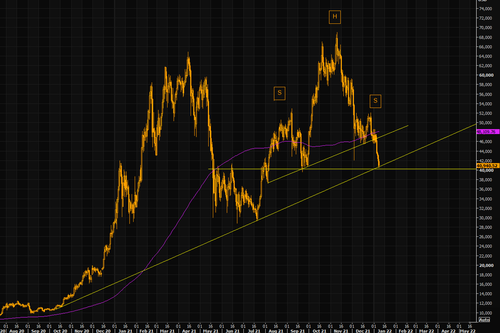 Source: Refinitiv
Bitcoin - approaches the most oversold levels in "modern history"
RSI continues crashing as BTC can't catch a bid it seems. As we all know, oversold can stay oversold for a long time. This one is getting rather extreme, although we are (mostly) not in the business of catching falling knives. Second chart shows the big puke in the short term BTC skew. Calls are definitely out of "relative" fashion.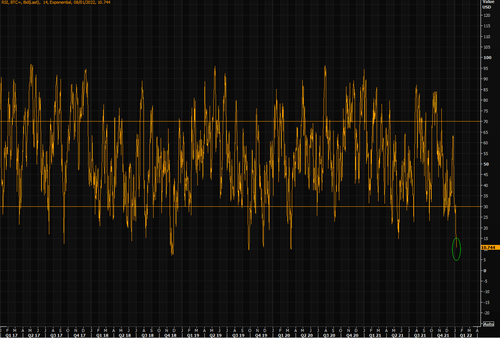 Source: Refinitiv
Source: Genesisvolatility
Waiting for the institutional bitcoin inflow?
Looks like you have to wait a bit longer. BTC has several problems when it comes to attracting the "real" institutional flow (we are not talking MSTR nor El Salvador). BTC lacks a shorter term trend and volatility continues to be huge. This is not what institutions are looking for...
Source: JPM
Will Bitcoin take additional market share from gold?
Pretty cool that in Goldman's "top questions in FX for 22", there is one question (the above) on BTC. Going mainstream...The GS answer: "Yes. The World Gold Council estimates that the private sector owns 44,000 metric tonnes of gold for investment purposes (i.e. privately-held bars and ETFs, excluding jewelry, official sector holdings, and industrial uses). At the current market price of $1,800 per troy ounce, this implies that the public owns about $2.6 trillion of gold for investment purposes. By comparison, Bitcoin's float-adjusted market capitalization is currently just under $700bn. Therefore, Bitcoin currently commands a roughly 20% share of the "store of value" (gold plus Bitcoin) market. We think that Bitcoin's market share will most likely rise over time as a byproduct of broader adoption of digital assets, and possibly due to Bitcoin-specific scaling solutions (although the network's consumption of real resources may remain an important obstacle to institutional adoption). Hypothetically, if Bitcoin's share of the "store of value" market were to rise to 50% over the next five years (with no growth in overall demand for stores of value) its price would increase to just over $100,000, for a compound annualized return of 17-18% (accounting for growth in Bitcoin supply over time). Bitcoin may have applications beyond simply a "store of value"—and digital asset markets are much bigger than Bitcoin—but we think that comparing its market capitalization to gold can help put parameters on plausible outcomes for Bitcoin returns".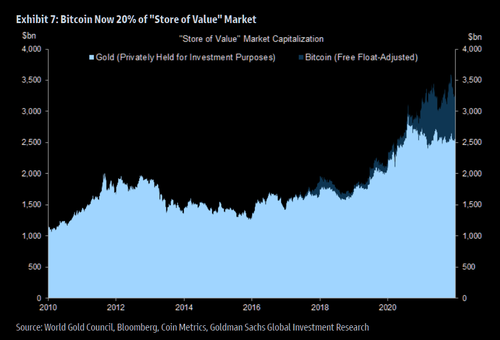 Source: Goldman
ETH - oversold superlatives
ETH has seen more oversold levels twice ever. This is obviously extremely oversold, and we could be seeing a short term bounce, but pain is huge. Second chart shows the short term ETH skew. People are desperately paying up for puts on a relative vol basis.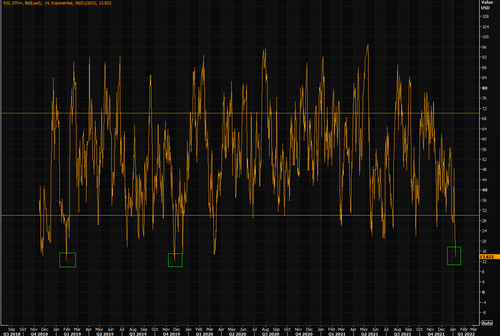 Source: Refinitiv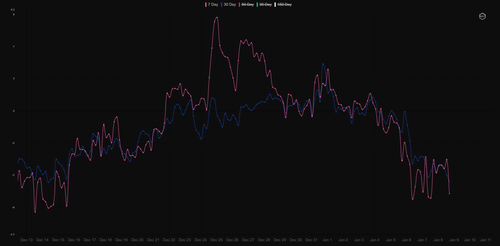 Source: Genesisvolatility
ETH - (almost) never seen this
ETH has not traded this much below the 200 day moving average, ever (in USD terms, in modern times). Also note the 50 day crossing the 100 day. Last time this happened ETH managed finding some supports eventually. Let's see how this plays out from here.According to JPM's latest flow and liquidity note things aren't looking great for ETH (more here).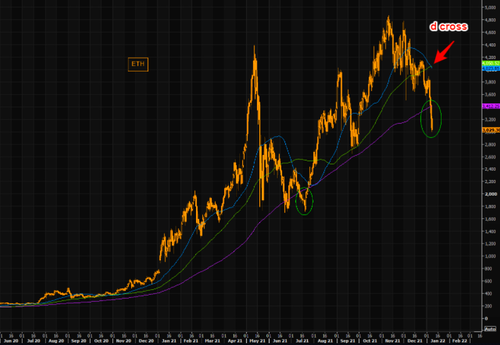 Source: Refinitiv
US killing cryptos
It used to be Asia that was the one to blame for the moves lower in BTC and ETH, but note the dramatic change during the US session. Somebody big in the US not comfortable with its crypto long?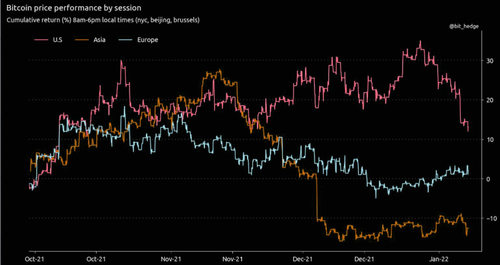 Source:bit_hedge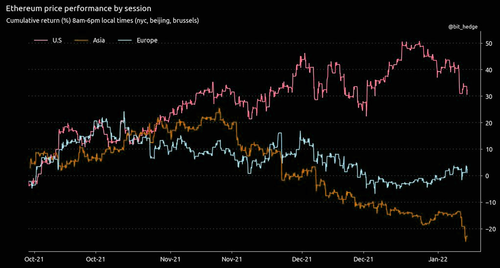 Source: bit_hedge