---
Dreaming about puts?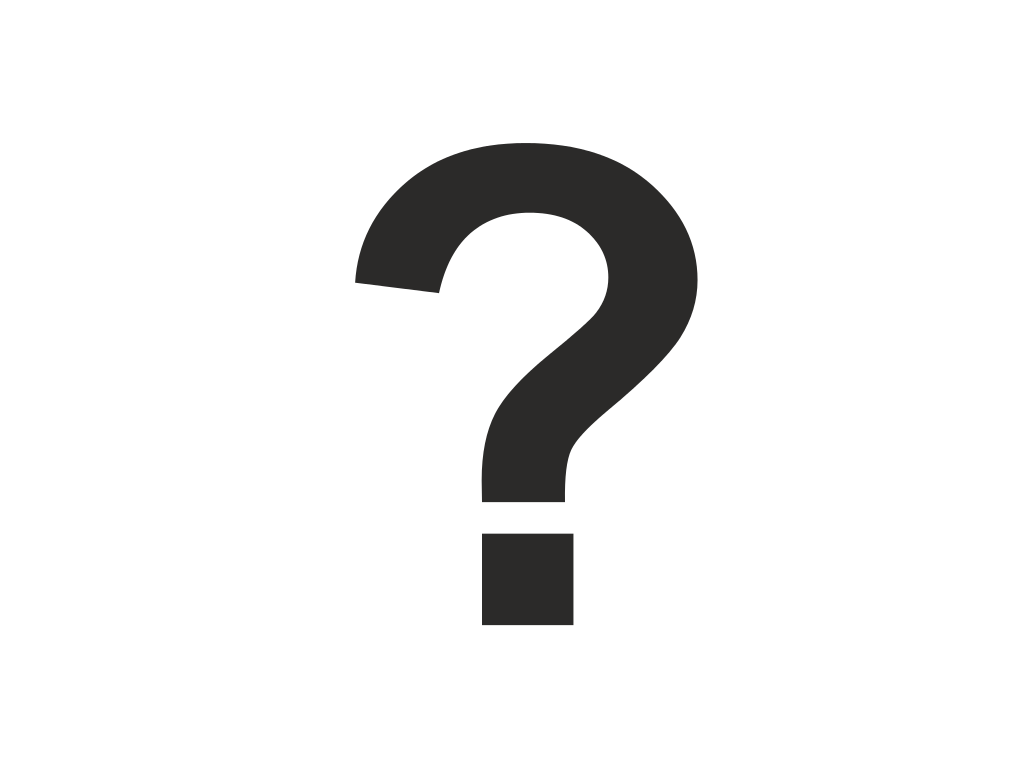 See TME's daily newsletter email below. For the 24/7 market intelligence feed and thematic trading emails, sign up for ZH premium here.
Goldman: More challenging. Still double digit equity upside
Goldman lowers S&P500 target from 5100 to 4900. GS: "The macro backdrop this year is considerably more challenging than in 2021. However, we continue to expect that equity prices will rise alongside earnings and reach a new all-time high in 2022. During the last 50 years, a "goldilocks" environment of accelerating GDP  growth and stable real yields has typically been associated with a 12-month S&P 500 return of +16%. However, when growth is decelerating and real yields are rising, 12-month S&P 500 returns have averaged +8%"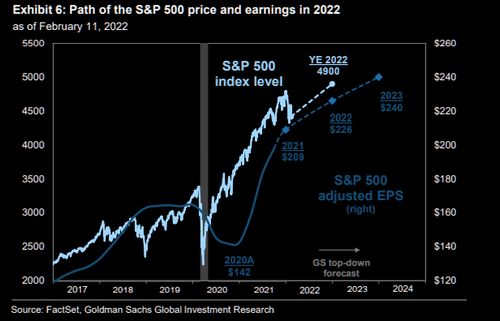 Source: Goldman
Dreaming about puts
Net put value as a percentage of market cap is hitting extreme levels. People are scared and see the market moving much lower. The dynamic equity "analyst" has gone from an expert on inflation to suddenly being an expert on war. Let's see how this plays out form here...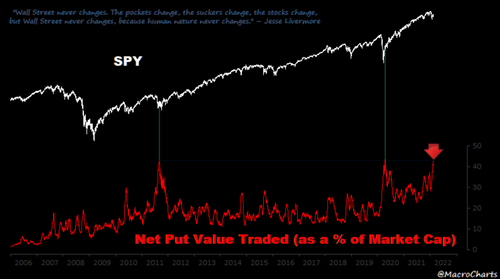 Source: MacroCharts
On inversion signal release hell
But wait, you actually have some time to put on the kettle and pack your bags...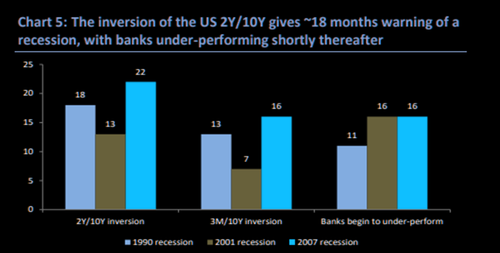 Source: Sanford Bernstein
Pillar 1: Earnings continue to be revised upwards
The Fed has sown seeds of doubt in the markets mind about future growth. You can see a sharp divergence between price and forecasts. The forecasts line is all the more impressive given the supply chain and raw materials head winds we are experiencing. In the end, it is all about earnings, and they are going up....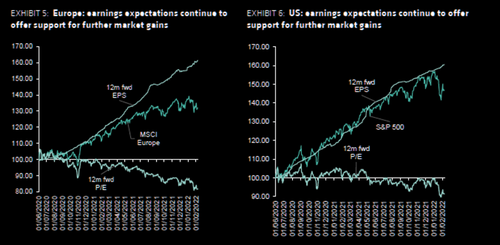 Source: Sanford Bernstein
Pillar 2: Inflows keep flowing in
Equity inflows have not even been close to being negative for a single week during this whole sell-off. At the end of the day money (on the sidelines) and where it goes is all that matters...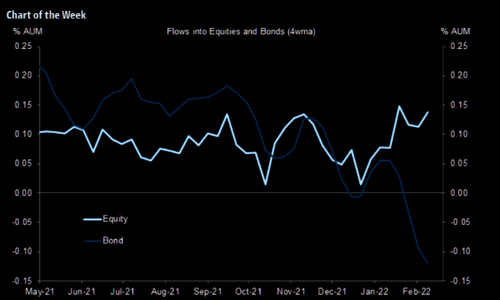 Source: EPFR
Curveilicious? When the 10Y-2Y spread is between 75 and 25bps (and it is currently at 43bps), stocks actually perform quite well
It hasn't only been the sharp upward trajectory of rates that's gotten risk sentiment to come in, it has also been the shape of the curve. Both the short and long end of the curve has been rising, and the pace for short end rates has been the fastest in over a decade. As a result, we have seen the 10Y-2Y spread come in rapidly from multi-year highs. Frequently, this is cited as a harbinger of doom. However, it's only really bad if the spread inverts. When the 10Y-2Y spread is between 75 and 25bps (and it is currently at 43bps), stocks actually perform quite well. Shown in the chart below, similar periods of time have typically coincided with the middle of prior cycles, when economic expansion was broad-based. Worth highlight ing the mid-90s, mid-00s and late-10s.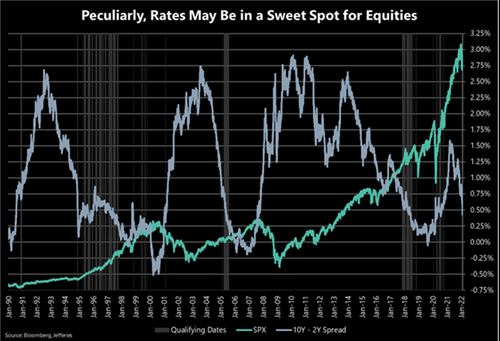 Source: Jefferies
More on "curveilicious"
In addition to the solid economic backdrop, there were also correspondingly good equity returns. Actually, there were some phenomenal equity returns. Both short and long term SPX performance following similar instances were well above typical return profiles. Average 6M performance is over 9% and average 12M performance is over 17%. Almost more notably, SPX performance was positive 90%+ of the time.

Source: Jefferies
That surprise hike
With the Fed hike "narrative" in full blown panic mode with everybody now an expert on when and how Fed will hike, Sentimentrader reminds us of how things looked back in 1994. They write: "The economy was recovering, stocks were soaring, and inflation was becoming a concern. Stocks bottomed AFTER the Fed surprised investors with a hike."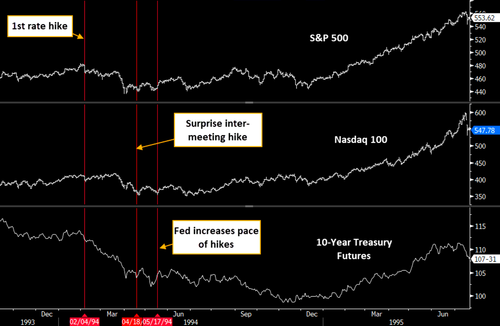 Source: Sentimentrader
Zzzzkew
SKEW index has stayed at relatively lows levels during the past market "turbulence". A relatively low skew tells you that downside protection isn't pricing puts overly expensive versus calls. It tells you little about market direction, although the current set up resembles some of the past bounces...
Source: Refinitiv
Why Europe is watching the Russia/Ukraine situation closely
Electricity and the economy under no conflict, contained conflict and major conflict scenarios. Europe continues to be the constant loser...
Source: SEB cross asset