---
Put hate next?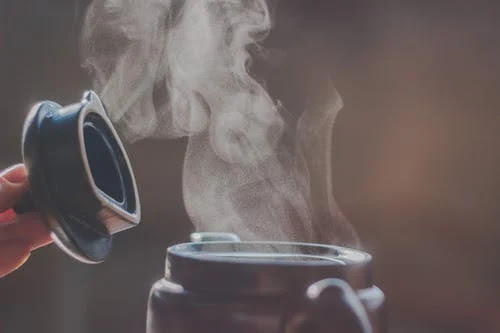 See TME's daily newsletter email below. For the 24/7 market intelligence feed and thematic trading emails, sign up for ZH premium here.
We need more put hate
The crowd managed to love puts at recent market lows. Nothing new really. The question is, do we need to see a proper put puke before the local high kicks in? Chart showing SPX and the put call ratio.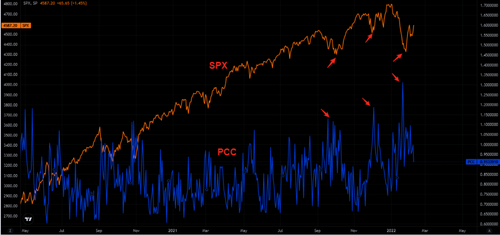 Source: Tradingview
Observations from the trading "pit"
Below are a few bullets via JPM worth reviewing:
What have we seen recently?
Buy the dip and sell the rally behavior
US - recent shift to selling value (growth sold as well)
Europe - re-buying of banks and continued selling of luxury goods
What have we NOT seen (which are notable in light of market sell-off recently)?
Broad de-grossing or persistently large net selling
Outsized hedging via ETF shorts
Recent selling of areas that have underperformed
What are we watching for in the near term?
High Vol / High SI stocks - is the bottom in, especially relative to the broader market?
If a rally in shorts could cause broader de-grossing? They have been a common factor helping HF performance recently…but, what happens if this reverses?
What would happen during a "double dip" ie. a second market drawdown putting S&P near January lows? Fund's reaction?...
VVIX not buying the latest VIX implosion
VIX has once again taught people to not buy protection when they must, but buy it when they can. We are reaching VIX buy levels soon, but we are not there yet. Note that VVIX is not "buying" the latest VIX move lower. The trend between the two since last autumn is not to be dismissed...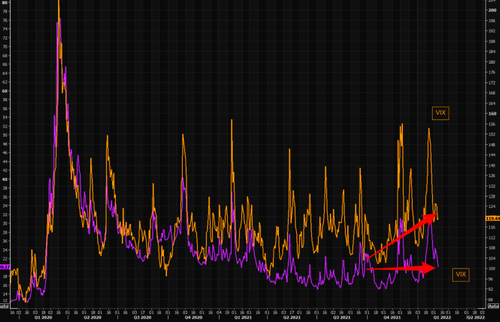 Source: Refinitiv
Net leverage only at 6th %-tile
Net leverage remains somewhat lower when compared to the past year of data—net leverage is only at the 39th %-tile across All Strategies and just the 6th %-tile across Equity L/S.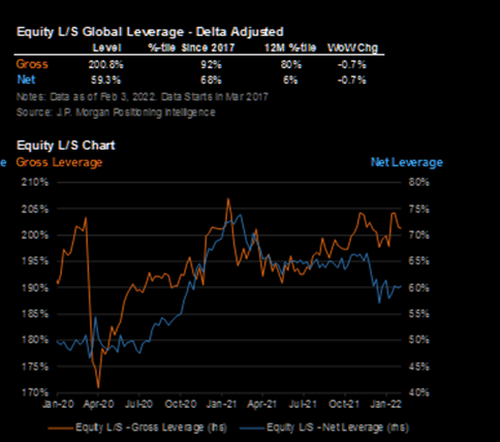 Source: JPM PB
Say hello to long gamma
SPX is back to trading in long gamma land up here. One buyer is fading soon: the short gamma dealer that has desperately sold lows and bought highs. Dealers are from now on selling deltas on the way up, but given the gamma profile, short gamma to the downside will make them sell deltas on the way down as well, at least from here.
Source: Tier1Alpha
NASDAQ - enhance yield
Despite all the wild gyrations, down as well as up, NASDAQ remains stuck, trading without a trend. What has trended higher though is NASDAQ volatility, VXN. If you bought the most recent dip, want to hold on to longs, but feel a little unsure about this market moving much higher in the shorter term, enhancing yield via overwriting strategies makes a lot of sense here.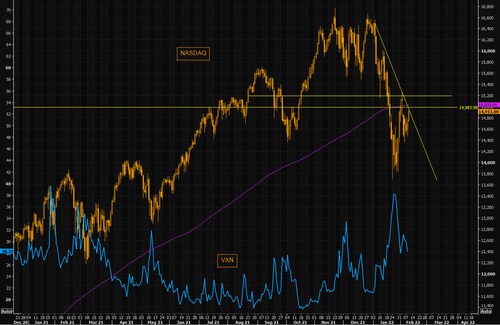 Source: Refinitiv
BCOMIN's brutal break out?
BCOMIN index, aluminum, copper, nickel and zinc, is breaking up today, printing highest levels since 2011. We are basically in uncharted territory here. Second chart shows BCOMIN vs SPX. It looks like we are running out of metals, but what about Spoos?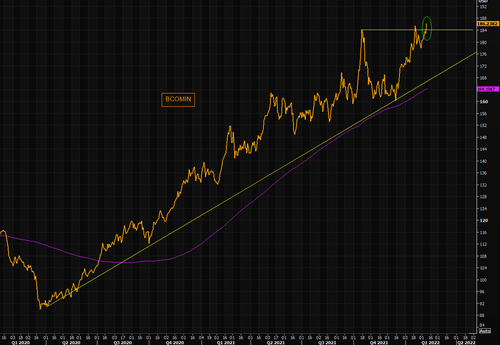 Source: Refinitiv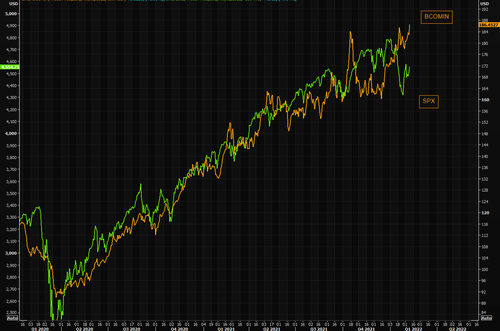 Source: Refinitiv
The forgotten oil trade beating oil
The long RSX (instead of oil) trade is up almost 20% from lows 13 sessions ago. Note we are trading above the negative trend line for the first time since early November. Despite the spread having performed well, we believe there is more compression to it as the war narrative fades further...and oil remains elevated.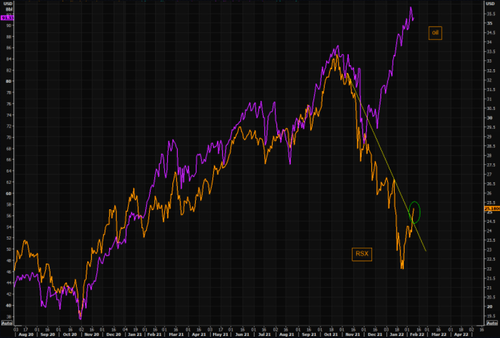 Source: Refinitiv
Central banks - always late?
The bull in central banks hiking rates is "printing" new recent highs, just in time for the inflation reversal. Let's see how this plays out, but everybody seems to be wrong and late in pretty much everything they do lately...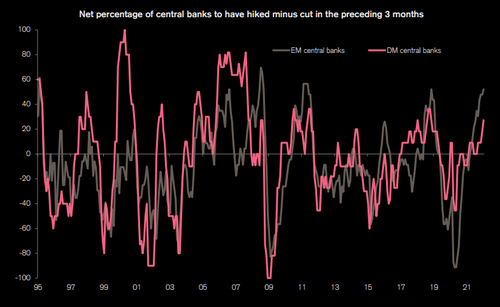 Source: CS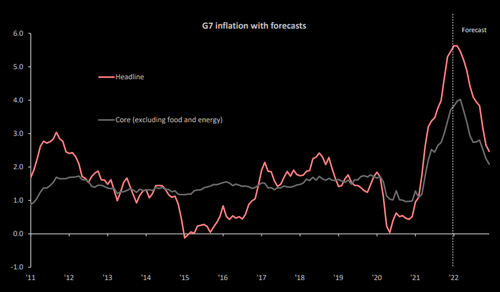 Source: CS
Fed hikes - enough is enough?
Is the market getting ahead of itself when it comes to pricing Fed hikes? TS Lombard writes: "In the last three months, the market has gone from pricing in two Fed hikes in 2022 to more than five, with some analysts calling for a 50bp hike in March and/or seven hikes in all this year." On the other hand, the market is still expecting a terminal rate of 1.7% only (the rate that is consistent with full employment and capacity utilization and stable prices, chart 2).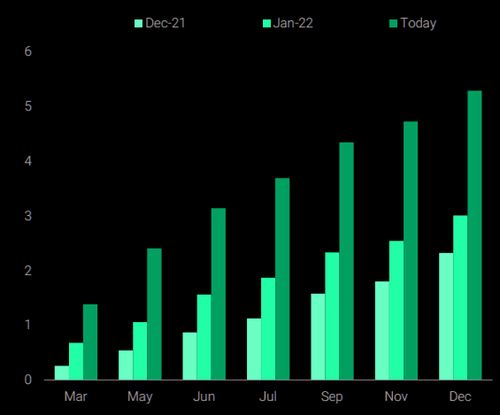 Source: TS Lombard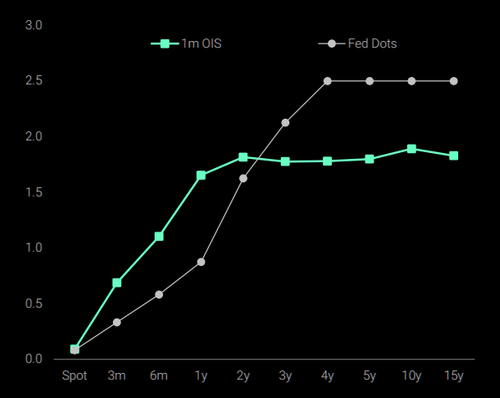 Source: TS Lombard