---
Unchanged...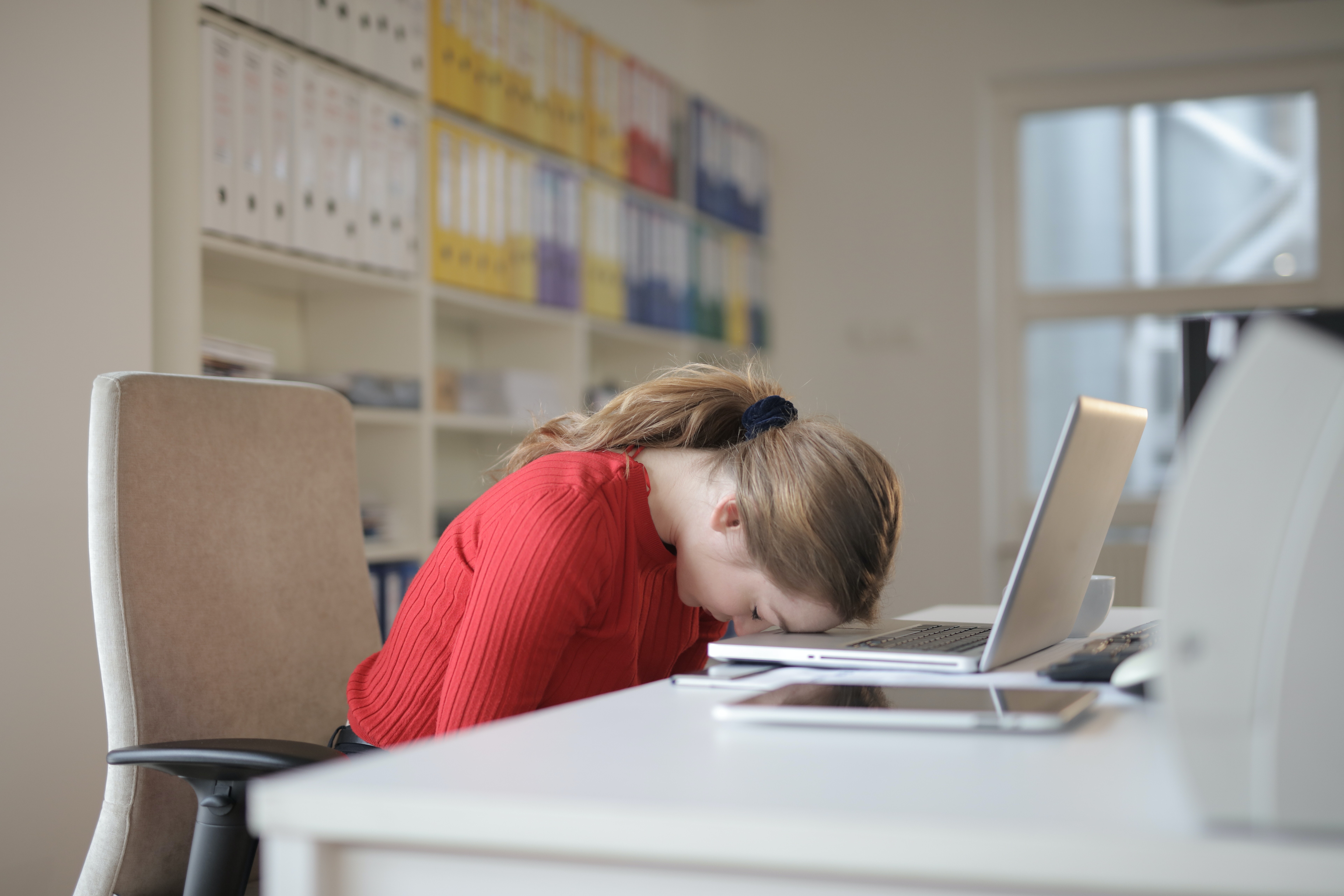 See TME's daily newsletter email below. For the 24/7 market intelligence feed and thematic trading emails, sign up for ZH premium here.
Wilson's valuation worries
Valuation remains extended... MS Equity strategist Mike Wilson: "at the S&P 500 index level, the median stock level within the S&P 500, and under the surface of the market. The median stock forward P/E for the S&P is still 19x (94th percentile of historical levels back 40 years). We think this lends support to the idea that multiples across the index have room to compress due to our Ice thesis even after discounting the geopolitical developments of the last couple of weeks as well as a hawkish Fed."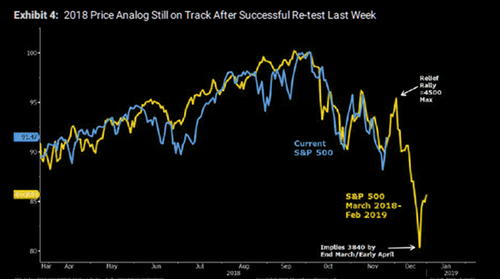 Source: Morgan Stanley
Equities remain hostage
Stifel's macro guru Barry Bannnister's bear market call has been accurate so far. Going forward he sees equities to "remain hostage to longer tailed issues" when it comes to the geopolitical crisis. Main points are:
1. We see tighter financial conditions and the S&P 500 P/E falling further in 1Q22, with S&P 500 price support ~4,050
2. If PMI Mfg. Y/Y% falls as we expect, the S&P 500 may drop in 1H22E to 0% / -10% Y/Y vs. 4,000 +/- 300 1H21A
3. Don't be cavalier about war; commodity (and Value) super-cycles for 100 years began with 2-year, -50% S&P drops

Source: Stifel
Past localized geopolitical conflicts almost always ended up being a buying opportunity
If history is any guide, even though at the time the visibility is very low and all options are on the table, past localized geopolitical conflicts almost always ended up being a buying opportunity, with markets delivering positive returns over a 3-6 months' time frame.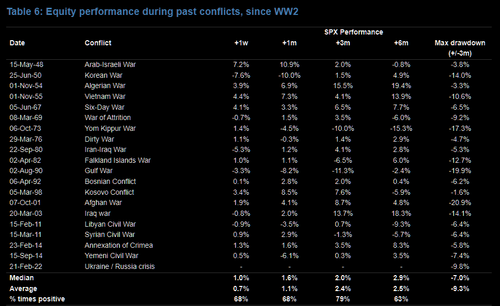 Source: JPM Equity strategy
Clean(er) positioning
Worth repeating; US Equity L/S Hedge Funds came into Thursday with Net exposure at 44% and Gross at 185% = those are in the 9th and 20th percentiles on a 5y basis, per MS' PB Content team.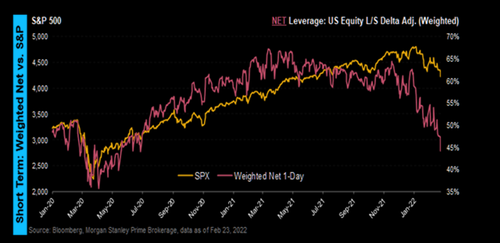 Source: Morgan Stanley
Remember real rates?
US 10 year real yields printing a new recent low. Will NASDAQ start to care about this one soon?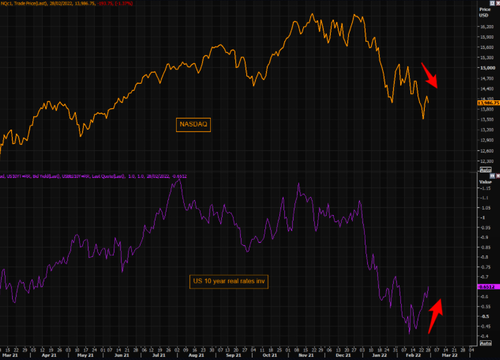 Source: Refinitiv
GS: hello $115 oil
"The range of near-term price outcomes for commodities has become extreme, given the concern of further military escalation, energy sanctions or potential for a cease-fire. In the very short-term, we see risks skewed to significant further upside and are raising our 1-month Brent price forecast to $115/bbl (from $95/bbl previously), with significant upside risks on further escalation or longer disruption. Importantly, even if near-term price volatility reaches unprecedented levels, our longer-term bullish under-investment thesis is very much intact and reinforced by these events" (GS commodities team)
GS on Gold
"The outlook for gold prices is hard to call in the short-term, in our view, but still bullish medium-term. On the one hand, gold's unique role as the currency of last resort will likely be apparent if restrictions on Russia's Central Bank accessing its offshore reserves leave it leveraging its large domestic gold stockpiles to continue foreign trade, most likely with China. Yet, on the other hand, the required large sales of gold at below market prices, given the limited appetite outside of China for such trade settlement, would emphasize its potential limited scale in the future, with few other countries able to use gold as such a currency of last resort. Ultimately, the recent escalation with Russia create clear stagflationary risks to the broader economy, driven by higher energy prices, which reinforce our conviction in higher gold prices in coming months and our $2,150/toz price target" (GS commodities team)
Gold(en) volatility is back
On February 10 we outlined why gold was the forgotten war hedge (here). We explained that gold was setting up for a big move higher, but above all we pointed out the gold vol logic. Gold volatility trades with a positive "skew" as the shiny metal is a hedge itself. Many had forgotten that gold volatility tends to move sharply higher when gold spikes. If you played the move via the options strategies we suggested, not only did you get the gold move, but you also saw a big move higher in vols which has been great (especially if you rolled the positions dynamically).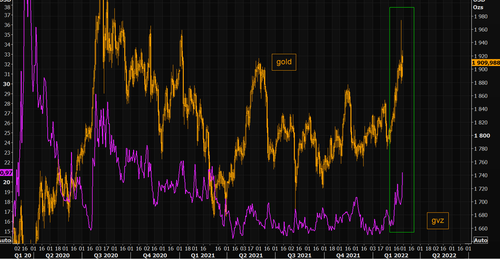 Source: Refinitiv
Europe - (always) the biggest loser
Europe continues holding the pole position when it comes to chaos. Eurostoxx 50 stress has exploded, absolutely, but above all relatively speaking. The gap vs VIX is huge. Europe win when it comes to culture, history, arts etc, but not when it comes to economical disasters. Guess who will be the relative winner...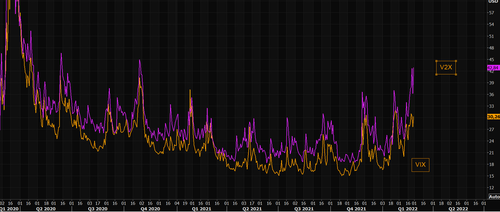 Source: Refinitiv
Where are the Russian reserves held and in what securities?
"By geography, the CBR reports that most of its currency (non-gold) reserves are held in China (18%), France (16%), Japan (13%), and Germany (12%). The precise location of Russia's reserve assets is more difficult to ascertain, but disclosures from the CBR and other international sources suggest that funds were likely shifted from custody accounts at the NY Fed to Europe and China and Japan. For example, there was a significant drawdown in the NY Fed's custody holdings at the time the CBR shifted out of Dollars in Spring 2018, and a sharp decline in our valuation-adjusted measure of Russia's official holdings of Treasuries in US TIC data. At the same time, the CBR reported a significant drop in its geographic exposure (which it defines as "by place of residence of counterparties or issuers of securities") to the US"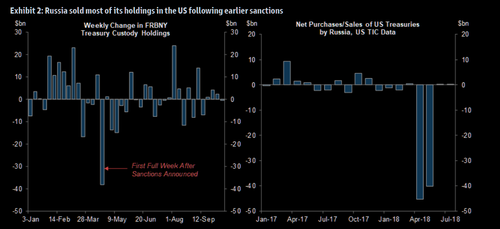 Source: Goldman
Fed's headache keeps MOVEing
Despite Fed's BS at all time highs, bond volatility, MOVE index, has continued trade at very elevated levels. Geopolitics this or that, but rising bond volatility remains a huge problem for Fed.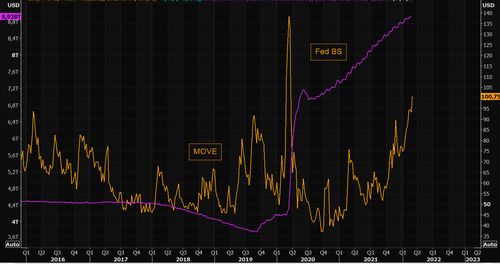 Source: Refinitiv
Loading...