---
Is the round trip over?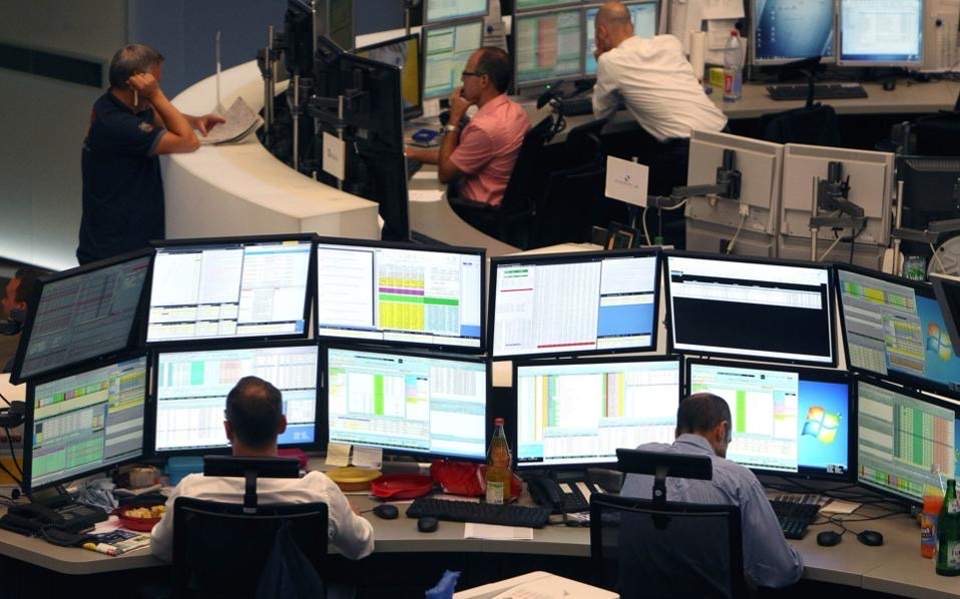 See TME's daily newsletter email below. For the 24/7 market intelligence feed and thematic trading emails, sign up for ZH premium here.
Bears carried out on stretchers
Last Thursday (here) we pointed out the huge surge in AAII bearish sentiment readings reaching the highest levels in many years. Bearish was not unique a week ago. Let's see what the AAII bear readings show tomorrow...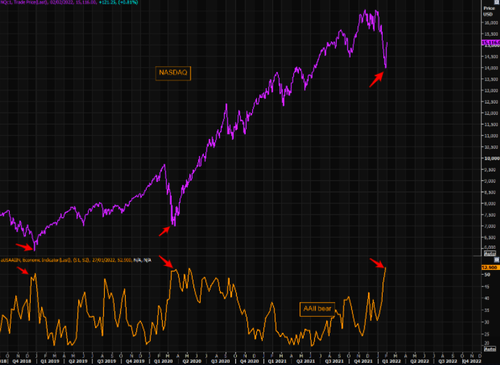 Source: Refinitiv
VIX does not like bears
Waiting for the updated AAII stats out tomorrow...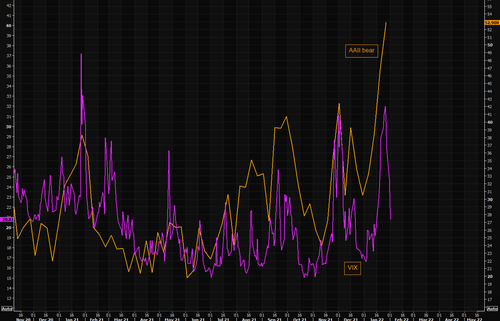 Source: Refinitiv
Sucking risk premium out of the market
VIX term structure crash has been rather extreme since the low close on January 27. All those short term hedges have crashed big time and we are back to the feedback loop where portfolio managers once again revert to the logic "bro, hedges only cost money". Time for some hedges again?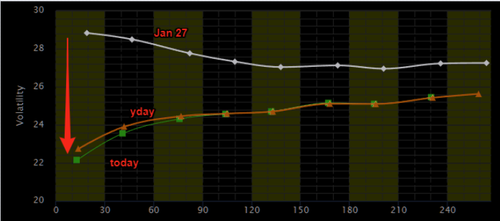 Source: vixcentral
Remember the vol control crowd?
They managed puking recent lows as models had them decrease risk big time. With the recent violent bounce and the VIX collapse these players will need to load up on longs again. Nomura's McElligott writes:
"Over the next 2w: 1% SPX daily change = +$10.5B Equities; 0.5% daily chg = +$17.4B Equities; 0.0% daily chg - +$19.8B
 Over the next month: 1% SPX daily change = +$20.1B Equities; 0.5% daily chg = +$34.2B Equities; 0.0% daily chg - +$39.9B".
Nothing huge, but it adds to the recent frustration we have seen in these wild markets.
Recall Mark-to-Marko on "Positioning and Flows"
Let's recall what Marko Kolanovic said on Monday: "we estimate equity exposure of systematic portfolios declined sharply. CTAs are now outright short equities, and Vol Targeters have significantly reduced leverage. Buyback blackouts are expected to peak today with activity picking up thereafter. More generally, investor sentiment is already extremely bearish with Put/Call ratio reaching the highest level since March 2020 and AAII survey lowest since 1H20. Investors have crowded into Low Vol stocks and are again paying record premium for safety. Lastly, as long as S&P 500 remains below ~4600, gamma is negative with dealers buying on strength and selling on weakness. This would amplify market moves, especially in the current low market liquidity/depth environment" (JPM Cross-Asset)
The bond vs equity fear "divide" is back
Bond volatility refuses coming down from elevated levels. Note that the gap between MOVE and VIX is back to relatively wide levels, although the "case" is less clear with VIX at these levels. VIX is not cheap enough to buy, nor expensive enough to sell here in our opinion.

Source: Refinitiv
Have margins peaked?
Deutsche Bank: "Companies were too optimistic in their guidance for margins during the Q3 earnings season. Disappointments are likely to keep volatility high during Q4 earnings season. Higher selling priced will be accompanied by higher input costs –keeping margins at current levels. Operational leverage after cost cutting in 2020, high demand and limited supply have allowed companies to achieve strong margin expansions in 2021. This is unlikely to continue in 2022" (Deutsche)
Did you buy Russian "fear"?
RSX is up 15% from the lows we saw on Jan 24. We didn't time the low of the low, but on Jan 25 we suggested: "What if there is no war and things actually calm down? The RSX vs oil gap is simply huge. Nothing for the fainthearted, but..." Anyway, the RSX is hitting the 21 day moving average and the upper part of the negative trend channel. The easy part of the fear trade is over...although the longer term Russian potential as a commodity laggard has more potential (see the Brazil read across here).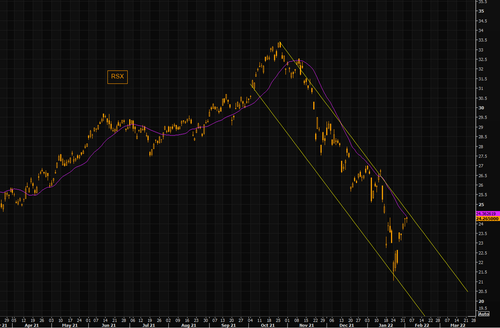 Source: Refinitiv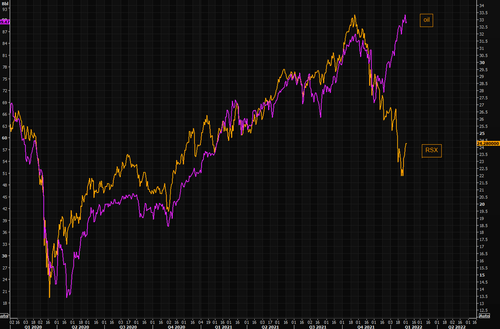 Source: Refinitiv
How do you hedge the Russian risk?
Who is the biggest sucker from a potential deterioration of the Russian situation? Europe. TS Lombard outlines how to hedge a possible worsening of the Russian/Ukraine situation:
"Russia provides 40% of the EU's gas with Eastern Europe, Germany, and Italy particularly vulnerable. The IEA believes Russia is already holding back at least one-third of the gas it could send to Europe, and Russian gas supplies to European trading hubs were down 25% YoY in the last three months of 2021. Generally, Europe is a large net energy importer; and as such, elevated energy prices have a large negative effect on consumption."
Europe has the energy situation to consider as well as the Chinese slowdown, not to talk about the inflation going parabolic. They continue: "A protracted gas/electricity crisis propel led by tension between Ukraine and Russia or unexpectedly cold weather in Spring could force the ECB to overreact and a sudden tightening in EA financing conditions. While surging oil prices amid a weak euro causing import prices to rise further, would be a recipe for a consumption recession."
They hedge the "situation" with a 3 month 127.5 EUR/JPY put.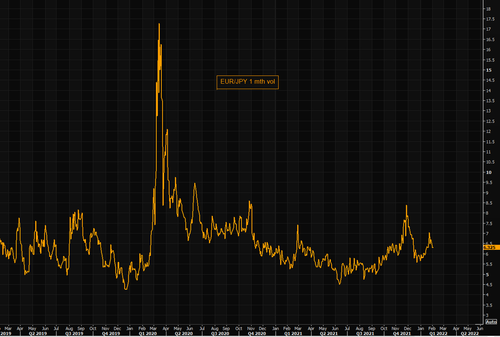 Source: Refinitiv
Ukraine; who cares?
European equities reacted very modestly to the annexation of Crimea in 2014. Table shows major episodes during which the European ERP rose.

Source: GIR