---
Time to move from Silicon Valley to Omaha?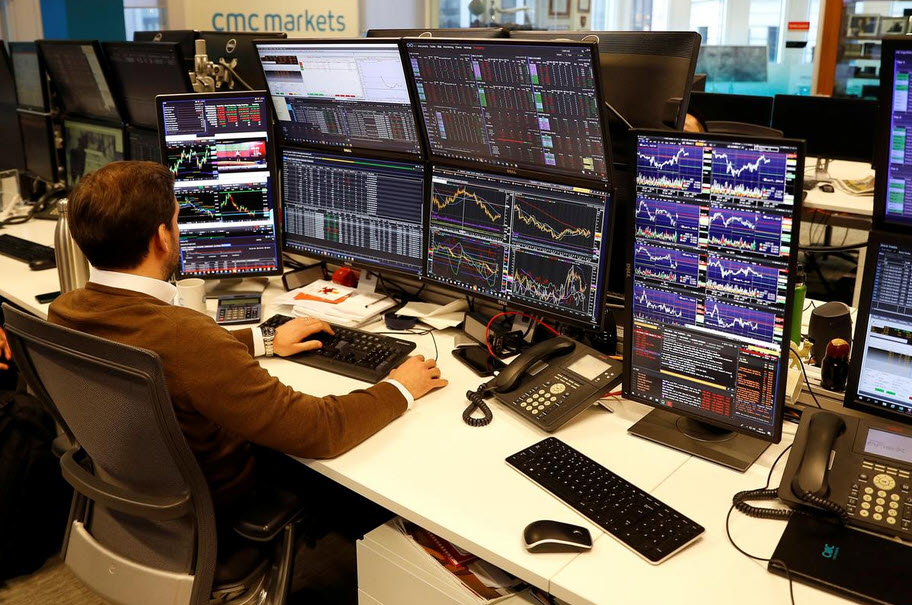 See TME's daily newsletter email below. For the 24/7 market intelligence feed and thematic trading emails, sign up for ZH premium here.
Value baby!
Chart shows Growth vs. Value price performance in Europe and US (MSCI indices). Nice start to the year for value.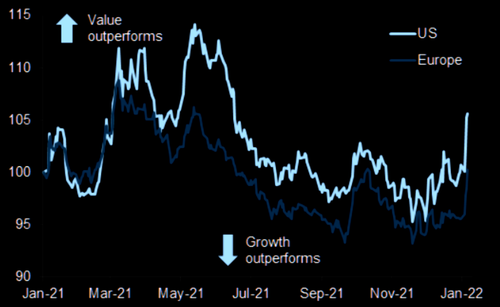 Source: Datastream
A millennial opportunity?
Valuation premium of growth stocks over value stocks is currently higher than at any time since the turn of the millennium. While growth stocks in S&P 500 Growth Index are valued at an avg P/E ratio of 27, the avg P/E ratio of the S&P 500 Value Index is just 17.5.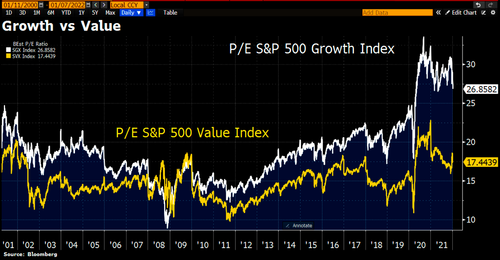 Source: Bloomberg
Value loves higher bond yields
Higher bond yields and growth-to-value rotation within equities.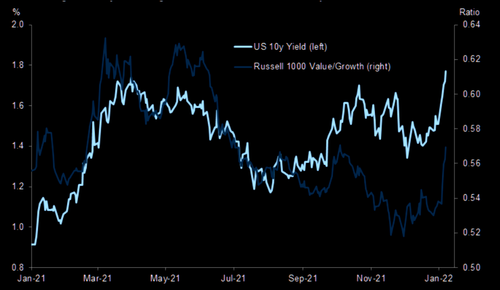 Source: Goldman
Huge value catch-up...
With folks beginning to buy into a large-scale value rotation, Jefferies wanted to provide a little perspective this week. Shown below, despite the violent rotation in the first week of trading, value remains even below its former trendline vs. growth. In order to be at parity with its prior level when the 10YY was last over 1.75%, value would need to rally 30% vs. growth from current levels. And immediately post-GFC, the 10YY was near current levels, but value was over 100% higher on a relative basis. So there is no doubt about it, there is room for a sizeable reversion trade.
Source: Jefferies
But short-term "Value" might have spiked too much
We have already seen a huge move over the past few weeks. In fact, looking at the rolling 20D performance of value/growth, its one of the biggest runs in 20Y and over a 3SD move. Jefferies: "Our analysis of the past 6 times this has happened suggested that it doesn't tend to last, especially over the near term".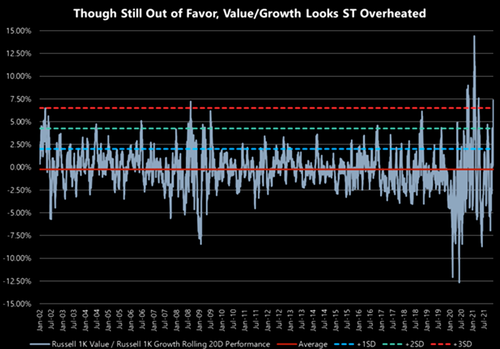 Source: Jefferies
Hedge fund "value" long at 4 year high
Among Equity L/S funds, net exposures are the least short Value relative to Growth in at least 4 years. On the Quant side, Value exposure has risen lately (and Growth has fallen) such that net positioning between these two factors is near highs once again.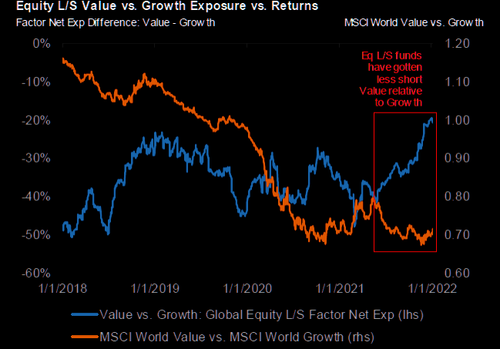 Source: JPM PB
You are not early...
Value was the best performing factor (+26%) in 2021, delivering positive returns after 4 years in the red. Value's outperformance over Growth (-16%) was significant, but it has lagged meaningfully over a longer time period. GS: "Despite the rally, Value is inexpensive vs history suggesting potential for further upside".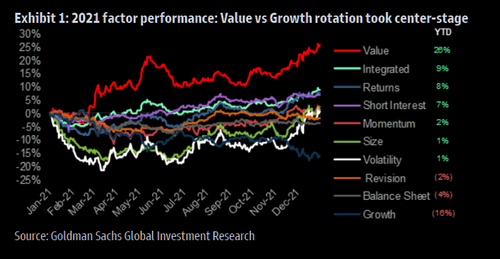 Source: Goldman
Value seems insanely cheap in Asia
Asia style valuations: Value. Forward P/E of top decile minus market.
Source: JPM Asia Macro
Utilities: cheapest in 35 years
Bigger picture, rising interest rates is clearly a wet blanket for Utes sentiment, but MS analyst notes that his dividend discount model and the spread between BBB corporate bond yields / utility dividend yields indicate the sector is currently trading at one of the cheapest levels seen over the past 35 years (see below), yet well positioned to benefit from the proposed Build Back Better legislation.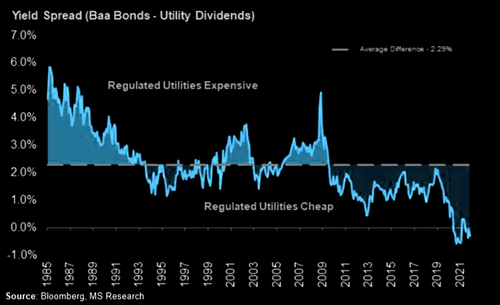 Source: MS Research
US Pharma: cheap and cheap
There are two different ways to show how cheap the sector currently is. The first is just a classic sector rel chart. Its no surprise that Biden and the risk of drug price legislation has caused the sector to de-rate. But Sanford Bernstein think that risk is largely now over. The right hand chart shows that if the sector went from the current 1.3% terminal growth rate to just 3%, it would increase by 30%.

Source: Sanford Bernstein