---
Draw-down mania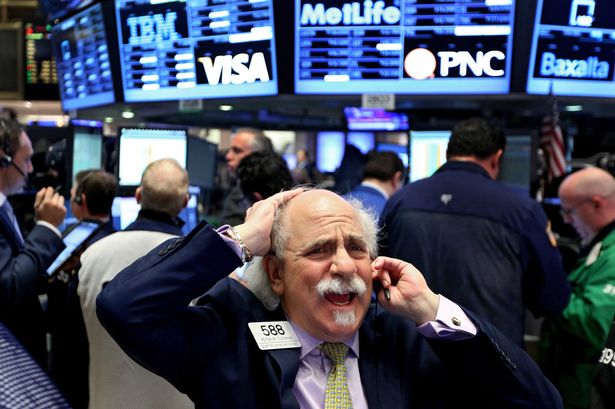 See TME's daily newsletter email below. For the 24/7 market intelligence feed and thematic trading emails, sign up for ZH premium here.
Good luck reshuffling big books
Nothing new really, but liquidity is horrible. You don't need much size in order for this market to move. Add short gamma to the mix and pain is huge.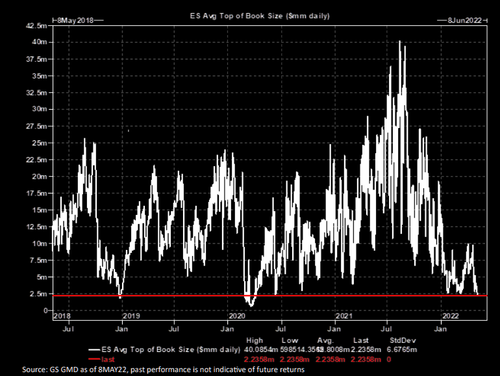 Source: GS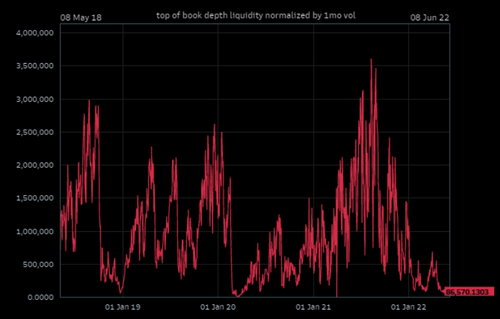 Source: GS
Welcome to "max" destabilizing territory
QQQ and SPY short gamma are basically at "max" levels. Frustrated dealers are absolutely smoked after FOMC. First we had the squeeze higher immediately post Fed where short gamma dealers had to chase deltas desperately higher. The market reversed abruptly and dealers had to sell everything they had bought much lower, plus all the additional deltas they have been desperately selling as short gamma has made them longer and longer deltas the lower we have moved (for the 1 min explanation of gamma see here). Expect the destabilizing effect to continue working. Don't forget it works both ways as gamma does not care about direction...

Source: Tier1Alpha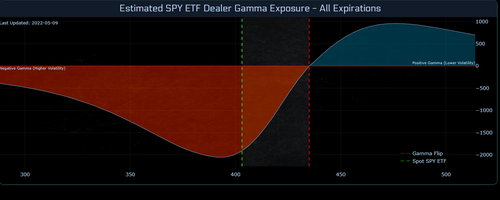 Source: Tier1Alpha
Bitcoin - bit by bit...
...it continues crashing. Only a few sessions ago we broke the crucial 38k support. Since then it has been one way traffic down as we approach the 30k level. This is pure panic...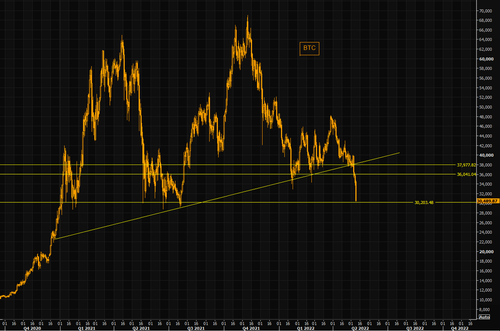 Source: Refinitiv
Cryptos volatility panic
On April 29, in our post BTC volatility as the "cheap" global hedge?, we pointed out; "It sounds somewhat odd, but BTC volatility could be a relatively cheap global "just in case" hedge..." Fast forward to today and the vol explosion is beyond extreme. The global hedge has performed extremely well. Chart shows BTC implied vols across maturities. The short term expirations are in full blown panic mode.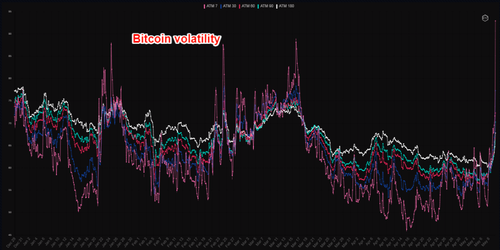 Source: Genesisvolatility
US 10 year - sustainable trend?
US 10 year yield has gone from 1.67% in early March to printing 3.2% at day highs today, before yields decided dropping down to 3.13% (as of writing). Today is an interesting candle in the making, possibly indicating the move in yields has got a little too extreme. The trend channel is intact, but RSI is showing negative divergences. Watch the lower part of the channel closely...just in case.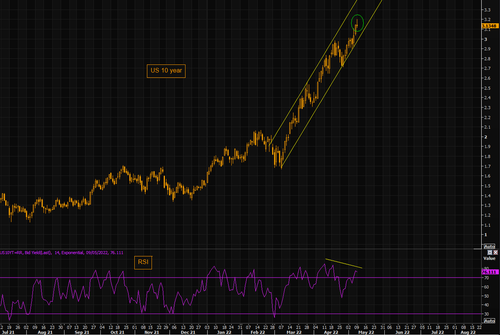 Source: Refinitiv
VIX - fear without the panic
Despite equities falling hard today and stuff like cryptos showing real panic, the VIX didn't show much panic (VXN even less). First chart shows VIX 1st month (inverted) vs SPX futs. Note the recent short term divergence between the two. Second chart shows the longer term SPX vs VIX chart. Volatility is longer term mean reverting, i.e it doesn't trend. Note that the most recent VIX reaction is much less fearful than the first part of the bear earlier this year.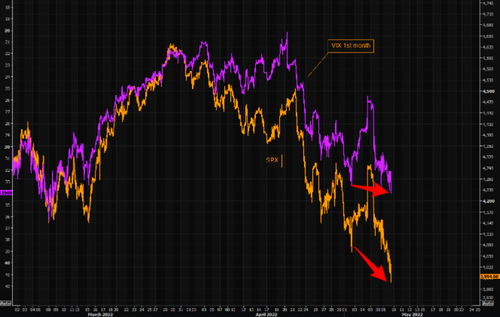 Source: Refinitiv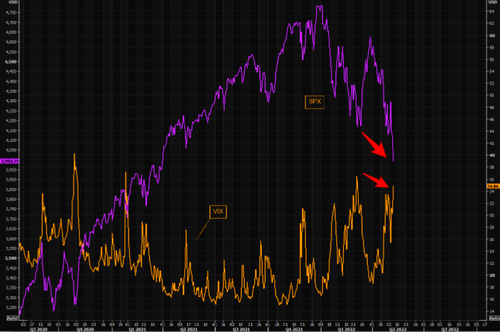 Source: Refinitiv
Long term bull - show me high VIX
1 year returns are lowest when VIX is in the mid 20's and highest when VIX is trading above 30...and people still talk about not liking volatility...we are at 33...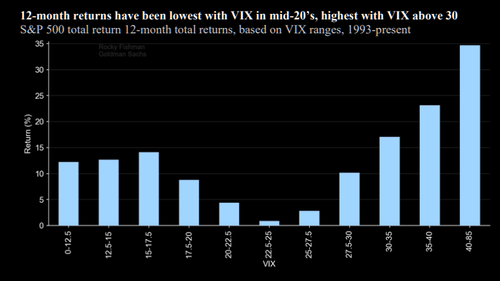 Source: GS
Cloud drawdowns
Bessemer Cloud Index (cloud software stocks) shows that the current decline is now the longest + largest in absolute terms

Source: Morgan Stanley
Buying drawdowns
A cursory look at Amazon and Tesla since 2018 highlights 6 individual short term peak to trough corrections of ~20% with an avg drawdown of 27.9% and a biggest correction of ~33% for Amazon and ~56% for Tesla. Those stats didn't stop Tesla delivering 2800% and Amazon delivering ~300% over that time period.…Things can go down as well as up but then they can go up again…..and if the company delivers product market fit…then up a lot (GS)
It is all about risk management
Time for a gentle reminder that irrespective of all your narratives and views you produce one thing only: p/l. First lesson is to watch your draw down. Why? Because one single draw down can "haunt" you for a long time...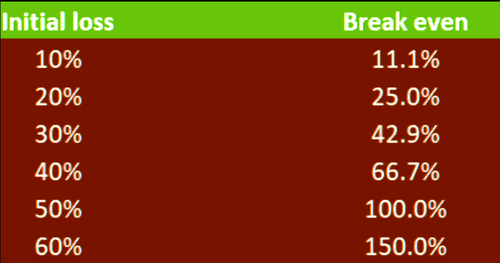 Source: TME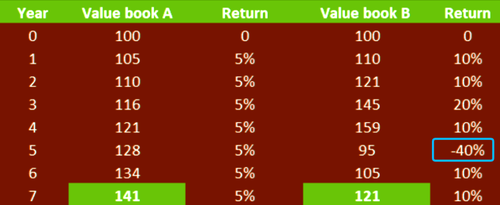 Source: TME